By Matthew Harrison

"We recommend a fully-diversified portfolio for a person — Ahem! — for a family," the adviser nodded to Marissa sitting by Sullivan's side, "at your stage of life." With his greying hair, gold ring and comfortable paunch, the adviser was in fact of a similar age to his clients.
"What would that mean?" Marissa wanted to know.
"We can fine-tune the percentages later," the adviser said, "but the bulk of your money should be in the traditional mainstays, bonds and stocks — they never go out of style. Then for outperformance and as a hedge against downturns, maybe five percent in alternatives, five percent in gold, five percent in personals."
"Personals?" Sullivan raised an eyebrow.
"Personal profiles," the adviser explained. "The details about yourself that you give when you transact online."
"Oh, that's name, date of birth and everything!" Marissa exclaimed. She turned to her husband. "Remember — you had to give our ages when you booked our Macho Picchu trip."
"It's your everything everything," the adviser corrected her. "You'd be surprised what they know about you from your online behaviour. They know more about you than you do yourself."
Marissa gave her husband a questioning frown. But Sullivan was focused on the matter in hand. "How can we acquire these… personals?" he asked. "Surely the tech companies already have them, as you say?"

"They already have yours," the adviser chuckled. "But what about the swathes of humanity not yet online? Think about it — they are the future. No one owns them yet. But you can. You take them, you nurture them, and when the tech companies want them, you harvest."
Sullivan had a few more questions about the technicalities, legal protections, and so on. The adviser proved surprisingly knowledgeable, going into detail about drones in the Sub-Sahara, all-body scans, the UN privacy convention. "I'm not supposed to say this," he concluded, leaning in confidentially, "but if you were younger, I'd recommend filling your boots. It's where I have a lot of my own money."
That was enough for Sullivan. He asked his wife what she thought.
Marissa wrinkled her nose. "These are… small people, I suppose?"
The adviser assured her that they were. "You'd be trustee for our little brown brothers until they reach their maturity. It would be a good deed." His perfectly tanned features turned from one to the other. "There are a lot of cowboy operators out there."
That was enough for Marissa; she gave her husband a supportive nod.
"I let Marissa look after the philanthropy side," Sullivan smiled. "Isn't that right dear?"
***
In the event, the couple opted for ten percent of their portfolio in personals. Marissa wanted to go even higher ("When I think of the poor things in the desert with nothing to eat!"), but the adviser said they could always bulk up later. "'Invest with the head, spend with the heart'," he quipped.
The formalities completed, the adviser gave them a congratulatory handshake. Marissa wanted to actually see the assets they had acquired, but the adviser explained that settlement had not yet taken place.
It was a month later that he contacted them. Sullivan queried the length of the settlement period, but the adviser assured them that it was industry practice. Marissa couldn't wait to see their newly-acquired assets.

The adviser took them into the vault, which was surprisingly large. There they were shown share and bond certificates, which Marissa found rather dull. But the gold met her expectations ("I just love the feeling of gold!"), and as for the diamonds, she kept trailing the little pile of stones through her fingers, wishing aloud that they had bought more — certainly more than of the alternatives, which were a complete disappointment.
That left the personals, which the adviser explained were in a special facility. He led them through another secure door into what appeared to be a kind of lab. The temperature was lower; Marissa was glad of her fur wrap. The adviser led them along a corridor between racks that reached up to the ceiling, and indicated that the final rack was theirs.
Marissa extended a finger out from her furs, and tugged open a drawer halfway up the rack. Inside was a tray, on which stood what must have been hundreds of little glass vials. The adviser, wrapping his fingers in a handkerchief, lifted out one of the vials. And there inside was a minute, perfectly-formed manikin.
"Oh, isn't he sweet!" Marissa gasped.

"Wait," the adviser smiled. He tapped the vial with a wrapped fingertip. Immediately, the little figure stooped, and with its tiny hand brought out a miniscule phone.

About The Author
Matthew Harrison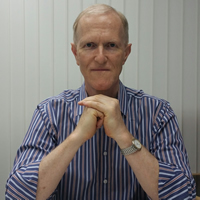 Matthew Harrison lives in Hong Kong, and whether because of that or some other reason entirely his writing has veered from non-fiction to literary and he is currently reliving a boyhood passion for science fiction.  He has published more than eighty short stories and is building up to longer pieces as he learns more about the universe.  Matthew is married with two children but no pets as there is no space for these in Hong Kong.