By Botond Teklesz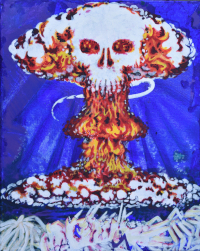 They walked amidst broken windows and piles of rubble. Almost home. Thick, dusty smoke permeated everything. Every now and then a wandering dog passed by, and a cold wind slammed their faces.
The idiots in charge had finally dropped the bomb.
The Russians, the Chinese — nobody counted anymore. Not that there remained so many to keep diaries.
The few survivors, like them, ate only what they could find: scattered canned beans, a soda, a chocolate bar every once in a while. When not foraging, they lived like rats underground, where there was at least a little warmth.
Every stone shone bright like lamps in the night, radioactive dust covering everything like a horrific blanket. Water was scarce. They could walk kilometres and find nothing but arid wasteland.
Nearby, on a forgotten street corner, a faint streetlight wriggled its broken lamp over a mass of twisted bodies that lay there. These blind corpses looked up at red skies, cursing God or whoever else was there to be blamed — eyes occasionally glinting in the glow of a neurotic street advertisement somehow still powered by a solar panel. It blinked with neon letters advising that Walmart had reduced the price of pork by 50%.
One of the mob — whose hair had turned white in the two weeks since the nuke strike — shambled along muttering a repetitive monologue: "I am watching this short movie on YouTube," he said. "It says twelve minutes long. I am at minute seven. But much more time has passed. Maybe like half an hour. I don't know what is happening. Maybe the amount of information is blocking my sense of time. One thing is sure, something is rotting. You don't need to get struck by a sphere of light. The nights are so long. Cars passing by in a split second, and if you don't pay attention you are dead. Geese tomatoes potatoes growing up in one summer of two months. I bet my life that two years have passed in two months. Rays of lights on the night sky. Something sparkling we call a star. Maybe it is just me. Maybe I can feel the truth."
The ragtag troupe paused a moment before the entrance to their underground hovel. The white-haired man added a new line to his mantra: "Maybe we all felt this Armageddon coming. Maybe we could have done something."
The mob muttered and shuffled forward. The cold wind of a season that was once called autumn blew mournfully above their nest. A freezing dog yelped somewhere nearby. Yes, it was too late for all of them.

About the Author
Botond Teklesz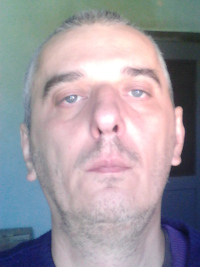 I am a chap who speaks four languages to the perfection.
As to the background, in the communist era in Romania we did not have laptops or cell phones. Those who had done some reading made it later to college. Those who did not still enrich the large mass of oblivion.
I tend to spend my time with translating literature, mainly sci-fi. Why sci-fi?
You see, I believe in God, but how they sell a white Jesus in an African church is beyond me. I am in a constant search for someone no human would ever understand. Call it God, call it UFO, what you will.
The stars will still be twinkling.