By Bethany Tatman

It was a busy night at The Dancing Griffin, but the second the newcomers stepped into the tavern they were impossible to miss. There were three of them. The boy, blonde and wearing shining white armour, walked at the front of the group. He was obviously their leader. A step behind him came the girl. Despite their undoubtedly long journey, through wind and rain and down muddy roads, she wore her skirts long and her hair loose. Not a strand of it was out of place. Behind her walked the last of them, an elf with long, pointed ears. Every head in the room turned to stare at the new arrivals. All except one.
'Barkeep!' the boy called across the room. His voice demanded instant attention: loud, clear, and commanding.
Tom, who had his back turned to the doors as he poured glasses of mead for his regular patrons, turned around. He wasn't surprised. This wasn't the first time strangers had come knocking on his door.
'I see we have some newcomers in our midst,' he said as the three made their way through the room and took their seats in front of him, 'what brings you to these parts?'
'I am Adam,' the boy said grandly, thrusting his hand forward in a manner that demanded a hearty shake. 'These are my companions: Mercentine and Zaran.' At her introduction, the girl blushed, and at his, the elf continued to look tall and foreboding. 'We are journeying across the land to slay the dark necromancer Lord Xiodar, and require food and lodgings for the night.'
'My,' Tom said, 'that sounds like an awful lot of work for three,' he looked at the elf and reconsidered, 'two so young?'
'Your eyesight must be failing you in the candlelight, old man,' Adam laughed. 'We are all adults. I am fifteen, and so is Mercy.'
Tom chose not to respond to that. Elves were notoriously youthful-looking, so perhaps their friend was the responsible guardian of the group. He addressed Zaran: 'Forgive me for asking young … man? But how old exactly are you?'
Zaran frowned, speaking slowly and carefully. The common tongue was obviously not his first language. 'In your time, I am three hundred years old. But among my people we count our years differently and I am,' he paused and frowned, searching for the right word, 'also fifteen?'
So many teenagers! Still, outright admonishment never worked. Tom continued, speaking as mildly as if he was discussing the weather. 'And the three of you wish to slay a necromancer all on your own.' He was by no means all doom and gloom, but even he knew that facing off against the dark lord would mean certain death.
'Yes,' Adam said, his eyes hard and determined, 'it is our destiny.'
Well, what could be said to that? There could be no changing of minds when destiny was involved.
'And I take it you want food and a bedroom for the night?'
'Oh no, two bedrooms, of course. One for Mercy,' Adam said chivalrously, 'or it wouldn't be proper otherwise.'
Tom watched in amusement as Adam glanced at Mercentine, who blushed again and then looked at Zaran, who coughed, looked at her, and then back at Adam. A distinctly uncomfortable silence fell between the three. That, Tom thought, is going to cause some problems for them down the road.
'Very well then,' Tom said, 'three dinners and two bedrooms for tonight. That'll be ten copper pieces.' He watched as Adam began carefully counting out his money.
While he waited, Tom slowly counted down from three. 'On second thought,' he said, as if the idea had just occurred to him, 'how about you save those coins? If you're determined to slay a necromancer, you all must be fairly handy at fighting and swordplay and whatnot.' He put down the cleaning rag he had been holding, and leaned forward as he launched into his speech. 'The mines nearby have been infested with goblins these past years. If you three can clear them out, your food and board will be free as long as you stay here.'
In succession, three pairs of eyes lit up. They all looked between each other and made a hasty, silent agreement. Mission accomplished.
'Rest assured, my good man,' Adam cried out, 'that the good people of this town will never have to live in fear of goblins ever again! The mines shall be cleared of this dark scourge first thing tomorrow morning!'
***
Dusk the next evening was a reasonably quiet affair. Adam and his friends had left before dawn, and they had not yet returned. The tavern was practically empty, too: it was late enough that the daytime drinkers had left, early enough that the nighttime drinkers had not yet arrived. Tom was sweeping out the fireplace and Gerta, his wife, was mopping the floor behind the counter.
'Thomas, hasn't it been long enough?' she asked, flipping her long silver braid over her shoulder.
'You always say that.' It was, in his opinion, always best to give these things a little more time.
'And I'm always right,' was her return. 'We should go now, before the sun goes completely down.'
Tom sighed, and walked upstairs to their bedroom. When he returned, he carried his spear in one hand, and Gerta's bow and quiver in the other. He had learned from experience that you could never be too prepared when it came to the goblins.
'If we leave early enough we can stop by the outpost on the way back,' Gerta said brightly. 'Pick up something nice for the tavern.'
'Of course, my dear. As long as the kids aren't too tired.' Tom pressed a kiss to Gerta's forehead, and together they made their way outside. It was a long walk to the mines, but the air was cool, and it would be nice to stretch his legs. 'I suppose we really should go and get them.'

About the Author
Bethany Tatman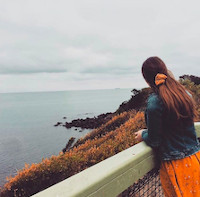 Bethany Tatman is an aspiring writer who currently resides in one of the more hipster suburbs of Melbourne, Australia.
She has previously been published in Lot's Wife.
In her spare time, she enjoys reading a variety of genres of books — but fantasy will always be her favourite.
She can be found at <@bethany_writes> on Twitter.