By Andrew Dunn

Thul crept low in tall lemongrass, breathing in their scent on the air but never seeing the ones that came down from the sky. They'd come close to the camp in the black of night after cooking fires withdrew deep into coals that glowed wild and red when winds below, and then receded sullen and dark when night's breath stilled.
The ones that came from the sky always disappeared before dawn.
Their smell lingered in the air though, familiar to Thul in some ways and in others a rogue essence he couldn't place and remained unsure about. It stoked the fires of Thul's curiosity enough that he woke before the rest of his tribe to cross the flat sea of tall grass as the sun climbed the eastern sky. When Thul saw the sky tribe's camp tucked away under a stand of tall oaks, he crouched down low to the ground.
Their camp was different than the sprawl of tents Thul's people erected under tall trees a short distance from the river.
Thul moved slow on the lone, squat, corpse-colored structure that reminded him of the carvings of insect heads tribal healers made, or a human skull with gaping holes in place of eyes. Do they worship the beetle, the fly, or us? Thul pondered as he extended his palm and placed it on the structure's skin, already warm in the morning sun.
Do they not hunt, fish, or gather during the day? What then do they do?
A clang inside the carved beetle-skull forced Thul down flat on dark earth. Thul's breath came deep and short, a hunter's breath, no different than when he hunted prey in deep forests. If the sky people were inside the beetle-skull, watching him through vacant, eyeless, sockets up above, Thul needed to be ready when they came charging out after him.
They never came.
The beetle-skull clanged again and again as morning swelter settled in, drawing beads of sweat that coagulated into rivulets that ran down Thul's back and arms. That sky tribe of two with their peculiar stench never came though. Thul rose to his feet and crept around the beetle-skull until he found a short run of stairs that led to a door recessed in the spot where spine and brain would have been joined.
The door was ajar.
Thul pushed the door open on hinges that whispered, inhaling the sky people's overwhelming stink and a host of other things that weren't a part of his tribe. Thul held his breath and took a step inside, pausing to let his eyes adjust to the dim light. Black blocks with eyes that burned like coals in a cooking fire, but green, lay side by side affixed to a narrow counter near the beetle-skull's entrance. Thul jerked one loose from its socket.
Thul listened hard as the block spoke words he didn't understand.
"Echo Two to Echo One," the block said, "The natives are up and active. Some are heading your way."
"Copy that Echo Two. I'll hold position by the river and wait for them. Follow them from a distance and get this on video."
"Vi. Dee. Oh?" Thul wondered what that meant. The name of their people? Their god? Their battle cry?
Thul clutched the block close, jumped clear of the beetle-skull the sky people lived in, and sprinted off into lemongrass on his way back to his camp.
There was a tribe to ready for war.

About the Author
Andrew Dunn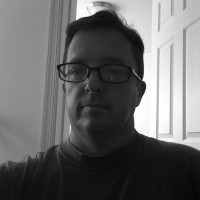 Andrew writes science-fiction and fantasy from the state of Maryland on the eastern coast of the United States, often drawing ideas from jogs through forest trails at sunrise or a tasty beer at sunset. 
Andrew writes each story with the goal of giving readers something they will enjoy, without relying on the typical, predictable, or cliche'. His work has previously appeared in AntipodeanSF, 365 Tomorrows, and soon Daily Science Fiction. 
When Andrew isn't writing chances are he's playing guitar or bass, exploring abandoned places, or spending quality time with a bulldog. Andrew hopes you enjoy this story, and he will continue to try and write stories that you'll love to read!