By Kevin J. Phyland

"Three wishes?"
The ifrit tilted his head at me and nodded. His eyes held a mischievous sparkle however, that gave me at least momentary pause.
The Erlenmeyer flask that I had been drying in the school chemical laboratory still sat on the flame-proof bench. There was just a hint of sulfur in the air from when I'd unstoppered it and a small pill-shape — the magnetic stirrer — sat in a small drop of liquid. The glass stopper still rocked lazily back and forth.
The ifrit gurgled a set of indecipherable phrases, no doubt flowery references to his own magnificence, then paused and coughed apologetically. "Sorry. I had to adjust to your uncouth modern language. I was tricked by a rather clever human in England before being shipped here to Australia. You may call me — " he paused again — "Aaron."
"Aaron?" I asked. "Did you like just look up a list of names and pick the first one?"
Aaron grinned hugely. "Yes," he said, "Well done human! And shall I call you Graeme or Mr. Button?"
The fact that Aaron appeared to know my name didn't faze me so I guessed I was sliding into this piece of unreality with aplomb.
"To business," Aaron continued. "Standard three wishes contract...and...your last wish can't be 'An infinite number of wishes' — that's what they all try." This last was accompanied by a disappointed sigh. I wasn't about to tell Aaron that I had indeed mused over that very idea but had discarded it as probably forbidden even as I worked up a new plan.
With far less suspicion than was probably needed I bored straight in. "Okay, let's get this thing going."
"Money!" I said. Originality was never my strong suit but I went with my gut. "I want all the money in the world!"
Aaron looked slightly pained. "You do know that would mean that everybody else in the world would be poor?" I hadn't thought that far and recast my wish. "A billion dollars?"
Aaron smiled and blinked. "Done," he said. I couldn't wait to check on this but bank transactions took some time so while I waited for the wheels of global finance to continue in their perpetual motion I went for wish number two.
"Infinite good health?" I inquired with some smugness. I'd crafted this quite carefully I thought. The infinite should imply immortality and good health was pretty hard to misinterpret. Aaron simply shrugged and blinked again. I took this to mean it had been done. I didn't feel any different but I was feeling pretty good anyway.
"Right — number three..." I didn't know if this had been tried before but nothing ventured, nothing gained. "Get back in the jar!" I commanded with some vehemence.
Aaron fixed a glare of pure malevolence at me before assuming a rather stereotypical vapour and filming the inside of the glassware once more. I stoppered it.
My plan was simple. If I let him out again I assumed we'd start over and I'd have three more wishes!
My phone rang. Two messages.
One from my bank querying the legitimacy of a deposit of one billion Zimbabwean dollars — worth just shy of a cent — into my account. The transaction would cost me two dollars. I could already feel a prickling at the base of my neck. This did not augur well.
The second was an inquiry from a company called Infinite Health Insurance who were quoting me their 'good deal' on term life insurance policies. I wondered what that might end up setting me back if I was by some miracle immortal. I ended the call.
I pocketed the phone and looked at the flask on the bench.
Maybe my next three wishes would be better.
Provided Aaron didn't carry a grudge.
History was not on my side.

About the Author
Kevin J. Phyland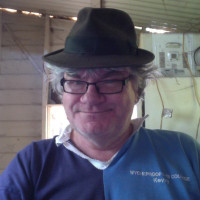 Old enough to just remember the first manned Moon landing, Kevin was so impressed he made science his life.
Retired now from teaching he amuses himself by reading, writing, following his love of weather and correcting people on the internet.
He's been writing since his teens and hopes he will one day get it right.
He can be found on twitter @KevinPhyland where he goes by the handle of CaptainZero and his work is around the place if you search using google or use the antisf.com.au archive.