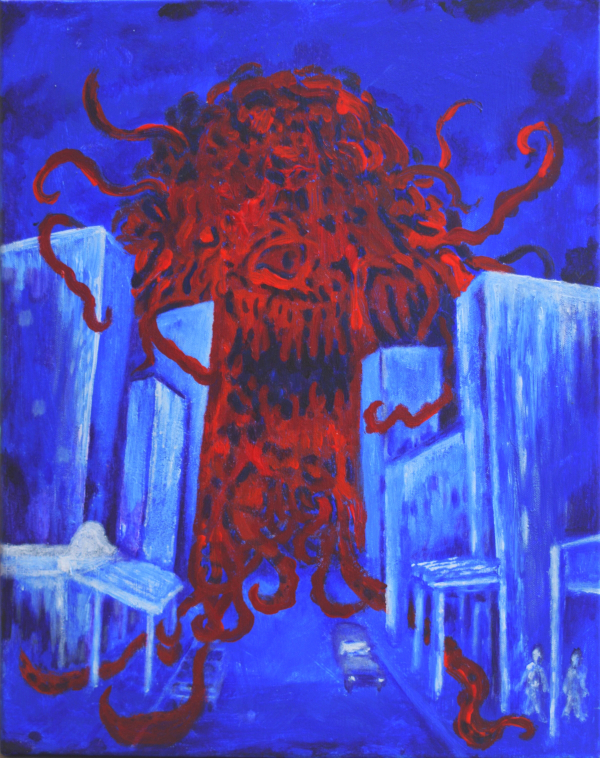 ---
By Tony Owens

Klinko, the King of Klowns and Mung Bean the dwarf looked on in horror as the gelatinous mass of red goo enveloped random townsfolk. Just ten minutes earlier it had devoured their accountant. 'I've just been taking your money. There's no way Hernandez's Circus of Terror will ever be a viable money-making venture,' he screamed, as he was digested by the monster.
Subsequently, the blobby creature had consumed the bowling alley, the drive-in and was now making a beeline for the town hall.
As it consumed the townspeople, all manner of secrets were blurted out into the waiting atmosphere. 'I think Jar Jar Binks should get his own movie.' 'I don't have any idea how to use apostrophes.' 'I only like my friends' Facebook posts if they like mine first.' 'I invented the selfie.'
'We have to stop this, boss. Hey, who's that creepy looking guy? He looks familiar,' said Mung Bean.
'He's a writer who keeps following the circus around. He wants to write our stories down. Says there's a market for it.'
As they watched the author was consumed. 'My stories rely on characters appearing at random to explain the plot,' he screamed as he disappeared.
At that very moment a scientist in a white lab coat appeared out of a doorway and grabbed Klinko by the sleeve. 'I don't know what to do. This creature is my fault. I was researching truth serums for the intelligence agencies and my girlfriend is a geneticist working on synthetic life forms. We'd had a few drinks at the lab Christmas party and well, we got to wondering what would happen if...' His voice trailed off sheepishly.
'How convenient that we ran into the one person who could explain everything that's going on in town,' thought Klinko. 'I've got an idea,' said the clown. 'If this creature thrives on the revelation of secrets we need to lure it to the one place that it will starve.'
'Two problems, boss. One, where do we lure it? As far as I can tell, everyone in this town is blabbing out their secrets. And two, how do we lure it? Let's face it, failure is not an option.'
'But cliché is?' snapped Klinko.
Without warning, a gooey tendril attached itself to the scientist and pulled him into its gaping maw. The last thing they heard as he was digested was 'I invented a method to stop people talking loudly on their mobile phones on public transport…. But the phone companies paid me to suppress it.'
'In there,' shouted Klinko, pointing at a costume suppliers a hundred metres down the road.
Soon they emerged sporting newly purchased masks, Klinko looking like an orange haired Julian Assange in size seventeen clown shoes and Mung Bean looking like Edward Snowden's little brother.
'Hey, Mr Blabby' called Mung Bean, 'we've got all the secrets you could ever want.'
In as much as an amorphous blob of jelly can be said to look curious, it did. Abandoning the other potential victims it oozed down the street, pseudopods whipping and flailing. Klinko and Mung Bean barely managed to stay ahead of its vicious, viscous fury.

'Where…are…we…going?' panted Mung Bean, whose heroic devouring of twelve pancakes for breakfast on a dare was beginning to look far less like a good idea in the cold light of day.
Klinko pointed down the road. A small, nondescript building with no apparent signage.
The two fugitives ran in the front door, discarding their disguises as they did so.

The blob expanded and quickly engulfed the building but not before Klinko and Mung Bean emerged into the rear car park. They heard a quizzical 'Huh?' and a loud pop as the creature imploded.
'Boss, you did it,' said Mung Bean. 'Where are we?'
Klinko pointed to a sign in the vacant parking lot. 'RESERVED FOR THE PRESIDENT – ROYAL COLLEGE OF INTROVERTS'.

About The Author
Tony Owens
Tony Owens is an ESL teacher living in Brisbane with his wife and son.  His short fiction has appeared in the anthologies In Fabula-Divino, Zombies Ain't Funny, and 18. He also does a flash fiction series chronicling the adventures of the long-suffering Klinko, the King of Klowns, which appears semi-regularly on the AntipodeanSF website.  His ultimate ambition is to find the literary sweet-spot between H.P. Lovecraft and P.G. Wodehouse.