By Kevin J. Phyland
I

n the harsh glare of the overhead fluorescent lights Sisyphus paused.
When the strange keening sounds stopped, the two inquisitors left the cell — both looking weary and frustrated. Sweaty, with rolled up sleeves, one of them lit up a cigarette and walked to a nearby water cooler. I stood at a sort of loose attention by the cell door and watched their flushed faces.
"Make sure you check on it every hour on the hour," one of them said to me. He had a buzzcut and his shirt was unbuttoned to the midriff and spotted with moisture. I looked at him with my thoughts written on my face. He noticed and looked away. "Just do it," he muttered as he rejoined his partner and left. The corridor sealed with a muted clang.
From inside the cell came a sound I'd come to think of as whimpering. The mysterious creature incarcerated within had had the really bad fortune to have crashed near this military base. I had been seconded to guard it; but it was more like I was simply bearing mute witness to the barbarous and inhuman treatment that was being meted out by a paranoid organisation of people who feared loss of power more than anything physical.
Through a small plexiglass window in the door that was threaded with fine wire I could see a short, narrow cot to which the creature was held by leathery straps. There were some plastic water bottles on the floor. No tables or chairs, just a locked box which I knew contained the equipment that they used to 'encourage' responses from the hapless inmate. Everything was presumably recorded for later study.
It was curiously man-like while obviously not human. Its eyes were red, but that may have been a response to the encouragement it had just received, and they peered hopelessly from a bipedal body that was covered in golden fur which must have been glossy before privation and ill-treatment had done their work.
I could see two cameras, one in each of the corners away from the door, and knew from being inside the cell when the creature had been brought in that there were two more on the near side of the room.
It moved its eyes towards mine, silently pleading, like it knew how I felt about this appalling variation of first contact, like it could sense my thoughts or emotions.
I thought back at it in case it could. You can't escape pal, sorry. The cameras would see me let you out and then we'd both be 'encouraged' a bit more. And where would we go if we did?
It stared at me, flicked its eyes up and down, closed them and exhaled as though its breathing had stopped. The creature repeated this sequence three times before I got the idea. It may even have put the idea in my mind. Either way I got it.
It wanted me to kill it. To take the pain away. It couldn't speak English or any other language that I knew so it was being forced to tell things it didn't even know. For all I knew it was joyrider, or a hassled executive, or a fretting mother. It could have been any damn thing, I suppose. Even what the military assumed — a reconnaissance scout for an invasion — but Occam's razor told me something different.
There seemed to be only one way to do this thing. I unlocked the door. I would have to be quick. I unholstered my pistol and with a huge, shuddering breath I flung the door open, walked the five steps to the cot and fired three times into where I hoped its crucial organs might be.
To me and probably it, it wasn't murder. It was something else.
A mercy.
Somewhere, doors were flung open and the sound of running feet and shouts could be vaguely heard. But not by our visitor.

About the Author
Kevin J. Phyland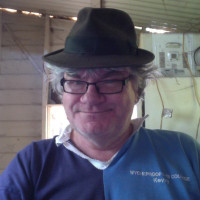 Old enough to just remember the first manned Moon landing, Kevin was so impressed he made science his life.
Retired now from teaching he amuses himself by reading, writing, following his love of weather and correcting people on the internet.
He's been writing since his teens and hopes he will one day get it right.
He can be found on twitter @KevinPhyland where he goes by the handle of CaptainZero and his work is around the place if you search using google or use the antisf.com.au archive.