By Daniel Purcell

"Goodbye, Honeybunch," called Clara, Michael's wife, from the kitchen. "Have a good day at work, love you."
"Loveyoutooseeyalater," Michael said, slamming the door behind him. He was always rushing and forever forgetful. He did love her, but things had waned over the years. Little things irked when they didn't in the beginning. That bloody nickname, for a start.
The passion had faded. Honeymoon period over, sex out of the window and a kid arrived; a kid that's at the age where they'd rather be up all night chatting to friends than sleeping.
He took out a stylish business card that was ink black with white lettering: Neurosync Ltd. One of the guys with the clipboards and colourful jackets in the city centre had been a little too overzealous in piquing his curiosity. But it did the trick, even if he did sound mildly unhinged.
Clipboard Guy managed to convince Michael the product would be a form of couples therapy, though he wouldn't be with his actual wife. The place required a special app to locate. He guessed it would look like an Apple store. It didn't. It was more like a dentist's surgery that hadn't been used for centuries.
Apparently, there were countless underground 'clinics.' There, Michael was set up with his synth-body: a synthetic android that he could customise, upload his consciousness into, and go out into the world to do whatever he pleased with, whilst his physical body was lying at home. His was called MichaelToo. The clerk/scientist/potential nutter warned Michael to never let anyone 'turn him off' whilst his consciousness was still housed, otherwise he could end up lost. Whatever the hell that meant.
***
The woman who met MichaelToo at the bar was tall and beautiful, hair platinum. Her black dress hugged her buxom figure tightly and her lilac eyes blazed when they met his. They got drinks — just for effect — and found a table.
"Happy anniversary, right?" the woman said. She was FlorenceToo. "Can't believe it's been a year."
"Yep, who'd have thought it?" MichaelToo said absently. He surveyed the rest of the bar, which was full of synth-bods and default androids dating. How had things come to this? he thought. He couldn't tell who was who — or, more, what was what. It was a buffet for the warped.
FlorenceToo babbled on, but MichaelToo altered his internal settings and increased the background noise to a deafening aural assault: 'A Groovy Kind of Love,' by Phil Collins blared. Someone else had caught his eye. Still, they finished up and left for their hotel.
MichaelToo was in the middle of undressing FlorenceToo when panic struck him like a sledgehammer. Something had been tickling the back of his mind all evening, but he couldn't put his finger on it.
Then, at the worst of moments, it arrived. Michael remembered he'd left the stove on. In the house where his actual body was, lying defenceless and unaware.
***
MichaelToo, the synth-body, had the physical prowess of four Olympic athletes combined, but he still couldn't make it back to their house in time. The inferno had decimated most of it and it was still ablaze when he arrived. Whatever was inside would've been ashes by now.
MichaelToo fell to the ground and bellowed in anguish.
"Hey, Honeybunch," came a voice behind him. It was FlorenceToo. "Quite an explosive end to the date, wouldn't you say?"
"You did this? You could've saved me!"
"No. You did this, Honeybunch. I knew you were cheating, just needed proof."
That name, Michael cursed internally. How could I have been so stupid?
"I'm so sorry, Clara, I really am. But we had problems."
"Don't worry, the kids are at their nana's," Clara said. "We'll chat at your funeral. In the meantime, I think you should take a break from that thing for a while."
Clara activated the node in MichaelToo's neck to turn him off. His body slumped, eyes glazed.

About the Author
Daniel Purcell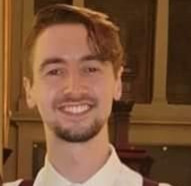 Daniel Purcell lives with his girlfriend in Scotland.
He studied English at the University of Liverpool — where he was born —and has travelled extensively around the world, living in America for six months along the way.
He mainly enjoys writing and reading speculative fiction.
He has upcoming short-fiction being or already published with Farther Stars Than These, two Black Hare Press anthologies (Dark Drabbles - 'Oceans' and 'Ancients'), 101 Words, a Rogue Planet Press anthology ('Unexpected Turbulence,' in the Halloween 2020 edition), Eerie River Publishing ('The Beast in the Black Isle' in It Calls From The Forest Volume 2) and Iron Faerie Publishing (FAERIE Anthology).