By Nick Petrou
I

must admit, I was hesitant to take the job on Ida IV's jungle moon when I heard about the brain slugs. But now I can't imagine my life without my little guy.
Saprilla was one printed dinner or "I'm not in the mood" from picking me up with her forelegs and chewing off my head. I figured we could use some time apart (and some cash), so I holo'd my colleagues from the old days and asked if they could use an extra pair of hands on any jobs this side of the galaxy. They told me about their next big target, and then the brain slugs. With a bounty like that, I could've kept Saprilla from ritualistically killing me for another rotation or so, maybe even rented us a shoebox topside. When she asked if I was getting myself into trouble again, I made up something about some prospectors who needed protection from the moon's endemic fauna. She wasn't vibrating her underwings, but she seemed to buy it. As I climbed into my skiff, she scuttled up to the passenger-side window. I saw myself a thousandfold in her eyes — my head a caterpillar-protein sausage sticking out of a bun.
"I want stability," she clicked. "A family."
"That's why I'm taking this gig, Saprilla. Last one off-world. I promise."
"I hate how this sounds, Tyler, but put a baby in me when you come back or don't come back at all."
***
The moon was a malachite marble orbiting a gobstopper, white shell sucked to the cyan and orange beneath. As we got closer, blue-green pockmarks swelled into being. We aimed the bow at the largest of the lakes and held course. We landed on a slab of limestone on the lake's southern bank. I thumbed a tube of flechettes into my slinger, stuck my head into a glass bubble, and walked the plank.
The jungle sounded like Saprilla moult-crying inside my skull. A buttery haze clung to everything. Insects snaked through it in schools a million strong. The trees reminded me of buried footage from Earth — that rainforest named after that tech company or whatever it was. A kilometre-thick buffer of putrid reeds encircled the lake, and I could barely see water from where I was on the ground. We were just about to power up the bots and start hacking our way through the jungle when our target seized the initiative and opened fire.
A plasma bolt sizzled out the side of Prisprata's scaled head. Two more turned Elodine into a steaming pile of blueberry pulp. A neon-pink volley cut a tree in half. I tried to dive out of the way as it crashed down on top of me.
Slipping in and out of consciousness, I watched a hazard-yellow crayon melt down a reed stem and then pulsate over the earth towards my face. As it squelched up the side of my helmet and in through the jagged hole just in front of my nose, I noticed a cluster of sharp tendrils feeling out in all directions from its front-facing end. Among the tendrils was a tiny horizontal slit, pulled into what I now know was a smile. I remember pain, Deema dragging my fat ass up the ramp, and yellow veins spreading through the blackness of my semiconscious mind before throbbing and then fading into it.
***
When I came to, I thought the anaesthetic was causing some sort of lag between my body and brain. I climbed out of the healing tank just fine, got dressed and chugged down two cylinders of nutrient water no problem at all. When I went to the lavatory, I looked back and checked my stool before ejecting it into the vacuum. Strange, but no cause for alarm. It was when I tried to print something to eat that I started panicking. I saw the icon for MACARONI AND CHEESE and watched my index finger press CHICKEN, AIR FRIED.
The mess doors flung open and Deema lumbered through. "Something's wrong" was on the tip of my tongue, but "I owe you one, D" is what came out of my mouth. I was freaking the hell out, but all I could do was watch as someone else steered my life.
I had plenty of time to think about my new situation on the way back to Hegero III, but it wasn't until I got home to Saprilla that I put my feet up — so to speak.
***
I climbed out of my skiff and pulled Saprilla against my chest. We went inside, and I stroked her throat glands and sucked her antennae, tasting her bittersweet oils as I had never before. Her carapace went soft and warm, and after her abdomen quivered and decompressed over the bed, oozing a clear fluid into the mattress, she said, "Shit, Tyler, I didn't know your species was even capable of that."
Within five rotations, I had worked the galactic stock market as I had worked Saprilla's insectoid body, turning the six figures I had split with Deema into nine. I came home from the gym in a Metropolis Mark V and gave my old skiff to the agamid family below us. We left our dim apartment in the crust and sailed the kilometre-wide topside streets, a real sunset on our backs, solar-celled space elevators and skyscrapers casting their shadows over the planet.
Myself as much of a passenger as my beautiful wife, I pointed out one of the skyscrapers ahead, dark-green foliage pouring from its every balcony. "That one — that's our new home."
Saprilla rested her head on my shoulder. "And we'll be needing the extra space too."
For the first time since Ida IV, the yellow veins throbbed in the forefront of my mind. They tugged on my nervous system and rotated my head until I faced Saprilla's abdomen, where, beneath the surface, there spread a cluster of veins in kind. I smiled.

About the Author
Nick Petrou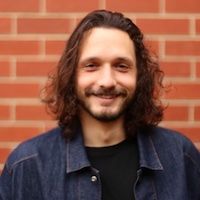 Nick Petrou works as a freelance writer out of Perth, Western Australia, where he likes to read unsettling fiction and complain about the sun.
His short fiction is with or forthcoming with The Arcanist, Ghost Orchid Press, Quill & Crow, and others.
You can find out lots more about him at <nspetrou.com>.