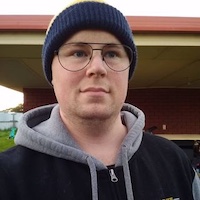 I grew up in Elizabeth, SA but have fallen in love with Adelaide's southern coastal suburbs (there's just so much more nature down here).
I live with my wife, The Boss, and my toddler who's a sentient squeal obsessed with dinosaurs and going to the zoo.
We have four cats. They're not awful, but they could be more helpful around the house.
I have a long-distance relationship with depression and have Autism Spectrum Disorder.
Cycling is my favourite way to get around and I'm pretty into basketball too (go 36ers).
Cartoons are my favourite thing to binge.
"Be excellent to each other"