By Amy Logan

Sam had to hide his Halloween stash. The tiny Tootsie Rolls, chewy taffy, rainbow tinted chocolate candies, all had to go into hiding. His sister Anne was relentless, after eating her candy she would go on a mission to find his. In a week hers would all be gone. So his candy was in danger.
The hiding place would have to be clever, unusual, private yet accessible. He finally decided on a plastic pencil box that he had left over from school. In a bottom desk drawer, it would be safe. And it was, sort of.
After eating all of his favorites the candy stash had been forgotten. The holidays came and went, and the desk drawer was ignored until the school year was to begin. He didn't give it much thought until he had to clean out his desk. And he found the pencil box was empty. The candy was gone. Sam wanted to confront sister Anne, but the statute of limitations for the theft of last fall's Halloween candy was definitely over.
Part of room cleaning was also cleaning under the bed. Scooping out single socks, and soccer balls, out of the corner of his eye Sam thought he saw something move. Move. Then he saw it. A licorice whip tentacle, no a leg, scuttled under a crumpled book report. He didn't know what to do. Run? Call for help? He was too horrified and curious to do either. He grabbed his baseball bat and a flashlight. On his stomach on the floor facing the bed, he gingerly moved the paper with the bat. With the flashlight he could get a full view of what was going on. He wished he hadn't. The giant purple jawbreaker spider had 8 black spaghetti thin legs. It was big. It was scary. And it was alive. It scurried back into the corner taking a defensive posture. Clusters of tiny robin egg malt balls were planted in the corners of the legs of the bed, promises of future candy creatures to come. And in the corner closest to him, his flashlight, and his nightmares, was a cotton candy web and encapsulated in pink candy floss, in the center, the tragic figure of an orange gummy bear.
He panicked and scooted out away from the bed as quickly as humanly possible. He flicked off the flashlight and sat paralysed, his mind trying to comprehend what he had just seen. Living candy? Under his bed? He didn't know how it got there but he knew one thing. It couldn't stay there. He would never be able to sleep again knowing what was going on under his bed. And he had to deal with it soon, there was no telling when those robin eggs were going to hatch.
So. Options. Broom? Too scary, not lethal enough. Vacuum? Nozzle too small. Trap? Yes, that was it. It would have to be trapped alive, to make sure that it was really gone. So he needed bait. And a trap. And a plan.
So if the gummy bear was any evidence, the thing ate candy. Gummy bear-like candy. Easy to get, easy to handle. Now the trap. Think like a spider. An intelligent jawbreaker spaghetti licorice legged spider. Where would you go to find candy? Somewhere dark, somewhere safe. The trap had to be attractive, yet lightweight and portable so it could be placed under the bed and removed easily. Got it. Can you say piñata?
So from here he had several options. He could make a piñata, he had seen sister do it. But it would take time. Lots of time. Time to cut, layer, goop and dry. Overnight. Maybe several overnights. And while it was drying the malty eggs under his bed may be crackling open, and if they're anything like real spider eggs each speckled orb could release thousands of candy creatures. He couldn't afford to wait. Hello piggy bank.
So off to the store. He chose a traditional donkey shaped model. Since he was not sure what the cultural sensibilities were of the enemy he thought the more traditional route to be the safest. Once home he modified the opening of the piñata so it was BIG. It had to be at least 4" in diameter so Spidey (he named it for ease of reference) could easily get through. So the plan was: 1. Bait with gummy bears. 2. Place under bed. 3. Watch and wait. 4. Plug the holes. With what? He decided an old t-shirt would work fine. 5. Find courage. And not just any old courage. This was the big time. Lying on the floor on your stomach next to your bed with a flashlight in the dark waiting for a giant jawbreaker spider to climb into a pinata so you could plug the hole with your t-shirt kind of courage.
So that night he carefully slid the piñata into position under the foot of his bed. Opening angled toward the side where he waited. And waited. It was hard to see exactly what was going on under the rest of the bed as he had not disturbed his belongings, aka Spidey's habitat. But he could see the trap. He got sore lying on his stomach. He shifted positions several times, stomach, right side, stomach left side, never talking his eyes off of the piñata. He had the t-shirt at hand. He was ready. And then he saw it. A licorice legged scuttling spider approached the piñata. Sam held his breath. Spidey entered.
Sam counted to five then with t-shirt in hand shoved it into the opening of the piñata, trapping Spidey inside. He had him. He had won.
He was exhilarated. And tired. He would take care of the eggs tomorrow. He put the whole piñata into a sturdy paper bag then into a large plastic tub with tight lid. It didn't have to stay there long. Sister Anne was having a birthday.

About the Author
Amy Logan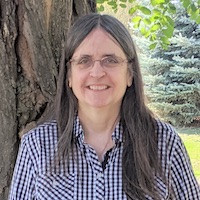 Amy Logan's first work was published on October 29, 1970. It has been a bit of a dry spell since, so  she is very excited to have the opportunity to contribute to AntipodeanSF.
She is a lifelong fan of speculative fiction and the short story and has returned to writing the weird tales that she loves.
She lives in Eastern Washington state, not far from the Canadian border with her human family as well as 2 cats, 1 dog, and a llama.