---
By Cat Sparks

The woman seated across the dining table insists she is not a tourist. She and Filippe are international travelers. They sip heinously overpriced sav blanc and peruse the photocopied list of day trips. She wrinkles her nose and declares the ice hotel and midnight choral performance in the old wooden church are likely 'twee'.
She tells you all about the time in Svalbard where rifle-toting men stood guard on craggy points just in case of bear attack, and then about the local boys who hacked a path through Rwandan jungle to take a group of six to meet gorillas.
Such authentic experiences, darling. You sip twelve-dollar beer and nod politely.
The travelers tuck into venison. They are good with facts, like the name of the farm where they bought that brilliant riesling, or the time they tangoed on the Tallinn-Helsinki ferry. They chew through mouthfuls of Machu Picchu and Kokoda Trail, while you mention countries you have visited, cities you liked and didn't like, places you are planning to travel next. You will be forgotten long before the ship hits Trondheim, your features being unremarkable, an important trait that landed you this job and all the jobs that came before it, leading to this voyage, place and time.
After lunch, you retire to the Vesteralstuen lounge, and its assortment of scattered, mismatched chairs. On the farthest wall, a blue impressionistic triptych depicts some long-forgotten colonial event: boats and houses, men in fancy hats. In front of it, a parquetry dance floor, too small to permit even a modest tango.
A bald man slouches, paperback in hand, oblivious to passing scenery and the midnight-hulled patrol boat bathed in gorgeous afternoon light, attended by a flock of hopeful seagulls.
Thus far, Vardo, Hammerfest and Oxfjord have passed without incident. You expect the same from Skervoy and Risoyhamn and consider selecting a book from the library cabinet. Not much to choose from: obligatory Cornwalls; Ken Follett's Winter of the World. Bypassing a couple of unfathomable Japanese tracts, you settle on Lynda La Plante's Cold Shoulder.
On each assignment, you pit yourself against the algorithm, trying to ID your target before the Lance kicks in. Your track record is roughly 60:40, running in your favour. The Lance exists to ensure you follow through.
When the seas get choppy, glass buoys nestled in the window space start rolling. Cerulean sky triggers a memory fragment, brief and unsatisfying. A seaside pier with striped umbrellas. Screaming gulls and you can't remember where.
Childhood memories were forsaken when you had the Lance upgraded, a necessary condition of promotion. Small price to pay, you had thought back then. You have come to regret such rash decisions.
You while away an hour skimming pages, systematically ticking passengers off your list: the paunchy cluster of white-haired Germans; the girl twirling and untwirling a lock of nutmeg hair; the woman in a scarlet jumper and ridiculous high heels, knitting with three needles, wool trailing out of a plastic bag. Any of them could be Cassini, your shipboard target's official designation.
Constant rattling and shuddering of the ship, rolling and sliding, dipping and plunging.

Announcements come in four languages, preceded by three chimes. Occasionally a fifth attempted, but Robin, the tour manager, does not have more than a smattering of Arabic. His Italian is also poor — at dinner, Phillipe's wife shared rumours of how he lied about Italian on his application. Of course he lied… everybody always lies. On occasion, you have taken credit for results you didn't action. On serious matters, you have fooled them only once.

Your gut floods with momentary panic at the sight of a small abandoned camera haphazardly positioned on a table. You may yourself be a target on the Vesteralen. One of these innocent-looking passengers might have you marked as a target of their own, an officially sanctioned response to Cairo, or, perhaps, a further consequence of Mumbai.
You relax a little as a fat old woman claims the camera and attempts to take a photo. Muttering to herself in German, something's going haywire with the settings. She seems dissatisfied with the swiftly passing scenery. The light has changed and it's no longer worth the effort.
A bug crawls up the porthole glass as the ship is moving past Gjerdoya. Red and white and yellow houses. Bright green grass surrounds each dwelling. Rows of strategic windbreak trees.
You've said it many times before, that this assignment is to be your last, that you are getting too long in the tooth, that you deserve a different kind of life. You stare at the claret-coloured armchairs, then across to large windows rimmed with rivets, burnt orange curtains threaded through with diagonal curves of red. Such hues reminding you of burning buildings. Other decades, other lives and places.
***
The scruffy, bearded man at breakfast appears to be praying before his bowl of oatmeal. Turns out he is staring at the phone down on his lap, concentration eventually broken by a squirming child in a Star Wars T-shirt.
There is a killer on this ship, most likely decommissioned. You will be cleaning someone else's mess. You have done this gig too many times.
Your list is based on days of observation. Imaginary bets against the algorithm: the silver haired man, dark glasses, business shirt, binoculars he never seems to use. Or camo pants and camo cap, with lurid lime-green trainers. The way he paces in between the islands and does not check his phone often like others. Or perhaps the taut and wiry man who vaguely resembles Putin? That, at least, would give someone a laugh.
For certain, it's neither of the couple who are always kissing. Nor the windblown twenty-something flirting on the deck above the prow. Nor that one, heavily pregnant in a bright pink lacy top, tatty bra strap falling off her shoulder, children's faces tattooed on each bicep.

You dismiss the pink-haired girl in the all-black denim. Jeans ripped neatly at the knees, impractical with all these icy winds. Only the old and serious rug up on deck.
The young ignite such jealousy, with their freedom and comfortable good looks. Things were different back in your day — and with that thought, you are suddenly transported. Designation: Anaconda, the Egyptian coup barely five weeks past, embedded amongst ten thousand supporters of deposed Morsi, impersonating an American journalist amongst the wound-tight, jittering young Muslim Brotherhood. In Raaba, at the peak of summer, drafting their wills and bidding their families farewell. Those Egyptian boys knew they would die, even though the killing of 800 at Midan Rabaa al-Adawiyya was still a week away and you still believed in the potentiality and space for alternative outcomes, so many ancient hatreds amidst the loudest calls for bread and freedom.
Another memory. Designation: Baskerville, and you are driving through a filthy, trash-strewn maze of narrow streets. 'El Sijn'— 'the prison' — a baby-shit brown cement compound. Clandestine locations around Cairo, changing your residence every other week, forever waiting for calls from unknown numbers. You cannot shake the violent memories, one hundred lingering Algerian ghosts. You have forgotten when your faith in the illusory notions of neutrality, western democratising pressures and the line between inaction and complicity died. The raging dissonance between ideology and practice has left you weary of so-called 'stability paradigms' and externally driven shifts in the cost of suppression.
Three chimes swiftly followed by Robin's tour manager prattle bring you back on deck, into the moment. 'We see the Globus! The Polar Circle is not far away.'
Everybody cheers and an old man in knee-length shorts and sailboat-patterned shirt hobbles across the deck with his sturdy cane. Stops to converse with a smoking woman wearing a ridiculous floppy hat. Wind snatches at their conversation. 'No gubbins,' she seems to be saying, going into some detail, explaining gubbins as things you do not want on your plate, yet you have to have them in America. Whatever's listed on the menu, that is what you get, she says, smoke from her cigarette wafting in your direction.
Robin and his microphone intrude. 'You might feel some vibrations so hold on to something… Maybe a glass of champagne, that will make you steady. A very nice lady called Ingrid, she is selling champagne here. Very nice.'
A blast of ship's horn raises whoops and cheers as the Vesteralen crosses over.
'Can you feel the vibrations? What an amazing experience for us all!'
Robin's vibrations linger longer than they should and you know that the process has begun. The Lance in activation mode, insisting on redundant calibration and diagnostics. The Lance will be fully operational an hour or two past sunset. You need to stay on your guard until that point. You are, in fact, guarding the Lance. You are not required for measurement, evaluation or deduction. You are a bullet, a rough shove over the side later at night in ferocious, obfuscating winds. You are the anvil, not the hammer. An instrument, a weapon wielded. You play this game on every mission, trying to guess your target's form. There is no need. The Lance is implanted for this purpose.
This job is almost certainly a payback — Cassini, some retired operative twenty years out from the game. Embedded comfortably in an ordinary life.
Your ears prick up at the couple behind you speaking in secret code. You don't look, and you hold your paper steady.
'A gala? Birthday party you mean?'
'Was there a railroad?'
The ocean sparkles when the sun comes out and you comprehend they are doing crossword puzzles.
'What you got?'
'Forty-two down… Mystery times.'
'This was W Somerset Maugham.'
'Now this… World War II'
'He got killed just off the highland during the invasion…'
You smile and put the paper down to watch a trawler scudding by bleak rocks, and then, on deck, a man carrying tea in waxy cardboard cups, tea bag tags flapping wild, like little kites. A young girl, her hair in neat French braids, skips up and down the stairs clutching an ipad.
'Let's just keep moving along…'
'But this is how you spell it!'
'It is not! It's got a T. Like trident!'
'Mickey somebody…'
'I'll go across.'
'Is that the home? Or is that's the away team?'
You have been away too long. In the distance, snow iced, craggy peaks run through with mossy veins, soaring gulls, foam licked rocks. The sea enraged, desperate for purchase. The passengers begin to stagger like drunks across the deck. You remain in the top deck Plexiglas enclosure, seated near the crossword stalwarts, wrapped up tight against the weather, staring at the choppy, foamy grey. Catching glimpses of misty, descriptionless rock islands, like the backs of deeply sleeping beasts.
'… So the muse would be who…'
'I dunno… it says name…'
'No, we got 222 and 223…'
'That's gotta be Joe Lewis – he's a fighter.'
You're a fighter too. Unexpected flashbacks to Black Friday, March 12, '93. Designation: Candyfloss. Bombay bloodied, charred and chastened by its first taste of international urban terrorism. RDX strapped onto scooters, left in suitcases, crammed deep into cars. Explosions tearing south to north, the death toll high, with countless literally vaporised. The double decker bus reduced to the size of a mangled Maruti, the suburbs filled with shattered window panes.
The woman you pulled from the burning building…her name…what was her name? The AI kicking in and over, separating you from memories you would have liked to keep. So precious, such small acts of rebellion.
No matter. You have done your bit for international diplomacy. The hour is long, and you have had enough.
Cassini is certain to be one of the smokers, up on deck at random hours. Nobody ever pays them any mind. You retire to Trollfjorden Salong, the up-front lounge with sea green leather armchairs. Royal blue curtains, brass fittings, blue and gold carpet.
A broad oil painting, Der Gamletid, 1949, depicting many kinds of ocean vessels. A selection of wall mounted crests: 'Komune', 'Bronoy', 'Batsfjord', 'Nesna', 'Bodo', 'Vagan', 'Hadsel'.
The Vesteralen passes an indistinct land mass. 'Horse Mountain, because it looks like a horse,' says Robin helpfully through the intercom. You see nothing even vaguely horse like. Pattern recognition fading is another sign, that you will soon be shuffled down, along and sideways into some tedious office. You will miss the broad Atlantic Ocean and your desk will glimpse a patch of sky. Blue sky, blue water, blue reflections in bulletproof glass. For you, water has always symbolised freedom.
You are contemplating bourbon when an elderly man with bright green zippers surprises you by climbing out of his scooter. The machine had appeared to be a medical device. Back in the day, you did not make such mistakes and you have definitively sailed through better days.
You are fifty-five years old and Cassini is your swan song. You are pleased to have arrived at this decision. The AI does not know of it, or else it would have kept you in home waters.
***
Smoking woman selects a deck chair nestled between trios of white life raft capsules. Breaks against the bitter wind, rugged up bright in jellybean yellow. Passing long, low stretches of green land bejeweled sparsely with coloured dwellings, occasional churches and a slim lighthouse.
Placid gulls bob on the water. Two chunky, fortysomething men in T-shirts, blue jeans, plus binoculars, pore over maps and landmarks with extreme, almost childlike enthusiasm.
The tubercular purr of the ship's engines provides a comfortable baseline, as do occasional sailing or fishing vessels and windborne snatches of conversation in multiple European tongues.
The smoker carries two cups: one for tea and one to hold her ash. Behind her, neon mauve fluorescents wall-mounted like sleepy shuttered eyes.
Your bets continue — Cassini cannot be a member of the crew, the ones who scatter safety equipment across the middle deck, nor the tattooed girls who clean the cabins, then later change into more elegant attire to wait on tables in the dining room.
In a wash of sentiment, you hope Cassini is anyone but the cheerful English woman with her incessant smoking and her faded floppy hat. Her voice rising in pitch and tone, banging on about the obesity of Americans. The time she watched one in a food court 'work through' an entire litre of frozen yoghurt. You suspect there has been someone like her within your distant past. You can't remember. Why can't you remember?
Blowing smoke as she criticises, oblivious to all irony. Too obvious. Too easy to be Cassini. If anything, she will be a plant, with her row of crooked teeth, placed on board to ensure you do your job. Trying a bit too hard to catch you out, the data from the Lance too inconclusive.
An old man oofing along on his three-wheeled walker, crash lands into a vacant deck chair. 'A pretty bit of countryside we seem to be going through,' he says as he flips through a book with yellowed pages.
Robin interjects via the crackly intercom. 'Ladies and gentlemen, on the left you can see some very nice sailing boats and you can see as many as you would like.'
There are times when Robin's English doesn't seem much better than his Italian.
'Little boats all racing about, eighty to a fleet… Flying their spinnakers… Very nice.'
This ship is old, its passengers for the most part sober. Not like on the big American liners, with their 24-hour casinos and shopping malls.
You can't help wishing the bearded, oofing Brit a comfortable dotage. You no longer wish to be a weapon. Yet more evidence of your own deterioration.
***
Not many lights pepper this rugged stretch of coastline. Damp squalls have driven passengers upstairs to the Panorama Lounge where they can drink, protected from the rough Norwegian weather.
Stage Two Lance activation kicks in with nausea, then a sharp pain running down your spine. A polypeptide flush slams you awake, heart sinking when you see the smoking woman in her stupid hat and puffy jacket. Pacing — too disappointing and too easy in the way this awful work should never be.
Smoking woman has not seen you. She stares out into the aching night, legs braced firm against the rocking.
You step, then pause. Something about this set up isn't right. The repetitious engine grumbling, the taint of smoke, the deep blue of the night, damp spray and the ever-pulsing deck.
You should run a diagnostic. You should do a dozen other things, but instead you step under the stairs and wait. At least, that's what you try to do, but your body stiffens in rebellion. Spine tingling, you can't stop your legs march briskly to an empty stretch of rail, not visible from the Panorama Lounge.
The truth slams home as you grip the side, your bowels turning to water. You are Designation: Cassini, now unstoppably compelled to throw yourself over, into the shadowed, freezing water, where you will not survive twenty minutes. The ship will never find you in the dark even if somebody noticed when you jumped.
You fight the Lance for control of your arms and legs — of course you do — but the AI has the upper hand. As you hoist your body up and over, grunting and grappling for purchase, smoking woman is shouting at you — ahoy there — what do you think you're doing? — then screaming for help in her irritating high-pitched voice once she finally comprehends.
But she's wrong. It isn't suicide. It's murder. The Lance, cleaning up after itself. No corner office, no window with a blue-sky view. Designation: Cassini. Permanent retirement.
You wonder if you might have had a mother or grandmother or perhaps a maiden aunt like smoking woman, with lank, thinning hair and a row of crooked teeth as the cold slams home and the waves take over and your mind is wiped by a white and blinding light.

About The Author
Cat Sparks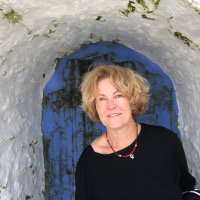 Cat Sparks is a multi-award-winning Australian author, editor and artist.
Fiction editor of Cosmos Magazine from 2010-2016, she's also been a media monitor, political and archaeological photographer, graphic designer and manager of Agog! Press, which produced ten anthologies of new speculative fiction from 2002-2008.
Cat directed two speculative fiction festivals for Writing NSW and is a regular panellist and speaker at speculative fiction literary events.
Her collection, The Bride Price was published in 2013 and her debut novel, Lotus Blue was published in 2017.
She has published 70 short stories and multiple articles since 2000 and her 22 awards include the Peter McNamara Conveners Award for services to Australia's speculative fiction industry. She recently completed a PhD in creative writing through Curtin University.