By B A Keon-Cohen

"You must be from Ireland," I say. The train is crowded as all Melbourne trains are at rush-hour.
"No, Scotland."
"Oh, I do apologise," with a laugh. My work-bag is locked between my feet: laptop, files, all closely guarded.
"No trouble. People confuse the accent."
Our hands grope for a seat-handle, hip-high, as we stand in the lurching crowd. Whoever built these tracks should be sued. Actually, my barristerial practice needs a boost. A massive class action on behalf of commuters tossed around in trains due to bumpy tracks. That'd be fun – and costly. I carefully place my hand on the pole between us, so as not to touch hers. With each lurch, other hands grab for our pole.
"You still have a very obvious accent – and attractive, don't get me wrong."
She smiles, relaxed. There's no hint of seduction.
"That's o-kay. I've been here…" She pauses, her eyes squinting, gazing out the window, rushing blackness, the subway pouring beneath the city. "Twenty-six years."
"Well – you're nearly a local. My mum came from Yorkshire, and never lost her accent." I think for a moment. How much do you tell a total stranger? What the hell. I'm tired, she's homely, not the grasping type. "Though when she met my dad, she abandoned her north-country drawl, and learnt Oxbridge." I don't add: "Bit of a snob, really." I know nothing about this human, after all. But I like her style.
"Yes, well, my friends say – 'When will you lose your accent?' – and I tell them: never. It's me. I'm Scottish, get used to it."
"That's exactly right. It's a big part of you," I agree.
"And when I'm back there, with the family, I come away and my accent's even broader. My husband often notices."
"Really. Where are you from?"
"Glasgow."
"I've only been to Edinburgh. Nice place. We hung out at this pub, forgotten the name. It was on a hill, overlooking the city. Had a traditional name – The Good Burgers of Something or other?"
She shrugs her shoulders.
"Lots of pubs in Edinburgh. And you?" she asks. "Your folks?"
I smile, reach for a different handle as the train lurches again, can't find one, and replace my hand nearly over hers. A diverting cleavage appears below me, on a seat to my left, flashes amongst the raincoats and shopping bags – and is gone.
"Well, that would take many stations – but County Leitrim, in Ireland. Celts too, of course. Perhaps we're related. I bet we are."
"Oh, I doubt that," she grins. She arranges a shapeless tracksuit top, runs a strong, thick, working-hand through her fuzzy hair. I guess she'll get off at Mordialloc, or maybe Frankston, well down the line. I might be wrong, but that's my guess. I look again, and recognise her shapeless, blue top as a uniform, a "Royal Children's Hospital" logo is stitched across her shoulder-pads.
"You work at the Children's?"
"Yes. In Emergency. It's very busy."
"I'm sure it is. My brother's training in anaesthetics."
"Oh, that's also very stressful."
"Yes, it is, we're learning that."
People are talking, as if picking up our cue, as if encouraged to reach out, to engage. The train emerges from the underground, picks-up speed, careers towards Richmond, a major intersection. We grab for the handle, for the pole, like dancers in a strip-joint, thrown this way and that, touch flesh on flesh, and grab again. It doesn't matter. There's no chemistry, no allure, no excitement. Just two commuters thrown together. The cleavage appears again, heaving amongst the swaying crowd, just a flash, a trigger more than a thing-in-itself, but unsettling, generating rushes not fit for a public place. A crowd clambers in, another gets off. New meetings, conversations, possibilities.
"Well," I continue, as we pick-up speed, "what do they say – only six degrees of separation? Friends of mine work at the Children's. I bet I know people you know. That's the world, isn't it?"
"Yes, you're right. But then, this country has such a mixture, from all over."
"But you Celts, aren't you all the same? Why are the Irish and Scottish both 'Celts'? Any idea?"
"Never thought about it," she grins. Her twang is unmistakable, her sing-song lilting voice musical, like, well, like the Irish. But no 'boyo's' or 'da' or 'by the Jesus', or weird words. Just straight talk: easy, confident, solid, like her. She seems happy to natter on, speaking of herself, her children, her job.
"I suppose you Celts all came from the same ancestor, the same mob, way back. Angles, Saxons and Jutes – didn't they invade Britain. Or was it Celts?"
"Not sure," she says.
"What's your mob in Scotland?"
"The Campbells."
"Oh my God, heathen savages, all of you. Didn't you guys murder the McDonalds? Own half of Scotland, and rape and plunder the rest? How many castles do you own? Can I visit?"
"Oh, nothing like that," she laughs. "Not my family. We never had much."
I guess, after twenty-six years, she still doesn't have much – at least, not in bricks and mortar, not in the bank. But she isn't the sort to complain. A gritty battler. No frills, tough, resilient.
I tell her about Sicko, the documentary by Michael Moore, about the cruel hypocrisy of the US health insurance system.
"You should see it. If I bring my child to the Children's, suffering let's say, a fractured arm, do I pay?"
"No, it's a public hospital. But you might have to wait."
"Yes. I suppose that's right. Well, this is my station. All the best. Nice to chat – and good luck with the anaesthetics."
I leave her there, clinging to her pole. The cleavage is gone: no doubt deserted us at Toorak or South Yarra or some such posh joint up the line.

About the Author
Bryan Keon-Cohen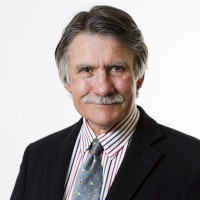 Bryan is a writer, activist and retired-barrister based in Melbourne, Australia. He appeared in the High Court in significant constitutional, native title and refugee matters including the Mabo litigation, Bryan has published numerous legal articles, and the book "A Mabo Memoir" (2013).
Bryan's insightful and engaging fiction has been published in Australia in Woorilla (2010), Idiom (2019), StylusLit (2019), Antipodean Sci Fi (2020), and in the UK, Bandit Fiction (2018).