By Anya Ow

"The hip wiggle," said McDougall QC, counsel for Archmagus Hieronymous Lee, "is highly significant, your Honours."
There was a polite murmur from the peanut gallery, though only the law students were crass enough to giggle. From the bench, Chief Justice Shevki eyeballed McDougall severely. "You're telling me, counsel, that your client's spell, the 'Ovis Avis Ascendancy', doesn't infringe on the plaintiff's copyright because the 'hip wiggle' renders it a parody of the original work?"
"Quite so, your Honour. My client considers it to be a satire of the plaintiff's 'Chase's Polymorphic Formulae', falling under a fair dealing exception." McDougall, like many successful barristers, had a resting face that radiated smugness. "I respectfully refer your Honours' attention to Singh v. Holistic Koala Transmutation Inc, where Justice Khan stated that 'notwithstanding the untimely, haha, 'drop'-shadow effect on the 'bear'—'"
"Yes, yes," Justice Khan said sourly. "Make a koala joke one time in Court and nobody lets you forget it."
"It was a good joke, your Honour," said Simpson QC, counsel for Archmagus Maximus Chase, seizing on a chance to suck up to a judge. McDougall glowered at his rival, contemptuous but secretly irked that he'd been beaten to it. Simpson ignored him. "The fact remains that Archmagus Lee's 'Ovis Avis Ascendancy' spell copies a substantial part of my client's Formulae, including, inter alia, the use of a newt's shadow during the ritual burning of a goat's eyelashes."
"Defendant isn't disputing that, counsel," Justice Shevki said.
"Forgive me, your Honour, but given that the spells are substantially similar, and the results are also confusingly similar, a hip wiggle does not a parody make," said Simpson with a smug smile of his own.
McDougall bent towards his client, who whispered into his ear. He straightened up, radiating bantam aggression with his chest thrust forward and his chin held high. "Archmagus Lee proposes a demonstration of the hip wiggle before the Court."
"I fail to see how that would be of any significance," Simpson said, even as Archmagus Chase shrieked, "You're a godsdamned spell thief, you traitor!"
"I will have order," Justice Shevki said sharply. "Another outburst and you will be escorted from the courtroom, Archmagus. Very well. The Court will first observe the plaintiff's spell, then the defendant's."
"Is this really necessary?" Justice Mukherjee complained. "The last time there was a live demonstration in Court, we couldn't get the smell of burned cat fur out of the room for weeks."
"Oh, settle down," Justice Khan said, leaning forward. "This is the most exciting thing that's happened all month."
A space was cleared. With great ceremony, Chase polymorphed a hapless law clerk into a sheep. There was a loud 'oooo' from the students in the peanut gallery, who were still young and innocent enough to be impressed by courtroom drama. Now it was Lee's turn. Another sacrificial clerk was ordered forward. Lee made a show of rolling up his sleeves.
Afterwards, even Justice Mukherjee had to concede that the hip wiggle was indeed considerably amusing, especially when the resultant sheeped clerk turned a dramatic shade of lime green. "Why didn't you make more of a point about the colour?" Justice Mukherjee told McDougall, who pointed out that Raymond v. Santos indicated that a mere colour change could not be considered satirical.
"How long does this last again?" Justice Shevki asked, staring sourly at the green sheep. "Ellis over there is the only person who knows how to make a good cup of tea."
"Just a day, your Honour," McDougall said.
"Just like my spell! May camel flies nest in your armpits!" Chase yelled, and was forcibly escorted from the chamber. This was the best day ever, the law students in the peanut gallery whispered to each other. They were loudly shushed. Court, after all, was still in session.

About the Author
Anya Ow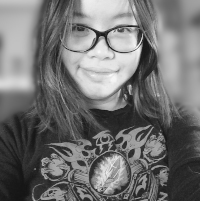 Born in Singapore, Anya is a graphic designer, illustrator, cat minder, and ex-lawyer living in Melbourne.
Her work has appeared in venues such as Strange Horizons, Uncanny, and Aurealis, and her first novella, "Cradle and Grave", was published this year.
She can be found on twitter: @anyasy or at <www.anyasy.com>.