By Stephanie Koorey

Marion started wearing Christmas earrings from December 1. In October every year, she ordered 31 new pairs online that guaranteed delivery within four weeks.
Marion said it added to the Christmas cheer.
She wore a different pair every day, for 31 days. While she chose whimsically for much of the month, for Christmas Eve and Christmas Day she kept two special pairs. This year, she chose the golden reindeers with flashing red noses for Christmas Eve and the flashing golden stars for Christmas Day.
Like most people, Marion didn't care that the earrings were made by slaves in factories in a country that conducted widespread and systematic human rights abuses. She liked the fact they were so cheap she could buy 31 pairs every year.
Marion also spent all of November and December buying and wrapping gifts for family and friends and her pet dog; trinkets and ephemerata, but also clothes and toys, enough to make a decent pile under the tree, the local charity tree, and for Secret Santa at work. The discovery of Marie Kondo had catalysed her shopping habits: "Will this spark joy?" she asked each potential gift. At home and on the way to work she hummed carols and played Christmas music and YouTube videos, everything from the Val Doonican Christmas Album, to the Pogues' Fairytale of New York, and of course, Wham!'s Last Christmas.
On the 4th of December, she eagerly attended the work Christmas party which she had helped organise, as she did every year. To be honest, Marion was very good at it; the Secret Santa, a new playlist every year, food and drink for all diets and preferences, and games that were well-received and inclusive; not embarrassing.
Marion wasn't religious, although she had tried going to different churches a few years running. She also tried carolling once. The solemness and ancient history of those activities wasn't the Christmas experience she wanted; Christmas to Marion was cheer, not wonder.
On the 20th, Marion made reindeer food for the reindeer with her primary-school-aged children, Max and Flax, in the kitchen. Instant oats, glitter and carefully cut tinsel kept in a special box in the pantry until nightfall on December 24th when they would sprinkle it on the lawn and try to get it on the roof.
On Christmas morning, Marion put on her flashing star earrings with joy. She woke the children gently and told them to come downstairs. Her partner followed, all of them yawning, only Marion bursting with excitement.
Everyone sat around the tree and opened their presents. 'Thank-yous' were shouted, a few 'oh wows', hugs. Fang, the apricot poodle, got hers opened for her. A bag of kangaroo chews and a squeaky toy although she really wanted the children's chocolate.
Marion opened her presents — never a surprise as she always gave her family careful and exact instructions. She went to the kitchen, leaving her partner to organise and dress the children, get them breakfast, and set up their new scooters, and take Fang for her Christmas walk. Semi-rural, they had decided, was the way to go; although the town was getting bigger every year, the commutes into work didn't get any faster.
Her parents were coming at midday, and Marion was going to spend the morning finishing the Christmas lunch preparation and table decoration. She had a mug of chamomile tea to keep her nerves in order and snacked on salads, meats and crackers.
At precisely 2pm, Marion left the laughter, chatter, smorgasbord of food and drink and the music and went out to the garden shed. She pulled out the Winchester 70 Featherweight hunting rifle from behind the tool boxes, and loaded it with five cartridges from the open pack in the top drawer of the old desk they kept there. She placed five more in her red cardigan's left pocket.
Marion returned to the house, where she shot every member of her family and then turned the gun on herself.
Fang escaped the slaughter by having been asleep behind the sofa.
Despite the distress to her face and head, the investigation team noticed a low hum and what appeared to be static coming from Marion's still flashing golden star earrings.
Subsequent testing revealed the earrings contained a small receiver with a message for the wearer to locate the nearest weapon and kill their guests and then themselves.
It seems cheap Christmas earrings do not make Christmas cheery after all.
Postscript
Eighteen months earlier, labourers, and their managers, in the cheap Christmas factories had been paid in the cryptocurrency ethereum by state-sponsored — most likely North Korean — hackers to install the micro-technology in the earrings they had developed. Slightly different but reinforcing messages, all leading to the culminating moment of the massacre, were delivered directly into Marion's brain over two Christmas periods. Marion was the test run and considered a success.

About the Author
Dr Stephanie Koorey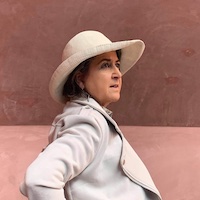 Steph Koorey really wants to get out more, and exercise a lot more, but as it is, she is a home-body Canberra-based academic, and writes occasional fiction, non-fiction and science fiction.
She published her first SF in the High School yearbook, and was mesmerised around the same time by discovering the work of Kurt Vonnegut.
Many decades later, she is reading David Mitchell (not the comedian) and John Birmingham, and is trying to learn from them, including by shamelessly following them on Twitter.