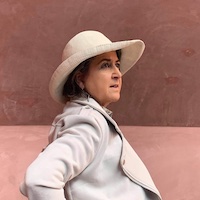 Steph Koorey really wants to get out more, and exercise a lot more, but as it is, she is a home-body Canberra-based academic, and writes occasional fiction, non-fiction and science fiction.
She published her first SF in the High School yearbook, and was mesmerised around the same time by discovering the work of Kurt Vonnegut.
Many decades later, she is reading David Mitchell (not the comedian) and John Birmingham, and is trying to learn from them, including by shamelessly following them on Twitter.