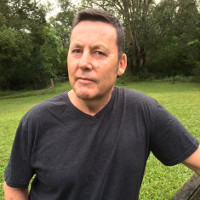 Tim Borella has never lost his childhood passion for SF and writing in general and has been lucky enough to have worked most of his life as a pilot — in other words, he's never properly grown up.
He lives in country Far North Queensland, has won awards for songwriting, and has had various other writing achievements, the most recent being an honourable mention in the 2018 international Literary Taxidermy Short Story Competition.
He also has bachelor degrees in science and teaching, and has completed a couple of as-yet unpublished SF novels. He'd dearly love to spend more time writing, but will have to continue juggling for another couple of years until the kids have fully left the nest.