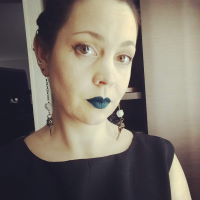 Jeana Jorgensen earned her PhD in folklore from Indiana University (USA).
She researches gender and sexuality in fairy tales and fairy-tale retellings, folk narrative more generally, body art, dance, and feminist/queer theory.
Her poetry has appeared at Strange Horizons, Nevermore Journal, Liminality, Glittership, and other venues.
She spends entirely too much time on Twitter as @foxyfolklorist.