By Eugen Bacon

'You're not real!' I said to the voices.
'What makes real?'
'Reality is what is,' I said. 'Acute truth that perception can never change. Like the sun or the sky or waking and dying.'
The voices laughed, but their laughter didn't matter. Who better than me to know real?
For what happened to Honey…
…was real.
***
She was my waking moment, my oldest memory, my newest thought. When strangers arrived, time warpers from other dimensions, there was still Honey.
Like wispy phantoms, the strangers boggled my mind. They fluttered and smiled, smiles that entrapped me inside a mirage.
We lay in a sleep of touching toes, tip on tip, Honey and I.

But the strangers came, roused me from the olive spray of Honey's hair on a snow pillow. Honey's stir, her stretch in drunken slumber. She groped in darkness, reached for the warmth of my shape on our mattress. I slipped from her touch.
The strangers led me out the front door. I stepped into a miasma that churned and took me with it. Billows that swirled like from an angry flame. They consumed me into a labyrinth of belly, fuzzy, as the wings of ghosts fondled me. They curled around my throat as the void tumbled, spat me to an explosion of colour, a new world.
One thing I understood: the strangers, every single one of them, wore Honey's face.
***
I woke in our bed. Sea green hair sprayed on a milk-white pillow. I slipped into the euphoria of Honey's warmth on a space she had vacated, to the curl of her back, to a caress of belly against spine.
She stirred, smoky eyed.

We faced each other.
'Hey,' I said.
'Hey.' Her voice rich with sleep.
Our toes touched, tip on tip.

'Mel,' she said.

'Yes?'
'Why do you stare like that?'

'Fog. Dimensions,' I spoke fast and earnest.
Her eyes filled with puzzle.
'They won't leave me alone,' I said.
'Who?'
'Soon they'll get you too.'
'Heavens, darling,' she said. 'Your eyes. So bright.'
'Then it will be too late.'
'For what?'
'Clones that look like you, and then they explode.' My hands reached her throat. 'But we won't let them.'
'You're frightening me. Stop it, Mel!'
'We'll deny them victory.' I squeezed.
She seized my fingers. Kicked, clawed.
'St-op it. Mel… Please!'
'I'll always love you.' My grip tightened. 'Always.'
Before her eyes closed, I read the message in them, read it on dying lips: 'The final squeeze… is not them.'
I stared at my sacrifice. Eyes like bulbs pushed out of her face.
'They can't win,' I whispered through tears.

About The Author
Eugen M. Bacon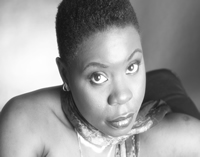 Eugen Bacon has sold many stories and articles, together with anthologies. Her stories have won, been shortlisted and commended in international awards, including the Bridport Prize, L. Ron Hubbard Writers of the Future Contest and Copyright Agency Prize. Literary speculative novel — Meerkat Press (2019). Creative nonfiction book — Macmillan (2019)