By Sarah Jane Justice

When we realised that we couldn't stop people from dying, we focused on how we could remember them.
For some time, countless lives were dedicated to the idea of prolonging the fading existence of humanity. The brightest minds huddled together in laboratories, giving up their own years for the possibility of handing them over to others. With failed result after failed result, the pounding beat of inevitability grew stronger until we could no longer pretend that we didn't hear it. Whether or not we could bring ourselves to accept it, our ending was marching towards us.
There would always be those who wouldn't admit defeat. As long as their eyes remained facing forward in their heads, they would use them to search tirelessly for any approach that might not have already been considered. Those with enough stubborn determination scraped the bottom of the ideas barrel until their nails started scratching through to the floor. For them, stopping was tantamount to giving up. Giving up was not an option.
As it became clear that we couldn't stop the end from coming, our scientists began to switch their focus. The time had come to turn away from research that kept grappling for the impossible. Their efforts were better spent finding ways to improve our world while we could still maintain the ability to live in it.
Our years had stopped reaching the number that had once been promised to us. In the face of inevitability, we accepted them as long enough. We had been presented with a shorter hourglass with which to measure our time, and it gave us the incentive to never let a grain of sand be wasted. The pressure of the ultimate deadline led many to flourish as they made haste to leave their mark on whatever world might remain in their absence. The closing bars of humanity created a golden age of beauty, of light, and of innovation in artworks we never thought we'd see.
When each of those creators reached their ultimate ends, their deaths left a deeper impact than ever before. Not just for the loss of what they might have continued to bring to our world, but for the symbolism that each individual ending represented. Each diminishing light existed as a microcosm of the bigger one to come, the one that would see us all closing our eyes and accepting the harsh nature of inevitability.
With every passing life that had brought joy to all the others, it became clearer that existence was something to be celebrated. We mourned every ending that fell in our laps, and in our mourning, we discovered beauty in the fluid motion of life and death. We felt overcome by the need to reach as high as we could in signifying what these people had achieved. We realised how beautiful a concept life had turned out to be, and embraced the knowledge that nothing is ever as beautiful as when it starts to fade away.
Sunsets became a spiritual experience, shared amongst everyone who observed them. Like the lights of the day, we were diminishing, but we could be beautiful in our end. The scientists who had given up attempts to prolong our existence poured their energy into weather patterns. They picked apart the forces behind shapes in the clouds, and analysed every pigment of the colours that crossed the horizon. Time was given up to the pursuit of harnessing natural beauty in ways never previously imagined. Machines, structures and chemical reactions were created, observed, honed and utilised. We would remember the closure of every brilliant mind that left us. We would paint the memory of their ideas in the colours of the sky itself.
The designs started small, but we watched with open eyes. A twisted cloud was bent into the shape of a character, representative of an author whose life we were celebrating that night. A sunset swept across a colour palette that mimicked the style of an artist whose work had now come to an end. Cloud patterns were stretched and developed until our jaws dropped in awe of decorations that crossed the full length of stratosphere visible to our naked eyes.
We had seen rainbows, but we had never seen the sky itself painted as one. We saw it turned into a full awning of coloured layers, stretching across every inch of the canvas above us. We saw clouds that could be bent and crafted, shaped into words and pictures that left an image burned in the dimming memories of all who witnessed it.
Every artist, every academic, every innovator and inventor had their own unique design. As one by one, the great minds of our species marched into the uncharted void that would soon greet us all, their memories were etched in the streaking colours of clouds, and the backdrop that pinned them in place. Every evening became a silent memorial to those gone, and all those who were due to follow.
There was nothing that could have saved us. The inevitable was coming far too quickly, far too soon. In the acceptance of that knowledge, we reached an unanticipated spirituality in the appreciation of existence. We sat together in quiet admiration of heavenly colours that we had created ourselves. There was no way of knowing what would greet us when we passed through to the other side of our own memorialised patterns, but we found a peace in not striving to find out. The finality of what we would never learn allowed us to be content with what we had already discovered.
Our silent evening ritual left us with the ever-present reminder that our own night was soon to come. In the dazzling array of lights we had placed in the sky, we came to accept our fate in peace. We could never exist forever, but we could leave knowing that we had created something truly beautiful.

About the Author
Sarah Jane Justice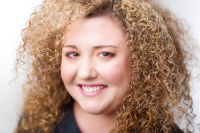 Sarah Jane Justice is an Adelaide-based fiction writer, poet, musician and spoken word artist.
Among other achievements, she has performed in the National Finals of the Australian Poetry Slam, released two albums of her original music and seen her poetry and prose published in Australia and internationally.