By Myna Chang

I hate rye bread. Those weird little seeds get stuck in my teeth, and then I spend all afternoon trying to suck them out. Too bad I didn't notice they gave me the wrong sandwich. I've already bitten into it, excising a precise half-moon from the top right corner. Guess I'm stuck with it.
The infirmary door slides open and I walk in, chewing unhappily. Someone is sitting at my desk. She looks just like me: same frizzy hair, same rumpled lab coat, same unfortunate sandwich. She's staring wide-eyed at a bloody cut on her fingertip. Her gaze snaps toward the med bay. Another version of me appears, only this one is older, wrinkled. She points a surgical laser at the "me" at the desk.
What the hell?
Wrinkled Me fires the laser. Desk Me lurches, knocking files and her lunch on the floor as she falls. The silhouette of Wrinkled Me fades, disintegrating into nothing. Desk Me draws a shuddering breath. Her frightened eyes lock onto mine before she, too, disappears.
I gawk at the empty space. I'd call for help, but who'd believe me? Pulse pounding, I drop my sandwich on the desk and collapse into my chair. It still holds the warmth of my predecessor.
I survey the room, noting the fallen files; patient charts, data sets, my updated resume. Everything else is just as I left it, including the PRx diagnostic tool I'd been tinkering with before my lunch break.
Damn it, I left the access panel open!
Worth more than I'll earn in a million years, the PRx uses synthetic brain tissue to predict medical outcomes. It opens a window into the future—a fragile window. You're not supposed to mess with the tissue compartment; you're damn sure not supposed to pry it open and leave it exposed to airborne contaminants. My curiosity will get me in real trouble someday.
I rush to close the panel, but a sharp edge slices my finger. I yank my hand back with a hiss. Then I see it. A drop of my blood quivers on the edge of the latch. No! It drips into the open compartment, blooming crimson across the milky white tissue. The synthetic brain mass pulses. A frisson of energy surges.
Wrinkled Me shimmers into existence in the med bay, pointing the laser at me. She's focused, confident, wearing an employee badge with a stylised red and white logo. She fires.
Pain sears my chest, and I slam into the desk as I fall. My sandwich lands on the tile near my face. A new version of me stands at the door, with a dark rye seed wedged between her front teeth.
My world dissipates.
***
I stand in the infirmary doorway, watching my look-alike vanish. There's a mountain of spilled sandwiches on the floor, each with a neat bite taken from the right corner. I consider the sandwich in my hand. How many times has this happened?
The PRx is wide open on my desk. That's stupid. I shouldn't have left the delicate tissue exposed. I hurry to close the latch. Ouch! Damned rough edge. I shove my fingertip in my mouth, and then I see a bead of crimson blood dripping over the lip of the panel. It sinks into the creamy synthetic tissue. The colors blend and the brain mass shudders. A wave of energy envelops me. I try to run, but another, aged version of me is already there. She fires, and I fall.
The pile of rye sandwiches fills my vision. It should have tipped me off when I first walked in, but I ignored it. I need to warn the next iteration of me, make her see the danger in time.
Oh, she's already in the doorway, mouth half full. She gapes, and I realise how awkward I look with my mouth hanging open. I turn my eyes to my finger, where a smear of blood glistens.
***
There must be forty sandwiches on the floor. I hate rye bread. I toss my sandwich in the trash and then spit the half-chewed bite into the bin as well. My doppelganger was so focused on her bloody fingertip. That must be important.
The PRx is open! I hope she didn't spill any crumbs in there, or — or a drop of blood! I grab some thick biosafety gloves from the supply cabinet and nudge the sharp lid shut. It latches with a click.
I sigh and sit, glaring at the logo on the PRx. Wrinkled Me had the same thing pinned to her lab coat: a stylized blood-red PR superimposed over a precise half-moon—the exact same shape as the missing bite from all those sandwiches.
A quick search shows the maker of the PRx is hiring temporal medical researchers. Curiosity piqued, I forward my resume.
Something tells me I'll get the job.

About the Author
Myna Chang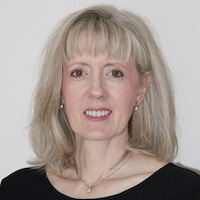 Myna Chang writes flash and short stories in a variety of genres.
Her speculative fiction has been featured in Best Indie Speculative Fiction 2020, Daily Science Fiction, Antipodean SF, Mad Scientist Journal, and Twist in Time, among others.
She is the winner of the Lascaux Prize in Creative Nonfiction for 2020.
Read more at <MynaChang.com> or find her on Twitter at <@MynaChang>.