By Col Hellmuth

She waited patiently at the crossroads, in her best cocktail dress, for the Devil to arrive. Midnight ticked over. Still she stood alone in the darkness of new moon, under a solitary tree: the only protection afforded from a light persistent drizzle from the heavens; her eyes, by now, adjusted to the gloom.
She was startled by the touch of breath upon her neck; turned to look into the burning gaze of the Antichrist.
"Why have you summoned me?" demanded the Devil, although of course he already knew, the question was merely a formality.
"I want to make my mark upon the world," the woman boldly replied, with a conviction that seemingly overrode her doubtless fear.
"Just the usual then, fame and fortune?" orated the Devil wearily and languidly flicked his tail — swatting a mosquito buzzing about his horns. The insect was instantly judged and despatched straight to hell. It had been a bad mosquito.
The woman nodded in answer, "I am a writer," she stated with obvious pride.
"Not a very good one," retorted the Devil, instantly deflating the woman's ego and raising her ire. "So, it's talent that you seek."
"No!" the writer vigorously shook her head. The Devil noticed a twinkle of what could only be starlight, escaped through a chink in the cloud and reflected from the earrings that she wore. "Opportunity."
"Opportunity," echoed the Devil, and gave the woman a withering look that sucked moisture from her skin and left the roof of her mouth dry. "You were given the opportunity offered all mankind, when you exited the womb and drew your first breath."
She attempted to give the Devil a withering look back, which he affected not to notice.
"Circumstances change, and opportunity with it, from the moment that first breath is taken."
"How so?"
"Environment and provenance dictate privilege," she expounded, "even if all men were created equal, which they're not."
The Devil, who had been absently stroking his goatee — immaculately trimmed to a point — now raised an unkempt bristly eyebrow in response.
"I have seen my share of men in all their resplendent glory. Sufficient to know equality plays no part," the writer continued, unabashed, "In stature, temperament or talent." The Devil waited impatiently for her to play the inevitable feminist card. "It is a sad indictment on society, that opportunity is even less availed to women." she concluded. And there it was.
"I see," said the Devil. "You don't think life is fair," and offered her a toothy grin that made the hairs on her arms and neck stand to attention in a way that made her feel small and childish. She pouted petulantly in a way that made her also look the part. "You know my price," stated the Devil. "What is yours?" The dust on the road shoulder was turning to mire beneath her impractical high heels. She shifted awkwardly from one foot to the other as her heels sank in the mud; eyed the Devil's cloven hoofs with fleeting envy.
Be careful what you wish for, she reminded herself. "I want my writing to be noticed. I want it to challenge the way people perceive the world, to change lives."
"Just to be clear," disclosed the Devil, "I shall be acquiring your soul. Eternal damnation. Are you certain you can afford to pay this fee?"
The writer nodded.
"I must advise a gentleman's agreement will be insufficient for my purposes — as I am no gentleman." A thick leather-bound notebook and quilled pen appeared in the Devil's hands. "Your chosen field?" Her blank stare was cause for him to add, condescendingly: "Of literature?"
"Fiction."
"Sign here."
***
She sat at a desk, in her best tailored suit, staring forlornly into space. Midday ticked over. On the back of her chair was hung her best jacket: relic of a brief but chilly morning commute in the real world — leaving first her plush apartment, then the confines of her chauffeur-driven car, to cross the not-yet-sun-warmed red-granite paving of the Great Verandah, on through the imposing Paradise-White marble-clad façade, then security — ending here, in her claustrophobic climate-controlled and windowless office, nestled deep in the bowels of Parliament House.
The writer was startled by the touch of a hand upon her shoulder; turned to look into the bespectacled gaze of her employer.
"Ten minutes." He launched an untameable bristly brow ceiling-ward to merge with his balding pate; gave her a lecherous smile that made her wish she'd been born blind, whilst stroking his chin somehow obscenely. She gave him in return, her most cynical of smiles — which he affected not the least bit of notice.
The squeaking of the P.M.'s leather-soled shoes on the parquetry floor as he left her office — to greet the press before making his scheduled public address — made her skin crawl.
Affluent, yet still unawarded and widely unknown outside of political circles, the melancholy script-writer gathered together the carefully crafted — and wonderfully fanciful — pages of the impending campaign speech currently spread across her desk; checked they were in order and prepared to follow.
Hell hath frozen over, she rued — with a bitterness the equal of a Canberran winter.

About the Author
Col Hellmuth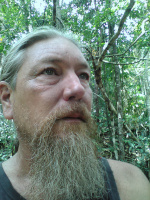 This story is a linking piece to two stories previously published in Antipodean SF, Coffee With God (Issue 245) and Frank's Best Friend (Issue 250) both first drafted whilst living in Western Australia, where I spent the best part of two decades. This piece (ironically written whilst sitting on the bank of Emmagen creek in FNQ) is an attempt, not just to further develop some recycled characters beyond the limitations of the short short story format, but also to give these stories a sense of place, a nod to the multitude of unique landscapes (and people) to be found in WA. The huge distances and wide open spaces between locations are also riddled with untold stories, so many that I find myself still writing them years after moving back to North Queensland.
Col Hellmuth lives a quiet (excepting weekly jam nights,) uncomplicated life, off-grid in the Daintree rainforest of Far North Queensland.
His day jobs over the years have found him contracted to do various work around the country in such exotic locations as mine-sites, SAS barracks, a Collins-class submarine, prisons, operating-theatres, swanky restaurants and wineries, chicken sheds, the Great Barrier Reef and the open road. He does not have any fancy letters after his name, or a pet cat, but does read a lot. 
When he is not enslaved at work he is usually found bumming around his local beach dodging crocs in his kayak or jamming on the blues-harp with his fellow bandmates, the Excruders.