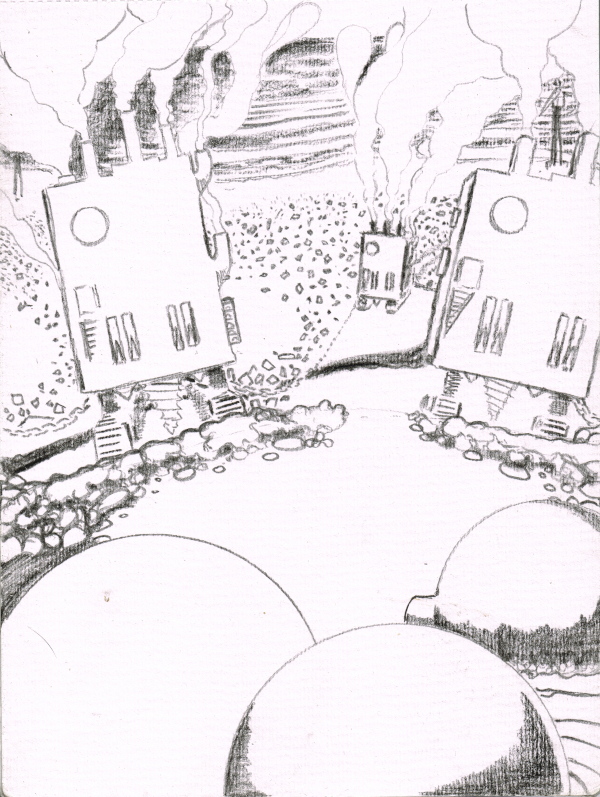 ---
By Jason Nahrung

The delegation from Keynestown emerged from the airlock into our small dome, but did not take off their suits. Words and breath rasped through their filters, faces vague inside the tinted masks. Even through the smog, the UV could burn you, like so many leaves withering on the branch.
'The mills are upon us,' the Profiteer said, wisely not wasting words when so much else had been pissed up against the wall. 'We've come for some morale boost.'
Aunty, facing him, words tracing lines like pumping veins under her skin, said, 'Propaganda is handled in-house.'
Through the glass of his faceplate, he grimaced, and we smirked at his discomfort.
'It's not enough. We need ... analogy. Fable. Comfort.'
'We have none to give.' She pointed behind her, through the curving panes of empathy to the sea, where the estrangement barricade had been eaten through only the week before. Amid the gloom, the fires of the rigs flickered like demonic eyes on the inky sheen. Shapeless lumps lolled there, like slick fatbergs shat out of a waste valve. Was it porpoise or purpose, rolling in the black? Whale or whole or holisitic? 'We have only paeans and I-told-you-so's,' Aunty said.
'Should've known this was a wasted trip.'
'Want not, waste not,' she said, and a sparkle of light broke through her wrist, a sunburst freckle there and gone again.
'The outer dome is breached,' the Profiteer said.
'Frack-tured?' she said, pronouncing the k.
Another grimace, and a constellation of freckle stars erupted on her forearm.
'Might as well enjoy it while you can,' he said.
For a long moment, the air grew heavy with unsaid threats.

'Don't make me cut you,' Aunty said. 'I have words enough for that.' She held up her palm, as though to blow him a kiss.
From the watchtower, the Cautionary called, a simple exclamatory. Only one exclamation mark, a professional until the end.
'They're coming!'
The Profiteer gestured for his party to leave. 'You know we'll all go down together.'
'Now you get it,' Aunty said, shaking her head, but his denial held, and her words slid down to puddle at his feet like so many wasted breaths.
'Don't let the door hit you on the way out,' I said, and felt immediately dirty, clichéd. We were all in this together. Was spite really all I had left?
We watched them pile back into their silver shuttle and trundle towards their spire, glimmering distantly through the murk. That golden needle, those mirror ball reflections, the constant beat of the hammers. Pistons driving fuel, rods smashing ore, mints coining cash.
The last gasp.
'And now for the climax,' Aunty said, and led us up to make our stand.
Under our feet, the wall shuddered like a dying beast, a mishmash of dystopia and apocalypse welded together with shrivelled veins of utopian desire. There was a solid bedrock of non-fic sadly neglected, and a layer of lit shaky with introspection and a thin veneer of genres never to be spoken, but now even the speculative was eroding. It was all too real. We were living in our own future, buried by our past. 'Too little' and 'too late' circled like crows, pecking at the ramparts of our faith. The dead acid sea was at our backs, the wasteland to our front. Feeding tubes crisscrossed the barren heath, their innards pumping with viscous denial. Here and there they ruptured where the dissonance had worn too thin, and pools of the stuff spread like contagion, even as the starving lights in Keynestown grew dim. The beat of the hammers grew frantic. We could only imagine the danse macabre cavorting to that beat. All those lead foots, their pedals to the metal.
The mills advanced, giant blockhouses spouting smoke. Cynical pennants of clean coal, glowing signs of nukes, arsenic-coloured balloons of noxious gas bobbing in their wake. Snail trails of luminescent lies and wilful ignorance. The ground splitting and hissing behind them, the last of the streams, undrinkable, bubbling, steaming.

Aunty held my hand as the reeking clouds grew thicker with atmospheric doom. The Gothics applauded, damn their ghostly clapping, nothing compared to the apocalyptics at their table, saluting over packed bags, still believing they had somewhere to go.

'Is this what happened to your home?' I asked.
She'd come in on a life raft she'd sung herself, a thin platform of hope and a sail of solastalgia.
'I clung to the crown of the last tree as the futility rose around, then floated here on a wing and a prayer,' she said.

'Delaying the inevitable.'
'Think of it as a thriller,' she said. 'It's time to escape again.'
'To where?'
'There is only here. So let's give it a try.'
The mills had dragged themselves close enough to see the blank windows of dusty, soot-stained self-interest, a veritable ring of concrete and smokestacks, fuelled by draglines and conveyor belts and tubes. Far behind lay the ruins of wind generators, little more than shattered poles, chapter headings strewn in their wake, and massive chains linking the mills had picked up recharging stations and protest posters and shattered PV cells glittering like the most delightful of metaphors, now just piles of broken dreams and hopes, like wrack washed up by a flood.
The sustainability barrier around our town grew thin. Wreaths of smoke curled through the cracks, pried like tentacles at the shields of social justice with promises of comfort and prestige.
The Romantics screamed in pain as the noxious cloud roiled over them. Postmodernism became even more disjointed; it didn't know who was talking, or to whom.

'Where is Ballard when we need him?' someone said. 'Or Le Guin? My kingdom for Le Guin, or Butler, a duchy for KSR. A tiny piece of Klein.'

A glimmer there, translational frippery rewarded, a solar disc grey behind cloud.
'Together,' Aunty said.

Catapults of paintings and sculptures, the megaphones of music, the shouted, defiant words. Paper planes made from torn pages. Sharp, hard facts on the harpoon tips. Shining images flickered against the canvas of the smog, the battered concrete of the factory walls. Fire! Fire! Look back! Look forwards! Look here, damn you, look here!

I screamed next to Aunty, I beseeched the sun.

Tear through, tear through. I pray you for denouement. For a bright epilogue, when all the words are said and the deeds are done. When we can shine on —

About The Author
Jason Nahrung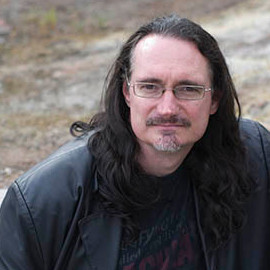 Jason Nahrung is a Ballarat-based journalist, editor and writer.
He is the author of four novels and more than 20 short stories, all within the speculative fiction field.
In 2019 he completed a PhD in creative writing from The University of Queensland in the field of climate fiction. <www.jasonnahrung.com>.