By Col Hellmuth

I eschewed the coach service at the last stop on the outskirts of Copacetic and wished the driver a pleasant journey; determined to complete my own on foot. It was an agreeable day, ideal for a genial ambulation through charming scenery, and Copacetic's hinterland fitted this scenario most amply.
Gently undulating at a rate not at all taxing for someone as recently rested as I, the main road wended the last kilometres into town through remnant bushland — gradually transformed into domesticity by more exotic, less random plantings as it wound its way through a valley — roughly following and offering occasional glimpses of a river; flowing clean, clear and sometimes wide. The road transversed the river by means of an ancient-looking yet well maintained stone bridge upon entering the town proper.
I was here; I had a job to do. Now I just had to find out what it was.
I wandered — aimless at first — through tidy, uninhabited parks and gardens, dotted throughout the town. It was quiet, tranquil. Surreal. The township appeared as commendable as its name implied. I almost expected to see rainbow-farting Monoceros' grazing on the lawns; fluffy white cottontails bounding gaily between their legs, copulating freely and laying tinselled eggs.
Such a change from my usual work environment. Why then, was I here?
My meanderings brought me, after a time, to where I perceived (given its elevated position and overview of the local topography) to be the geographical centre of town. Nestled comfortably amidst a row of quaint and unobtrusive store-fronts, I chanced upon an engraved brass plaque, next to an open heavy doorframe giving access to a well-worn ascending oaken stairwell. The plaque proclaimed: "Mayor," in an appropriately understated and aesthetically pleasing font. I am appreciative of a winsome typeface and wondered bemusedly as I climbed the stairs, whether the mayor's tastes were as well refined and restrained when extended to other matters.
***
The mayor, it transpired, was an agitated and irritable soul. He appeared red-faced, flustered, and not at all approachable when I crossed the threshold of his office and attempted an introduction. He tried to dismiss me with a tired flourish of his wrist and an unconvincing engagement of the telephone as a prop to feign busyness.
I stood and endured his stuttered imaginary conversation with growing amusement, as he increasingly faltered for words. Eventually he trailed off mid-sentence and acknowledged my presence:
"You can hear the dial-tone, can't you?"
I nodded.
"F— it, what do you want—and how did you get past Jenny?"
"Jenny?"
"Bloody secretary. — JENNY!"
There was no reply from the foyer. My entry, he had yet to register, had been unimpeded by the presence of "Jenny" or any other crowd-control measure.
"Unreliable, gossiping flirt. Probably off f... lunching one of the constituents again.
— Well? I am very busy you know," the mayor chastened me, in the vain hope I would be deterred by this feeble manoeuvre and just wander obediently out of his office, and his life.
The 'phone did clamour then: proving its other, conventional, functionality. It was an old fashioned rotary-dial telephone. Inexplicably the ring-tone was the theme to "Peter Gunn." The mayor's side of the ensuing conversation didn't sound appreciably different from his imaginary one before, other than in tone.
"— I don't give a f— if Timmy's fallen down the well again. It's only three f—— foot deep for s—'s sake, tell him to get out of it and over it and stop being a f—— wet-sock!" He slammed down the receiver.
"Young lassie, calls and barks at me every bloody time it happens," he offered in explanation. "Her dumb-ass kid brother falls in the 'wishing' well in the mall every other time they come into town. Trying to steal pennies, the little s—.
—Call triple-zero, I keep telling her; waste their f—— time instead and see what happens."
I was beginning to have an inkling as to why I was here.
"Oh for f—'s sake, not again! "
I turned to follow the mayor's gaze — through a large picture-frame window offering a view of the eastern side of town with its parks and river. A small herd of unicorn were working their way down the nature-strip in the main street, making a meal of it as they went — ethereal, multi-hued trails of luminescence alternately emanating from one or another of their posteriors. The beasts were being stalked by a gaggle of giggling, pimple-faced teenagers — taking turns darting up behind and sniffing their equine bottoms. The kids appeared to be getting high off of rainbows.
"What did you say your name was?"
"I didn't," I corrected. "I am here to offer my professional services. I'm known: to my clients and acquaintances alike — as the Dream-killer." In truth, this was just one of many names I am known by.
"O—kay," said the mayor, though his face said something different altogether.
"I am here to help you," I assured him.
"I don't see how the extermination of my already mortally wounded dreams is going to be particularly f—— helpful to me, son," he replied, clearly exasperated.
"You misunderstand me, Mr Mayor. This..." I punctuated my pause with a gesture calculated to embrace our not especially nightmarish surrounds, "This here and now... is simply a dreamscape of your own imagining — or to your troubled sensibilities, a torment. I have seen far more terrifying examples in the minds of my usual clientele, I must opine."
This was the pivotal point in the job. Sometimes they don't take the news well: parlay to shoot the messenger. If the mayor had a riposte in mind he didn't yet utter it, so I continued:
"— My job is to terminate this perfidy, this un-reality you find so distasteful.... If you so wish."
The sound of ascending footfalls preceded another burst of the now-familiar theme-song. This time the telephone was answered in the foyer. Presumably the secretary was back from lunch. I took in a snatch of the conversation:
"Yes, I realise cows aren't usually able to talk Mrs. Farmer, but I don't see how the mayor's office can help... and kids do have active imaginations at that age," a female voice explained patiently. "Maybe you could request your son have a chat with the school counsellor..."
I eventually departed — my job done — leaving the mayor with a token resembling a coin of his imagined currency, along with instructions to throw it in the well in the town square the next time he went to rescue Timmy.
***
The former mayor of 'Copacetic' awoke to familiar surroundings and as his usual titled self: Warren C. Flucher (pronounced flusher) — proprietor of W.C. Plumbing Services 'No blockage too small!'
From the other side of street-facing bedroom windows — inadequately fortified against the noise of urban life despite their heavy drapes — his ears were assaulted by the thumping bass of distant 'doof' music; sporadic, discordant traffic sounds of protesting brakes and tyres; a couple of loud, reverberating reports that could have been fireworks, although just as likely gun shots — followed by a piercing scream, which Warren Flucher found it convenient to believe was a late night reveller enthusiastically voicing her (or maybe his, who could tell these days?) delight in especially spectacular pyrotechnics.
The digital display on Flucher's bedside alarm clock showed 1:48, in phosphorescent red, with a blinking colon. His wife's side of the bed was still unruffled and vacant. Everything as normal then. Satisfied the nightmare was over, he manoeuvred himself into a position that minimised the protestations of his ageing tradesman's back, and drifted back to sleep.
The next time Flucher woke it was to the sound of his digital clock radio, an occurrence so rare of late, he almost slept through it — probably even would have if his wife hadn't elbowed him roughly in the ribs, which was about as affectionate as she got (around him anyway) these days.
It seemed to Flucher that no time at all had passed since his last awakening. Despite its briefness, it was the soundest sleep he'd experienced in years. Usually, he cancelled the 5:00 alarm long before it went off; he only still bothered to set it out of habit.
The early-morning-shift news announcer didn't have a lot new to announce. The continuing Fremantle dock strikes looked like turning violent, and young women were still being advised not to go out alone while the 'Claremont serial-killer' remained at large. The newscaster's droning voice was replaced by a sound-bite of the Prime Minister detailing the impending implementation of the consumer tax his government would never, ever, introduce.
"More fucking paperwork," Warren muttered to himself as he flicked the clock-radio off.
Despite the rare few hours of sound and dreamless sleep, he didn't feel particularly rested. His wife, Jennifer (she hated Jenny), had lapsed back into unconsciousness atop the bedcovers, still dressed in her evening-wear from another night out with girlfriends. At least she had managed to get her shoes off somehow.
***
Freshly showered, and dressed in his workday uniform, Flusher fished in his jacket pocket for his keys. His hand withdrew something else: a piece of card. Expecting to see another of the unsolicited and unwanted business cards foisted on him by pushy plumbing suppliers, he glanced at it — hand poised above the kitchen bin — and was startled to see, in his own handwriting:
You know what to do.
—D-K.
Flusher turned the card over. On the back embossed in tiny but tasteful lettering was simply:
Safe for Septics
***
Standing in the bathroom, Flucher holds the card over the porcelain bowl, the one Jennifer will probably be hugging like it's her best friend in a couple of hours. He drops it; when it hits the water it floats, right side up, and taunts him even as the scribbled ink of his unremembered hand smudges and bleeds from the cheap absorbent pulp.
He presses the full-flush button. And as the card is whisked away — to the tune of the gurgling cistern — destined to join the rest of the city's flushable detritus:
Warren Flucher makes a wish.

About the Author
Col Hellmuth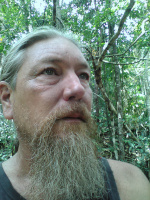 Col Hellmuth lives a quiet, uncomplicated life, off-grid in the Daintree rainforest of Far North Queensland.
He has scratched out a living in a variety of different jobs (and locations) over the years; these days he scratches out words in various sequences, and dreams of a day when he might be able to convert some of these ramblings into food.
When he is not writing or enslaved at work he is usually found bumming around his local beach dodging crocs in his kayak or jamming on the blues-harp.
He doesn't have any fancy letters after his name, or a pet cat, but does read a lot.