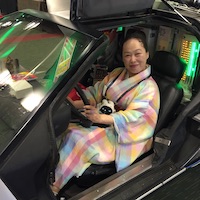 Umiyuri Katsuyama is a multiple-award-winning writer of fantasy and horror, often based on Asian folklore motifs.
A native of Iwate in the far north of Japan, she later moved to Tokyo and studied at Seisen University.
In 2011, she won the Japan Fantasy Novel Award with her novel Sazanami no kuni.
Her most recent novel, Chuushi, ayashii nabe to tabi wo suru, was published in 2018.
Her short fiction has appeared in numerous horror anthologies in Japan.