By P. V. Andrews

The party planner had warned Caroline during the booking process that the 'Favourite Real Fairy Tale Characters' was not really a child-friendly package. She suggested one of their other options, a package that used actors rather than the 'real' characters created by the recently developed replica technology, but Caroline waved away the recommendation replying, "They're people from fairy stories, children love reading fairy stories and my daughter never stops reading fairy stories. So, I don't see the problem."
The party planner, a nervous young girl, kept trying, "But madam, these people are much more than you know from the books. Our technology brings them to life with a mind of their own, and just like you or I, they can be a little — er — unpredictable sometimes and have been known to —"
"Nonsense! Gabby wants all her favourite book characters for her birthday party and so she shall have them. Now, for how many people do the food packages cater? Also, since we'll be doing the party at home, we'd prefer to supply our own drinks."
"Certainly, madam. I should mention here — just in case you missed it in the brochure —- that we strongly discourage serving alcohol —"
"Well, the adults can't be expected to drink cordial now, can we?" Caroline exclaimed and she laughed loudly. She was feeling extraordinarily pleased with herself, and a little smug at the thought of her daughter's birthday party that would be, admittedly, over the top extravagant for a six-year-old, but so unique — it would be the talk of the school.
***
"Stop it," Caroline hissed desperately, "This is highly inappropriate," but Cinderella continued rapping a particularly expletive-ridden song. Her champagne splashed down the front of her dress, which was already covered in a number of stains. Not to be outdone, Snow White climbed up onto the table and lifted her skirts to perform some sort of Irish Jig. Rumpelstiltskin accompanied her with some hand clapping, foot stomping and occasional, 'Yee Has.'
Rochelle Levanovitch pulled her daughter Lola firmly by the wrist towards the door. Lola was still giggling at Sleeping Beauty who was face down in a platter of gourmet, gluten-free party pies, while Rita Montgomery placed brightly coloured mini macarons strategically in her hair. "I think we'll be going now, Caroline," said Rochelle, the displeasure obvious in each enunciated word, "Lola, what do you say?"
"Thank you for having me — what is The Beast doing over there with Megan's mum?"
Rochelle turned and gasped, giving Caroline a cold look before hurriedly dragging Lola away from the sight of The Beast snogging Megan's mum, Erin, in the corner.
Caroline surveyed the disaster, a heavy feeling in her chest. It might be considered a good party if this were a much older crowd — empty wine bottles, raucous singing, and dancing, not to mention The Beast and Erin Sampson getting hot and heavy — but it was a catastrophe for a group of six-year-olds. This party would be the talk of Gabby's school all right. She overheard Peter Pan telling Sally Chang's dad a rather bawdy story about a party they had attended last week and sighed wearily.
Gabby was over with some of the other children sitting spellbound at Mother Goose's feet and Caroline thought, "Well, at least it's not a complete fiasco," that is until she got closer and heard Mother Goose explaining how the watered-down fairy tales the children read today were nothing like the original versions. When she then began to describe in detail some of the differences, Caroline clapped loudly and announced, "Cake time everybody, we'll sing Happy Birthday and then it'll be home time." She started clearing a space amongst the wineglasses and dirty plates, scraping up the larger bits of food from the food-fight Tinkerbell had started when The Fairy Godmother had told her if she didn't stop flitting around, she'd spray her with industrial strength fly-spray.
Mother Goose flapped her wings and called to everyone, "It's photo time now dearies, gather around with young Gabby in front of the cake."
As Caroline took a photo, Cinderella threw up with gusto into one of the large bowls of trifle. Thankfully, the bus was due shortly to take the characters back to the company's headquarters. Caroline had made a frantic phone call about forty-five minutes ago and spoken to a customer service representative from the company 'Fiction to Fact Technology Inc.' telling them what was happening. He had been supremely blasé about the whole situation, reminding Caroline that she had signed consent forms and waivers when she booked, absolving the company of responsibility for anything that the characters might do.
"After all," he said, "they've got minds of their own now, don't they? We warned you against serving them alcohol." He did, however, promise to send the bus to pick them up an hour earlier than originally planned.
Once a rather rowdy and tuneless Happy Birthday had been sung, Caroline ushered Gabby's friends out with as much dignity as she could manage.
Erin Samson said irritably, "I thought we had another hour," as she straightened her clothes.
Caroline was making an unsuccessful attempt to get all the characters to wait out the front of the house when the bus driver arrived. He did not seem at all surprised to find the characters so drunk and dishevelled and herded them onto the bus with relative ease. Caroline started back towards the party room to begin clean-up, but was intercepted by Gabby, who enveloped her in a huge hug and looked up with an ear-splitting smile,
"Thanks for a great party, Mum, it was so much fun! Let's do it next year too."

About the Author
P.V. Andrews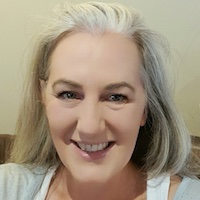 P.V. Andrews lives in Melbourne's eastern suburbs with her husband, children, and cat.
Past jobs have included karaoke hostess, English teaching in Tokyo and assessing ethics applications for research projects.
She has a master's degree in bioethics, loves travel and is currently fascinated by CRISPR.