By Kris Ashton

He is drawing off a glass of water at the kitchen sink when the pot plant waves at him.
It is a small bromeliad, commonly known as 'freckle face' because of its spotted leaves. It sits on window sill above the sink in a sculpted stone pot, where for most of the day it gets sunlight filtered through the patio roof. He and his wife bought the house a decade earlier and Freckle Face has been part of the furniture since then. It gives them no trouble, beyond dropping the occasional leaf and needing a weekly drink.
He glances at the kitchen window, assuming Karen has opened it to air the room, but it is shut. He leans around to see the sliding door that gives onto the patio, but that is closed, too. So is the back door. It makes sense — he has just arrived home from a morning run and is alone in the house. Perhaps the air conditioner. The control panel is on the wall at the top of the stairs and he doesn't need to climb them to see the system is inert.
He returns to the kitchen, where Freckle Face continues to wave. Just one shoot with three leaves branching from it, like an arm. He puts down his glass and moves his hand above the plant to try to detect the draught. He can feel nothing, so he moves it closer to the shoot that is waving up and down.
It reaches out and touches him.
Not a brush. The little leaves rest on his knuckles, stay there. He snatches back his hand and stares at the plant. It has stopped moving altogether and the branch has sprung back to its regular position.
Dehydration. He drinks his water and decides he won't tell Karen about this. She will suspect he has lost his mind.
***
The phone rings — the landline. It is in its cradle, which is affixed to a narrow stud wall that partitions the sink area from the patio door. It has rung a lot these past couple of days. Bloody telemarketers. Karen's doing, no doubt. The woman is mad for competitions and raffles and any game of chance where she has to provide a phone number or an email. Then, phone calls for weeks, all from mystery numbers. No spam filter on a phone, and if he tries to block the number, the telemarketers call from another extension.
He scowls at the phone until it rings out. No answering machine; he's already disabled that. When the handset falls silent, his eye turns to Freckle Face, now leaning towards the window. Towards the light. He learned the name for that in high school biology, so distant now. Photo-something. His scowl returns, but softer. He picks up a few dropped leaves, light and light-brown, which litter the laminated sill. He drops them in the kitchen-tidy and then takes some small scissors from a drawer. He trims off a brown stalk that has two dead leaves dangling from it, then snips a couple of green ones to make Freckle Face more symmetrical.
"That looks better, mate," he says. Freckle Face doesn't seem to have an opinion one way or the other. Talking to pot plants makes them grow better, or so goes the old wives' tale. His biology teacher, Mrs Jarvis, buried that bit of superstition. While you are talking away to your plant, you are breathing carbon dioxide in its direction. The higher the concentration of carbon dioxide, the faster a plant grows. All very rational, logical. Afterwards, he had felt smarter. But hadn't scientists, since that long ago biology class, determined that plants responded to different kinds of music?
Phototropism. That was it. When something moved towards the light.
***
The plates are piling up in the sink. Dusted with toast crumbs. Maroon with congealed pasta sauce. Sickly-sweet with old milk and bran-flake residue. Ceramic strata in a growing cliff face that now almost touches the underside of the tap.
He plants his hands on his hips, the gesture of an old-time headmistress about to chastise a student. Karen washes, he wipes, that's how it's always been. She dusts, he vacuums. She does the washing, he tends to the yard. It's what's kept them together all these years while their friends got divorced one by one.
"Why hasn't she washed them?" he says.
Does Freckle Face move? Sag, perhaps? No, it's night time and the only light comes from the buzzing fluorescent above his head. Some plants close up during the night. Probably Freckle Face has been slumping of a night and standing erect every morning for a decade and he has never noticed, because plants don't move like people. He's only noticing now because he's been paying closer attention to what the plant looks like during the day.
Taking care of Freckle Face has always been Karen's job. Just like washing the dishes and dusting the shelves.
***
Freckle Face is wilting. It's a sunny morning, but his branches are sagging and his leaves are wrinkled. Despite this, he has sprouted a single flower, pinkish-purple, like a small heart.
Why hasn't Karen watered him?
He takes a measuring cup from its shelf in the pantry, half-fills it with water. The cup pauses — poises — above the pot, then tips a dribble of water onto the powdery soil. This time, when Freckle Face places a leafy stalk upon his hand, he doesn't even flinch. When another drop of water falls in the pot, it is salty.
Freckle Face understands, of course. Any plant would.
Karen has moved towards the light.

About The Author
Kris Ashton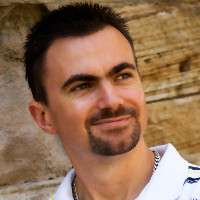 Kris Ashton is an Australian author, travel writer and motoring journalist. He has published three novels and nearly forty short stories, mostly speculative fiction. He lives in the wilds of south-western Sydney with his wife, two children, and a slightly mad boxer dog.