By Robert W. Caldwell

"It will hurt the Inuit economy."
The mousy-haired girl had been lecturing us for at least ten minutes, half-empty wine glass sloshing its contents with each emphatic pronouncement of doom.
"And the growing ice cap will close off the Northwest Passage," Claire continued.
I watched the sun set over the ocean. At least with the onset of darkness I wouldn't be able to see the water three hundred feet below through the concave floor of the clear bubble.
Claire, the webmaster of the Advocate took a sip, "Ships will have to sail an extra two thousand miles."

My fear of heights did not fit well with this month's choice of a bar suspended over the ocean for the social. I usually liked these occasions; they got me away from the computer for a while.
"Here comes Sam and his new girlfriend," said Ted, a videographer, pulling a greasy, overgrown lock behind his protuberant ear.

I observed the tall anchorman stagger from the tubular crossway followed by a gorgeous blonde animatron female.
"As if he couldn't get any real girl he wanted," muttered Claire to herself.
"Will they build over the ruins of New York or relocate the city?" interjected Ted with a lopsided smirk.

I moved my head over the table to decrease my vertigo by blocking the view below.
As Sam and his animatron companion neared our table, I could hear her singing, "Whoa whoa whoa make you happy."
"But all we have to do is put more CO2 into the atmosphere!" said Claire, taking another sip.
Sam, avoiding looking down, walked to the table. "Hey guys! What's going on?"
"Claire's preaching about Global Cooling again," I said.
"As if the weather's never changed before," said Ted, taking a sip.
"Hurricanes are fun!" The animatron looked at Ted with her glassy brown eyes. "Especially if you stock up on beer ahead of time. There are no bills because the mail doesn't come. Everything is quiet. The power goes off. You get to put out candles. It was a bummer that we didn't get any hurricanes last year."
"Who is this?" I asked, taking a deep breath and raising my eyes toward the domed ceiling, hoping my food would stay down.

"You don't know Trish Merrill?" replied Sam. "She was a popular singer of the Twenty-first Century. I think she'd drank a bit too much whiskey when she said that."
"My musical taste tends to lean toward more recent singers," I said, taking a sip of beer to settle my stomach.
"Should we all start doing outdoor barbeques?" asked Ted. Claire frowned at him.
"Do you want me to sing something for you?" asked the animatron.
"Yes, please do!" I said.
Claire glared at me.
"I was stuck inside my shell / Too shy to open up. / I was happy all alone. Monday morning in the rain / at the bus stop feeling drained / with a smile on his face / He gave me his umbrella. / and I don't know anything / what could be better than / a sweet lovin' man."
At the end of the song people sitting nearby — and the crowd that had gathered, — clapped. I clapped too, my hands hurting as I strived to make it loud. Ted clapped also. Claire frowned.
"Isn't she cool?" said Sam. He took a seat.
"Yeah, if you like dead celebrities," said Claire, putting down her glass so that the waitress could refill it.

Without looking up from the menu Sam ordered a beer.
"Now, what other major issue do you want to solve?" I asked Claire.
"I have a hard time thinking of myself as someone people pay money to see," said the animatron standing by the table. "I feel more like an ordinary person who has her dark side." She looked right at me.
Sam signaled the waiter to come over then ordered a hamburger, medium-rare.
Claire grimaced at him. "I can't believe they still serve real animal meat. It's disgusting."
A red-headed girl entered, followed by an Elvis animatron.
The Trish Merrill animatron lit up and called out, "It's the King!"
The Elvis animitron looked around until its glassy eyes alighted upon the Trish Merrill animitron and said, "Hey, baby. Are you lonely tonight?"
"I'm a real good woman that no man knows, will you sing a duet with me?" The Trish Merrill animitron hobbled toward the Elvis animitron and it shuffled toward her. Both units seemed to have difficulty navigating on a curved floor, until they met and both sang. "College professors say. Only silly people fall in love, but I can't believe I'm falling in love with you."
I could see the lights of ships passing beneath the restaurant. My acrophobia wasn't much diminished by the darkness. I took another sip of beer and felt a little light-headed. I thought to myself. "At least they're having fun."

About The Author
Robert Caldwell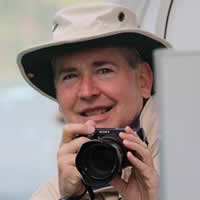 Robert writes about himself:
You can also find this story in my collection The Other Side of Forever, on Amazon.
I grew up in Birmingham, Alabama. I have a cat that sometimes gets in the way of my typing. I am also a photographer. At 48 years of age I was diagnosed with Asperger's Syndrome, a high functioning form of autism. Recently I have become a self advocate.
I graduated from Huntingdon College in 1981. I studied photography at night classes held at the University of Alabama in Birmingham. I got an MS degree in Journalism at Murray State University. Then I worked at newspapers and publications without much success before I went to Portfolio Center in Atlanta in 1994 to study Commercial Photography. After one year I left because I did not like the teachers or their teaching methods. Not having very much success finding commercial photography jobs I worked at several retail establishments in Atlanta until I decided to move back to Birmingham Alabama in 2002. I got a degree in Web Design in 2007 From Jefferson State Community College and once again couldn't find work. I have found a new purpose in life since my diagnoses. I am a Governor appointee on the Alabama Interagency Autism Coordinating Council and the Regional Autism Network as well as volunteering for several activist organizations, all well being a caregiver for my Mother.
Growing up autistic I always had a different angle on things. That may be why my stories are so strange.
Previously in Antipodeon I've had "A day In Caaatahlona 1 City Beneath The Waves," AntipodeanSF February 2018
I've also had the epic poem "The Blossom War," published in 18th Wall's anthology, The Dragon Lord's Library.
I had a short story "Silver Image," published in the Daguerreian Annual 2015.