By Kim Rose

I had been planning the party for months, but now the date had finally arrived, I surprised myself by being more anxious than excited. Halloween is not that big of a deal to some, at least in the land down under, but I do love a good scare.
The house looked amazing. Despite the general lacklustre response to the holiday by most Aussies, our retail outlets had not missed the opportunity to force more disposable plastics down our craws.
Fake spider webs, bats and glowing pumpkins hung everywhere. Spooky sounds came spiralling out of the corners at irregular intervals. I had to hand it to Dad — he knew how to set a scene.
My dad. He was even more gracious than that. He took Mum and my baby sister with him, leaving the house to myself and the majority of the senior high school class. Not long now until the formal and the HSC — we had it made for an all-night party.
I was feeling like it was near midnight but couldn't be sure. I knew the boys were getting picked up by a bus to head to tomorrow's footy ground, and I wanted to find my boyfriend before it arrived.
I drifted across the lounge, long skirts sweeping as if I were in fact in the medieval castle it had been made to look like. I loved any excuse to dress up and party. This time I took it to the extreme.
I was dressed as Elena from 'the vampire diaries' — not the ridiculously incorrect TV series; the books — the high school dance when she dressed as a renaissance girl to impress her Stefan. The only difference was that she had worn blue to match her eyes, and I wore black and red.
Red to match my hair and black to match the eyes? It's not like I pay attention to that crap. The dress was extreme. I loved it.
I finally spotted Troy, his head above the rest of the crowd due to his overachieving growth spurt. I slipped through the crowd of hideous monsters that had been my warm, friendly classmates a few hours earlier. As I reached Troy, I slipped an arm around his waist from behind.
'Rachel?' he asked. I squirmed against him, hearing my skirts rustle as I pressed my body against his, hands sliding over his hard abs.
'Nope,' I whispered.
He turned, a random strobe lighting his face. The Frankenstein monster makeup was too real for a second, his grin too fierce. As his arms went around me, I felt the familiar warmth and leaned into him.
'Elena!' he announced, drawing me in, giving me a firm kiss.
'Got it in one, tiger,' I grinned. I love this guy. I'm not sure about what will happen after we finish school, or what adult love and commitment really means, but I sure do enjoy him.
We barely got in another kiss before a horn started blaring out the front. Groans issued from the crowd, mixing in with the spooky laughs and screams being played over the music. My grin sharpened immediately — it sounded like a torture chamber.
'That's us,' Troy grinned, leaning in for a last kiss. Bubbles of conversation flowed over the guys as they hurried to the exit, 'Cheers brah,' 'Good luck,' 'Sweet party' 'You getting a lift?' 'Take it easy' 'See you tomorrow.'
After the commotion settled down, I felt my chest ache with disappointment. It looked like half my party had racked off with the footy players. There were about fifty people left, some dancing, others talking and drinking. My circle of closest girlfriends sat in a corner hogging the punch bowl. I rustled as I swished over with long strides. Gotta know how to work about twenty metres of silk.
As I joined my friends, I could see they weren't just gossiping to each other — a pastime that occupied all living space except when gossiping about each other — they were talking to the new girl, Lilah.
I couldn't help but get a bit shitty when I saw her. I mean, who joins a new school in July of the last year? She's bugged me from day one with her quiet, knowing smiles. As if she is out specifically to piss me off at my own party, she's not even dressed up.
I cut through the conversation and my words come out far sharper than I expect.
'What are you supposed to be?'
Lilah looks up at me with her pale blue eyes, straight black hair limp down her back. Fashionably skinny, but not pretty. No threat to me. Who comes to a dress up party in ripped jeans and an old holey t-shirt?
'I'm a demon, of course.' The smile she gives me creeps across her face.
I refuse to be intimidated. 'No wings, no horns?' No goddamn effort.
'Demons look just like everyone else,' she says softly, still watching me and grinning.
'Does anyone want to play a game?' I say, quite loudly, trying to distract myself from Lilah's excessive weirdness. The people dancing barely notice. We've already done a few games and seriously, it's boring now we are nearly adults.
'Yeah, lets!' Lilah exclaims, showing more enthusiasm than I've ever seen. 'Let's do a spell to call the devil. I'm a demon after all.'
As I roll my eyes and sigh, I see my group of bitchy, judgemental friends dissolving in laughter. It makes me grin. I knew I could count on my girls to ostracize and offend the weirdo.
'What are you guys?' Lilah asks softly, 'Scared?'
'Not by you.' I barely stop myself from yelling.
'Come on,' Lilah gets up and heads to the centre of the room. 'Make a circle. Anyone who wants to meet the devil, get in the circle.'
My faithful bitches gather, and a few kids stop dancing to join us. Lilah looks up at me seriously.
'Do you have a metal chalice?'
'What the literal F —' I stop and swallow, trying to force a polite tone. I fail. 'Why would I own a metal chalice?' I snap my mouth shut to avoid finishing the sentence with, 'You freaking psycho.'
Lilah shrugs. 'Crystal will do. Got a crystal cup or jug? Half fill it with water for me. And a knife. Sharpest you've got.'
I'm not sure about giving this nutcase a knife, or my mum's best crystal glass, but everyone is looking at me. I want to embarrass this bitch. So I comply, bringing the items back to her as quickly as I can.
She places the knife and cup in front of her, waves her arms and passes her hands over the instruments, whispering furiously. Several of us roll our eyes and make various coo coo gestures.
Lilah looks up, grinning. Her face is so narrow, her lips thin, her teeth and eyes huge.
'I need a drop of blood from all of you.'
Exasperated moans. A few kids leave the circle. The remaining brave souls stay and offer their fingers. Lilah handles the big knife well, gently using its sharp tip to release drops of blood into the glass.
She comes to me last.
'Your turn, Rachel.' She still has that stupid grin. I hold out my palm, waiting for the sting.
To my shock she slashes the knife across my hand. My blood splashes across the crystal glass, overflowing it immediately. In pain and shock, I finally lose my shit.
'My dress! My hand! My fucking floor! Lilah, you goddamned psycho!'
She returns to the centre of the circle with a calm shrug. 'Wrap that cut in something Rachel. You could bleed to death.'
I hurry for the kitchen, grab a thick towel. I wrap it around my hand, pressing tightly as I return to the circle. As I take my place, the blood starts to soak through the towel.
'I think I might be in trouble here,' I whisper.
No one notices me. Everyone watches Lilah. She chants away, holding the knife over the bloody glass. I'm starting to get a bit confused. My vision has dark clouds around the edges, making everything hazy.
Is the room moving, or am I shifting?
I put a hand to my head and realise it's the wrong hand. Blood pours down my face and over my dress. 'Shit!' I scream, wrapping the towel around my hand. The towel is red. It's soaked. Everything is red and her stupid chanting is starting to make me sick.
In the darkness, everyone looks monstrous. Screams and ghoulish giggles freak me out. Suddenly, I just want a nice, clean hospital with bright lights and lots of anxious faces peering over me.
But I can't get up.
'Rachel?' Someone shakes me by the shoulder. 'Rachel? You okay?'
I turn, wanting to scream, 'No, of course not.' But I can't get the words out. As I try to focus on the person my head spins. All I can see, all I can smell, is blood.
A wave of darkness consumes me, and I still hear someone screaming my name.
I blink, slowly. I feel stiff and aching. Like I slept on the floor. I don't know where I am.
'Rachel. Rachel!' Someone shakes me. I blink, seeing light. Is it morning?
As I get my eyes open, I focus on Dad standing over me.
'Rachel! Thank God. What happened? What the hell is going on!'
'Dad?' I whisper, putting a hand to my pounding temple. My left. There's a reason I shouldn't use my right, but I can't remember it right now.
'That stupid new girl Lilah wanted to do a spell or something.' I close my eyes again. 'Can you get me some painkillers? My head is aching.'
'What new girl?' Dad looks genuinely puzzled. He works at school and is active in all the clubs. He should know Lilah.
'You know, she —' I open my eyes as I sit up and finally look around.
In the harsh light of day, it's just a house again — a house covered in cheap cheesy decorations. It looks like a mess that I don't want to clean up.
Then I realise we didn't use fake blood. But there is blood everywhere. On the walls, on the floors…
And everyone is dead. Everyone who was left at the party is now a hunk of costumed corpse scattered across my lounge room floor.
Dad grabs me by the shoulders, looks into my eyes.
'Rachel. What happened?'
'I told you, Lilah —' I look around, stifling a sob. 'She cut me. Here I'll show you.'
I raise my right hand, then my left. Both my hands are covered in blood and so am I — much more than my hand could have bled.
Reality rolls away. I'm sick and cold with horror.
Despite the blood on my hands, there is no cut.
Only the knife.
In my hand.

About The Author
Kim Rose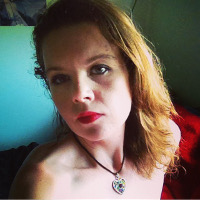 Kim Rose is a professional writer of romance and erotic fiction.
Long time lover of fantasy and sci fi.
Keen spokesperson for sex positive culture and breaking social stigmas.
For more information please check out these pages
<https://www.deviantart.com/kalikapsychosis>.
<https://www.instagram.com/kimrg6_6_6/>.
<https://www.facebook.com/Kimrg2/>.
<https://www.patreon.com/kimrg666>.