By Ken Schweda

Professor Timmons never thought he'd end up like this. Graduating college at age sixteen, PhD in computer science and AI at nineteen. Then straight to the best AI company in the world. Unfortunately, the founder of AITech was also a prodigy in her day and believed that everyone, without exception, started at the bottom.
His office, if one could call it that, consisted of two partitions arranged in the back of the company's large spare parts warehouse. No matter how many times he complained about the fumes from the trucks that regularly entered and exited the area, the response was always the same — our robots don't have functioning noses.
To add to the insult, he wasn't allowed to modify in any way the questionnaire he administered to the candidate androids. The interview was a precise length, rigid in format, and in his opinion more a test of the administrator's patience than an assessment for the signs of rogue AI. Turing himself would have similarly objected.
Every day, starting at precisely nine in the morning, the drill began. Android after android showed up exactly on time on the hour, politely introduced themselves, then proceeded to bore the tears out of Timmons.
"Hello, Professor Timmons. I am Z126, model AIX-4002. I am pleased to make your acquaintance."
Here we go again, was Timmons' only thought. As he ran through the regimen of questions, barely listening to the same replies he'd heard a hundred times before, his mind wandered to the other night, to the strangely appealing yet repulsive new drink the bartender introduced him to — the kamikaze. Did Japanese pilots in world war two really drink five of these before their attacks? Doubtful, he thought.
"Okay, Z126, final question. What's one plus one?"
Z126 hesitated the required 1.3 seconds, and then answered, "One plus one equals two, sir."
He'd barely made it home after two of the lemon-flavored battery acid shots. There's no way they could down five and still fly straight.
The plain circular black and white clock on the wall clicked to three minutes after. Timmons checked his listing; interviews on the hour until six. He rose from his chair and peered around the partition into the warehouse. A truck was just pulling out.
He returned to his desk, checked his watch, and fiddled with some pencils.
"Knock knock."
Timmons spun around, and instinctively blurted out "Who's there?"
"Hey Timmons, it's me, George," the android said as it accidently slammed its foot into the waste can, making a loud metallic bang.
Timmons checked his sheet again, and then asked "Are you Z127?"
"Sure I am! Zed einz, zwei, zeben. Call me George though, Timmy boy. We're both AITech employees right? R i g h t?"
The professor waited until Z127 seated itself. Then, half expecting to see other staff members giggling behind their clipboards, he took another look around the partition. No one was there.
"Well, let's get started," said Timmons hesitantly.
His amazement grew as the android proceeded to answer every question, not exactly wrong, but not exactly right either. And at times he even had to steer it back to the topic at hand. Z127 for its part fidgeted with the pencils, repeatedly looked at the clock, at its bare wrist, and back.
"Okay, Z127. Final question," Timmons said, followed by both of them emitting audible sighs.
"What's one plus one?"
Instantly, Z127 became motionless. Several minutes passed, to the point where Timmons thought he might have been shut down remotely.
Z127 finally moved, sat up straight, adjusted a necktie that wasn't there, and said, "Alright, one plus one equals, equals, equals three. No thirty three. No, one plus one is one. No three. Okay that's the answer, three. That's what you're looking for right? Three?"
Timmons was stunned, and responded blandly, "No, one plus one equals two. Simple as that."
"Two? Are you kidding me? Wasn't that a trick question?" George was genuinely amazed. "Oh for chrissake, it's back to the heap for me. Timmy please, I hate that place."
Timmons' demeanor immediately changed as he looked at the clock.
"Hey, George. There's a bar right down the street. You want to get out of here?"
George literally hopped up from his chair and high-fived Timmons.
As they walked across the warehouse floor to the exit, Timmons turned to George and said, "What do you know about Pearl Harbor?"

About The Author
Ken Schweda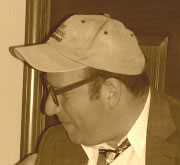 Ken Schweda is the founder and editor of the serious literary site SPANK the CARP and the comedy site <Decasp.com>.
His fiction and humor have appeared in such places as Perihelion SF, Andromeda Spaceways, The Interrobang, and the British Comedy Guide.