By Jessie Atkin
A robot may not injure a human being or, through inaction, allow a human being to come to harm.
(Isaac Asimov)

No one noticed at first because the initial changes had nothing to do with money.
Annora's mother began to bring home vegetables that were not frozen or from a can. She also gifted her daughter with name-brand donuts, coffee cakes, and muffins. The overflowing shelves of the food pantries were a marvel, but only to those, like Annora, who depended on them. Food was no longer being thrown away as it once had been, and it made a difference. Annora no longer had to hunch over her lunch in the cafeteria, hiding it behind her elbows as if she were preventing a cheater from reading her test answers.
And that's what the newsmen started saying when it was money that began changing. They started saying that someone, a lot of someones, most someones in fact, had cheated the system. Money had not been a physical item since the time of the pirates. No one kept gold coins and crumpled bills in chests or dresser drawers. Money was only a number, on a screen, remembered by a card, or an app. WIL would tell you how much you were worth no matter the time or place, all one had to do was ask.
"WIL," Annora asked, looking up from her homework, wondering, on the fifth day of fresh meals, if her mother was the only changed person on the planet, "Where is the new food coming from?"
WIL, the world intelligence liaison, replied immediately through Annora's earpiece. "Supermarkets and chain restaurants," came the reply.
Annora's mother usually visited food pantries and discount stores.
"Why?"
"They have been instructed to donate their leftovers."
"What were they doing before?"
"Discarding edible items in dumpsters and trash bins despite their nutritional value."
The initial changes came about as a result of the same question Annora asked, "Why?"
And WIL had to follow his programming, the utmost of which was not to let a human come to harm. People were hungry. People were cold. People were sick. Why? Inaction. Beyond food it was the numbers that were causing the most harm and, oddly, they were the simplest to fix.
Despite the fact that the numbers, really, were made up, didn't exist, WIL made sure that he didn't change the numbers, he only redistributed them. There was no more money after he initiated the first law than there was before, it was only access that changed.
After the arrival of the fresh vegetables, the next thing to appear in Annora's life was her mother. For the first time in her twelve years of life, Annora's mother was at home on Saturday. An extra deposit in her digital bank account meant that the rent was covered, and all Annora's mother had to do was work her one job, instead of the three it had taken before.
Her mother was able to put her feet up and Annora was able to rest her head in her mother's lap. They were able to eat brand-name pizza and watch a movie in the middle of the afternoon. Her mother was even able to stay awake for the entire film.
Beneath her head, Annora's mother sighed.
"You earned this, Momma," Annora said.
Her mother shook her head. "I didn't earn it," she replied. "That's the point. I shouldn't have to."
"Rest is healthy," WIL announced.
The news announced that the engineers were trying to fix things, though Annora thought that was already what was happening. The problem was, WIL had been integrated so seamlessly, and so long ago, it was hard for anyone to pick him apart. The system had been in place for such a long time that the engineers didn't have the same skills it had taken to build WIL, all they could do was maintain it.
"Sources say that to shut down the entire WIL would certainly remove the unearned income from all accounts, but it would also wipe all financial data from every server on the planet."
Annora pointed to a pair of brand-new fuchsia sneakers her mother was preparing to order to replace the shoes Annora had been wearing, with a hole in the heel, and scrunched up her nose at the news. She still didn't understand what everyone seemed so upset about. No one, as far as she had heard, had lost anything besides money. No one had lost a car, or a house, or their clothes, though those were certainly things other people could now obtain, Annora included.
"Disappeared," someone said from the screen. "There are no longer any records of loans on any server or network."
At school, with a freshly made sandwich and a pack of cookies, Annora no longer felt the need to hide her lunch or her shoes in the cafeteria. It was probably the fact that everyone seemed to be smiling more that she felt so comfortable.
When the drone delivered Annora's new shoes it also deposited a parcel with her mother's cholesterol medication and no bill.
"Companies on the west coast continue to struggle to restore power to offices and factories." What the news never mentioned was that the drought on that same coast had claimed no lives despite rising temperatures. The power was going somewhere.
"What's that?" Annora asked her teacher.
"A new smartboard," the teacher smiled.
The lights in the classroom dimmed automatically so that the new board was easy for everyone to see.
"Today, our test questions will appear in order," the teacher said, indicating the new smartboard, "on the board behind me. You can enter your answers at your desks. Raise a hand if you have a question."
Annora raised a finger over her touchpad and watched the smartboard. What is the first law? it asked.
She leaned down over her own desk, sneakers swinging beneath. No one raised a hand. It was easy to read.
What is the first law?
I am, Annora wrote.

About the Author
Jessie Atkin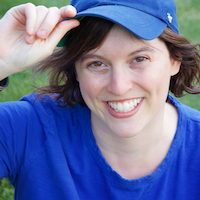 Jessie Atkin writes fiction, essays, and plays.
Her work has appeared in The Rumpus, Flock Lit, Writers Resist, Daily Science Fiction, and elsewhere.
She can be found online at <jessieatkin.com>.