By Brian C. Mahon

Standing alone on the front porch, staring at a face in the sky? This really wasn't how I expected the world to end.
And that's saying something: I toured from Stanford to Cambridge to lecture on how universes should end. I covered heat death, big freeze, big snap, all the standard methods. When someone inevitably raised their hand to ask my prediction for humanity's end, I always offered my honest belief, that we would wind up killing ourselves off. Of course, there was always a follow up question about meteors. "No," I would tell them, "Jupiter mostly guarantees we're okay."
Mostly. That was until Xiao, a post-doc of mine, found a previously undetected, and very large, blue-shifted object. To our collective regret, she confirmed the existence of Planet X. As recently as 2015, those of us who had nothing better to do theorised the hypothetical planet would have a very regular, very long, and very predictable, normal orbit. But as the Gemini Observatories subsequently proved, it doesn't.
It's fine, I told them all. I told my students it would be fine. I told my wife it would be fine. I told 300 million Americans on national TV that it would all be okay. I said on one newscast, "Rogue planets are a known phenomenon. Though we are unluckily near the trajectory of one passing by, it would do us no harm. In fact, we should all be thankful to bear witness to such a unique, cosmic wanderer. It will all be just fine."
Those were my words: just fine. I told my friend Robert the same, and Pam, the girl at the student union coffee bar, and I even argued Neil's and Katie's concerns down. The calculations were not terribly difficult. I did them real-time on a Sunday morning talk show to demonstrate to everyone that Planet X will not be dragged in by the sun's depression in spacetime to roll around a gravitational drain tube into a collision with us. "Heck," I said to the camera, warm coffee in hand, "we still have Jupiter, our friendly star system sentinel, to help us out too."
As it is, I am wrong.
This wasn't how I expected the world to end, with a rogue planet veering off course to come to us, to get between us and the sun, to open its jaws wide. Cosmology didn't prepare me for Uranus-sized carbon eaters cruising through the cosmos. Telescopic evidence of teeth the size of Phobos have me in a state of shock. I should be shaking, but it's all a little too helpless to worry over. I will say, the eclipse was a brief surprise. The increasing weightlessness is not.
It's time to stop fighting it, I suppose. Time to follow my wife off the front porch and drift upwards with the rest of the suburban chaff, cars and tricycles and basketballs and unattended children and all.
If Planet X hadn't repositioned the Earth betwixt it and the sun, I never would have had the opportunity to see the dentition of a planet eater and offer a smile back.

About the Author
Brian Mahon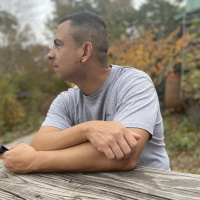 Brian Mahon is a former cook, lab technician, submariner, and now-and-then writer.
He splits his remaining energies seeking knowledge, fighting age, doing laundry, and writing as a creativity relief valve.
He can be reached both on Facebook <@MahonMiscellany> and through his website, <www.mahanimalism.net>.