By Andisha Sabri Carey

It was the only thing that had ever made me feel anything. It had wings, thin and filmy like a fairy, that spoke of escape and the past and of mythical things. It crawled over my hands, kissing, tickling. It flew. I panicked and grabbed it again, careful not to crush its wings and guilty because I understood the impulse, I knew it felt trapped. I had to be fast because it was fast, and chaotic, and very unpredictable. My heart was racing. I snapped the lid of the plastic box shut. I don't know why I kept it a secret, but it was the only thing that had ever made me feel anything.

***
There were no other living things besides the hundred and forty of us on Last Resort. Mother complained that Last Resort always smelled like a hospital.
"What do hospitals smell like?"
"Oh, you know, just overly sanitized and full of chemicals…"
"What do chemicals smell like?"
She paused. "Like your hair, like your clothes. Like everything smells." Then she started crying, then she took a couple of pills and went down for another nap.
***
I went back to school. It was colouring-in period. Teacher said there were no living things besides the hundred and forty of us. She said there used to be dogs and cats and cows and chickens and porks. She wasn't sure about giraffes, lions, unicorns, or wolves. Fairies and dinosaurs definitely never existed. I frowned at this, because I might have had a fairy in a box under my bed.
"How many living things used to exist?"
"Probably over two thousand."
"My dad said there are millions of tiny invisible living things crawling all over us all the time," Jimmy said.
Teacher rolled her eyes. "And where's your father now, Jimmy?"
"He checked out."
"Exactly. And I think if there were millions of living things crawling all over you we would see at least one!" She took a deep breath. "Next time I'll know better than to give you a picture of a cow. It's good to know your history but this is colouring-in class and we shouldn't get distracted from our colours." Teacher put her hand on Jimmy's shoulder. "You're getting excited—maybe you should go take a nap?"
Jimmy shrugged, pushed out his chair, and left.
The still, clean classroom was filled with the hushing sound of crayons on paper. Soon we would run out of crayons. Outside, we could see the pristine Resort pool, some adults on deck chairs taking naps, the sun glinting on the ocean, and the haze of green smoke on the horizon.
Teacher sat back, nursing her scotch on the rocks. "Children your age used to be a lot more mature in the past. Sixteen-year-olds used to go to war, get part time jobs, get married, even go to high school."
I smiled. This was interesting information, but meant very little to me. I concentrated on colouring within the lines. I checked the numbers on the side of the page, and the numbers on my crayons. The cow was brown. The sky was blue. The sun was yellow. The bird was blue. The tree was brown but its leaves were green—I hoped that wouldn't be on the exam.
"Were all birds blue?" I asked, because the fairy I kept in a box might be a bird, except it was brown.
"Sure," Teacher said, sipping her drink.
After school I checked out some floaties from the lady at the front desk and went down to the pool. I liked doing things like going swimming even though we were often reminded that Children Are Our Future and Must Stay Healthy. It wasn't against the rules as long as you always had your floaties on, because exercise is also Healthy. My friend Tara sat on the edge of the pool with her feet in the water. She also had floaties on. She'd only just checked out of the scurvy ward of the Wellness Centre.
"You know my mum says people used to go swimming without their feet touching the ground."
"That's not true," I said. Soon we would run out of chlorine.
***
For dinner, we lined up with our trays for the buffet. There were a lot of choices of flavour, but I always chose the Vanilla Nutritious Flan. I had tried the Chocolate and the Raspberry but didn't like the sour burning taste. Mother says the Nutritious Flan is flavoured to taste like comforting foods that used to exist. I don't know why. Maybe people wouldn't have eaten sour, stinging Chocolate if they could have made food taste like whatever they wanted in the past. I asked Mother if she had ever eaten a Vanilla, but she didn't answer me. Soon we would run out of Nutritious Flan.
I didn't take naps very often because I didn't worry about the past. Except of course for the fairy I kept secret under my bed, which was the only thing that had ever made me feel anything. Every day, I gave it a teaspoon of Nutritious Flan.
***
I opened the box and the fairy zoomed, scuttling furiously and then flying out into the hotel suite. I didn't catch it this time, or see where it went. My heart was breaking, my breath tight. Where? I heard something in the hallway, and chased after it out of my room. Mother came past holding a magazine and a Mojito, ready to go sit by the pool. The unexpected movement of the little brown fairy caught her eye, and she dropped the cocktail and screamed.
"Mum, don't panic okay, I found it, it's a —"
"Cockroach!" she screamed, flustered and horrified. "It's a cockroach!"
Before I knew what she was doing, she fumbled her magazine into a tight roll.
***
It was the only thing that had ever made me feel anything. But after my nap I'm feeling a lot better about it.

About the Author
Andisha Sabri Carey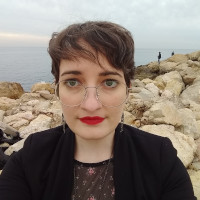 Andisha Sabri Carey is an Australian writer and poet who has lived in the Czech Republic, the United Kingdom, and most recently, Israel.
Her work has appeared in Gingerbread House Literary Magazine, Potluck Magazine and Cordite Poetry Review.
"Last Resort" was originally inspired by a running joke with her husband about the Havens in "Pandemic Legacy: Season 2".