By Matthew R. Doherty

By Major E. B. Gwynn, formerly of the Royal Australian Engineers
(HIGHLY CONFIDENTIAL… To be distributed to the relevant parties as and when the situation permits.)
It is no mean feat to command a battalion of infantry in ideal circumstances, where supply, intelligence and manpower are forthcoming. In the present, it is a most unenviable task. The new battlespace in which we find ourselves is fraught with dangers of a hitherto unseen nature.
Post-event warfare is infuriating to the tidy mind. And most of us who were in the army pre-event have been trained to have a tidy mind. It is perhaps fortunate that so many of our officers in the New Army have had limited previous military experience. This allows them to develop original methods to meet these threats. Having said this, I am sure some views from an "old hand" on how to conduct operations will be most welcome.
If you take away any concepts from this guide it should be these. First is that observation equals elimination and second is that concentration equals liquidation. Death loves a crowd. Your combat formations must, therefore, be kept small and dispersed.
Because of the danger of rapid annihilation upon detection, continual movement of your force every twenty-four hours is essential. In our current combat environment, we have the advantage over the larger northern enemy, because the rough, jungle terrain of the Archipelago is ideal for concealment and evasion.
It is inevitable that during the course of operations on the Archipelago, some of your personnel will come into conduct with irradiated terrain and/or people. Remember: All radiation is potentially harmful and should be avoided, if possible.
Units may be exposed several times to some levels of radiation. Radiation sickness is manifested by various combinations of projectile vomiting, propulsive diarrhoea, nausea, lethargy, depression and general mental disorientation. Nevertheless, some soldiers can still be effective for a time even after receiving a lethal dose. For example, a person exposed to 650 RAD's will function normally for three hours. Their performance will then decline, but recover after two days and remain effective until around day six. They will then function at a reduced rate until incapacitation at around four weeks. Death occurs at week six. (See attached "Fatal Dose Degradation Table" for complete list of calculations). You should ensure that your medical personnel become proficient in the use of Geiger-Counters prior to going on active operations.
It could be said we live in a transitionary period. Now, a few tactical nuclear weapons are available and serviceable to the enemy. Tomorrow, nuclear plenty may exist again.
When your units are exposed to their nuclear baptism of fire, those not killed or rendered sick will almost certainly undergo a period of mental shock. As such, they will probably be combat-ineffective for some time. This should be taken into account when planning operations.
Both short and long term emotional disturbances may develop in units exposed to the pressures of nuclear and post-nuclear combat. I myself have seen many disturbing sights. For example, when called to reinforce Moresby Docks, I walked past the station and saw people with their bowels and brains coming out. I saw an old lady badly burned and carrying a suckling infant in her arms, and many children with dead mothers. These sorts of sights, especially when repeatedly witnessed, are enough to produce a certain degree of distress which can undermine the effectiveness of your unit.
Recent reports show that the enemy has begun lacing some of their attacks with chemical weapons. This is apparently in order to cause the wearer of the Radiation Warfare Suit to vomit. Most likely, this will force him or her to remove their mask, and so be at the mercy of chemical and radiological agents. Though casualties from this type of bombardment may be inevitable, precautionary measures should be taken — at your discretion.
In the tactical nuclear and radiological battlescape, actions such as minefield breaching and river crossing will be more difficult than before. The basic rule of thumb is, don't cross a river at a bridge if you can find a ford. And don't cross a river at a ford if you can wade it. Prominent fords and bridges will almost certainly be monitored.
As for minefield-breaching, avoid if possible. But if for some reason (such as being surrounded) it is necessary to navigate a minefield, remember to check your Geiger-Counters before entering, as most of the larger minefields have been purposely irradiated.
One rather encouraging piece of news is that we hope to develop some tactical nuclear weapons of our own. These should be ready for use within the next six months. It is conceivable that you, as a battalion commander, will have access to such weapons, and you should therefore know how to best use them.
Nuclear weapons are an extremely powerful means of fire support. A nuclear fire support plan must be prepared concurrently with the plan of manoeuvre. When you use nuclear fire, you should be prepared to rapidly exploit the advantages gained.
One sure-fire method of effective use is a well-directed tactical nuclear deployment on an enemy's supply and communication lines. This will no doubt cause surprise and panic.
A note on morale. It is highly likely that the current situation has gotten many of your soldiers down. Their families will probably have perished in the initial forty-eight hours of the war. We encourage battalion commanders to appoint a morale officer to report on the mental state of your force, and organise events and friendly competitions to raise spirits.
In the longer term (and we are already seeing some of the effects), cancer rates will be very high, probably ten-fold above the norm. You should inform both your medical personnel and your morale officer about this problem.
Perhaps the best motivator is a strong sense of faith that we are in the right. A soldier must ultimately believe in what they are doing. However hard or long the road may be, you should instil in your troops a sense of certain victory. After all, we must preserve our free and democratic way of life, even in the post-event world.

About the Author
Matthew R. Doherty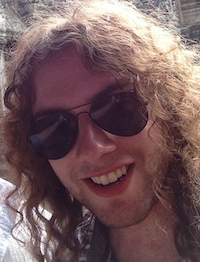 Matthew R. Doherty currently resides in Leeds, England, where he spends most of his free time writing about military history, but his other consuming passion is for science fiction.
His main influences are Patrick O'Brian and Philip Jose Farmer.
His favourite single book is "A Canticle For Leibowitz."
He is currently working on a space opera novel, which will be finished at some point in the 22nd Century.