By Umiyuri Katsuyama as Translated by Toshiya Kamei

On a Thursday afternoon, I ransacked the bargain bin at a second-hand bookstore near my college. I didn't have the slightest idea what I was looking for. Then something shiny flashed in the corner of my eye. I thought a yellow ginkgo leaf had flurried down, but when I crouched, I found a golden, pinky-sized Eiffel Tower.
Somebody must've bought it back from Paris, I thought, picking it up.
"The tower must be somewhere near here. The GPS shows that we're getting closer," a woman's voice passed behind me.
Tower? Does she mean Hōrin-ji's three-story pagoda?
"Hey! My man, what's up?" a familiar voice interrupted my reverie. When I turned, Yamada Senpai stood, wearing a faint smile, his long bangs covering his forehead. His five o'clock shadow made a striking contrast against his pale, dry skin. I had met him at the gaming club on campus. He was four years my senior. Despite being friendly and calm, he quit the club out of disagreement over its policies. I myself rarely participated out of sheer laziness. To my surprise, the Eiffel Tower had vanished, leaving a sparkling coating of glitter on my fingertips.
"How have you been, Senpai?" He didn't look too well. Earlier this year, he said he would finally finish his master's thesis. If I remembered correctly, his research involved the comparative study of various editions of the Nippo Jisho, also known as Vocabulário da Língua do Japão, published in Nagasaki in 1603-04.
"I'm making hanabira mochi for the New Year," Senpai said. "I'll treat you to some. Come to my place."
What are hanabira mochi like? Do they have floral petals? The answer was slow in coming. Mochi wrapped in salted sakura leaves came to mind, but that was, of course, sakura mochi, to be eaten in early spring. I decided to go along with what appeared to be his diversion. We set off toward his apartment. Senpai wore a wool jacket with thinning shoulders and frayed cuffs, holding a heavy-looking cloth bag. I stared at his bag, wondering what was in it.
"I bought white miso to make white bean paste," he volunteered his answer without my prompting.
Oh, you need white miso for hanabira mochi.
We reached Senpai's apartment off the shopping district. He lived on the second floor. When he opened his door, the smell of sweetened beans wafted from the kitchen.
"Wash your hands and make yourself comfortable," he said, pointing to the kotatsu. "Now we come to the most challenging part."
I washed my hands in the bathroom, sat in the electronic kotatsu in the adjacent room, and stretched out my legs. Still in his jacket, Senpai stirred his pot in the kitchen. After a while, he took his jacket off and hurled it toward his bed. But it failed to reach it and landed on a Kutani jar, which we used to play pitch-pot—the ancient Chinese game played with arrows. I twisted my upper body, picked up the jacket, and placed it on the bed. I spotted a paperback edition of Kunio Yanagita's Tōno Monogatari, grabbed it, and began to read it.
As I gazed toward the kitchen, Senpai heated his bowl in the microwave, took out a white gooey mass, and spread it over the powdered marble board.
"Thanks for waiting." After a while, Senpai came in with a plate and set it down on the kotatsu. The plate held two crescent-shaped pieces of mochi as large as kids' faces. Probably he had flattened the mochi, spread the bean paste over it, and halved it. Long sticks stuck out of them.
"Hey, they're not handles," he said as I was about to grab the sticks with both hands.
"Sweetened and boiled. Candied burdock root has existed since the Heian period," he added. "Isn't that cool?"
I held the mochi and took a bite of the burdock stem. A sweet taste spread in my mouth. It never occurred to me to eat burdock root sweetened before. Rich in minerals and high in fiber, burdock root surprisingly went well with the sweet taste. As the mochi filled my mouth, a salty, sweet taste invaded my pallet and taste buds. Still on his feet, Senpai seized his mochi and gobbled it. The mochi tasted great, but something was wrong with it. Perhaps too big.
We chewed in silence and finished eating about the same time.
"Let me get us some tea," he said, and went back to the kitchen.
After a short while, he came back with a tray holding two bowls of powdered green tea. The bowls were patterned in red and green lightning bolts.
I grabbed one and sipped the diluted matcha. Then somebody knocked on the door. We looked up and glanced at each other. The doorbell rang.
"Where's the tower?" a woman's voice said. "The tower should lead us to our bride groom."
"Don't sweat it," another woman's voice said. "The GPS shows he's here."
Then the door opened noisily. Apparently, Senpai had failed to lock it. Two women in long turquoise blue coats stood in the afternoon sun. Both women wore their hair up in buns at the backs of their heads.
"Excuse me. We're looking for . . ." the women said, gasped in unison, and bowed lightly.
"How can I help you?" Senpai craned his neck.
"We have important news to tell you."
"What?" Senpai said. He and I looked at each other again.
"Out of 2,897 candidates in the whole universe, we have chosen you as the bride groom for our princess."
"2,897? Wonderful," I mumbled.
"If you accept our proposal, you'll be prince consort. When the princess succeeds her father on the throne, you'll be the second most powerful person in the universe."
"Me?" Senpai asked, his voice cracking.
"No." Both women shook their heads. "Your friend."
"Me?"
The women nodded. "You swing both ways, correct?" one of the women asked.
I gasped. How do they know I'm carrying a torch for Senpai?
"Are you not happy with being second in command?"
"It's not that," I said. "I don't think I'm ready to marry somebody I don't know."
"Don't worry. Our princess will appear before you as an earthling you find attractive. Could be male or female," one woman said.
"They already walk among you on Earth," the other woman added. "We need your answer."
"Excuse me." I tried to speak, but my tongue stuck to the roof of my mouth. I swallowed. "I have to turn down your proposition. I don't think I'm the right person. But just out of curiosity, could you tell me why I was chosen?"
"You're good at pitch-pot. You've got an elegant throwing form," the women said in unison.
"Pitch-pot?" Senpai and I said at the same time.
"We respect your decision," one woman said, and both bowed politely. "Please bear in mind that you may fall in love with someone who is actually our princess," the other woman added.
Senpai packed some candied burdock root in a Tupperware container and handed it to them.
After the women were gone, I glanced outside the window. A large rainbow spread across the sky above the shopping district at dusk.
"If I were you, I'd go for it," Senpai said. "I wouldn't have to write my thesis anymore." Since that day, he has devoted his every waking moment to practicing pitch-pot.

About the Author
Umiyuri Katsuyama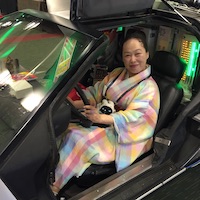 Umiyuri Katsuyama is a multiple-award-winning writer of fantasy and horror, often based on Asian folklore motifs.
A native of Iwate in the far north of Japan, she later moved to Tokyo and studied at Seisen University.
In 2011, she won the Japan Fantasy Novel Award with her novel Sazanami no kuni.
Her most recent novel, Chuushi, ayashii nabe to tabi wo suru, was published in 2018.
Her short fiction has appeared in numerous horror anthologies in Japan.
About the Translator
Toshiya Kamei
Toshiya Kamei holds an MFA in Literary Translation from the University of Arkansas.
His translations have appeared in venues such as Clarkesworld, The Magazine of Fantasy & Science Fiction, and World Literature Today.