By Kim Rose

"I have cancer."
"Oh, my God."
"I know."
"Dude, you're so lucky! What kind is it?"
"Throat cancer."
"Is it from the smoking?"
"I don't know for sure."
"I mean, should I take it up? Smoking, I mean. I already maintain a bunch of other risky behaviors."
"It couldn't hurt, mate."
Jerald's voice sounded a bit flat. I'm not surprised. It's not one of those things you can actively get excited about, but it must be such a relief to know when and how you're going to die.
"What treatment are you having?"
"Well, I'm still talking it over with my doctor."
"Don't be a fucking dick, Jerald! Just live with it. It's the best option you have. You'll be safe."
"Don't lecture me, Francis! You have no idea what I'm going through."
"No. But I know what I'm going through."
Jerald hung up on me, which isn't surprising. I'm sure this is a very emotional time for him, and I don't blame him one bit for being reactive. I can't help being a bit jealous, though.
I wander over to the window, the small, square space of my apartment easily covered in five long strides. I'm up high — way up, like twenty something storeys — and it isn't unusual to see people hurtling by on their way to the ground when the waiting just gets to be too much for them. I press my fingers and forehead against the cool glass while I think.
I can't see the streets below because of the low, dirty clouds surrounding us, but I know that they are there. Everything is a dull, flat grey with perhaps a lighter or darker shade here or there. Not much variety, that's for sure. If people didn't kill themselves from stress, boredom would do it.
All of us live in tiny boxes like this now. We don't know, exactly, when the great population explosion got out of control. Humanity simply couldn't deal with it. We built lots of buildings like this — too tall and too close together — so every rat got his own cubicle in the maze. I think the room we have to ourselves compares roughly to a cage-laying chicken back in the late nineties to early 2000s.
The history books are vague. Maybe we don't know. Maybe someone doesn't want us to know. The only thing that everyone knows beyond a doubt is that something is determined to cut our population. There are a bunch of conspiracy theories saying the government did it, but truth be told, I think they are as terrified as the rest of us.
Apparently, it used to be the dark that was the boogeyman. Now we just call it The Light.
It can strike anywhere, anytime. It hits both young and old. It's a flash, like lightning. If you can feel yourself breathing after the flash, you know it didn't get you, but someone is going to be dead. It doesn't discriminate. It takes babies, disabled people, athletes, soldiers. Sometimes only a few. Sometimes hundreds.
The only discrimination it does make is if you are terminal or so badly injured you aren't expected to live. If you manage to make it to eighty, then you will die of natural causes. Otherwise, it is like playing a game of chicken until the end of your days. Staring head on into the void with an unwavering gaze, hoping your nerve is stronger than the great force that takes at will.
Is it today? Tomorrow? What does it matter if I poison myself eating bad food, or fall while mountain climbing? It can only be a step up from the daily anxiety of wondering who — and how many — will disappear today.
Weather and natural disasters have stabilised as the planet dies. We are too fucking terrified to kill each other anymore. It is impossible to do a population count under these conditions. We don't even know how close we are to extinction.
As I gaze through the thick clouds, I imagine people scurrying around down at ground level. It always looks like there are far too many of us, and people are getting scared to have babies. Not many of those around anymore.
We all have assigned jobs. Everyone's busy almost all the time. There aren't enough resources for customisation, personalisation, and convenience. You take what you fucking get and pay any price you have to, just to live.
Live. What a fucking joke.
Yeah, those twenty first century bastards had it really good. They had everything. They could optimise any experience by tailoring it to their specific wants and I mean right down to their preferred temperature — set to the degree for fucks sakes! Back then, if I didn't like the colour of my damn cutlery, I could buy any colour I wanted. Purple forks must have been a real hoot.
As always when I get like this, my guts twist, and my chest aches. I just can't stand it.
"Lucky, lucky bastards."
How wonderful each day must have been, not just waking up knowing that your world only existed to make you comfortable and happy, but waking up without the threat of The Light hanging over your head.
Because of the way they could create their own existence, they all knew when and how they would die. It's a very simple calculation when you factor your habits and living conditions against your physical limitations. I mean, sure, accidents happen — but for the most part, they walked around blissfully, just knowing that they had a good, long life span.
Those lucky, lucky bastards.

About the Author
Kim Rose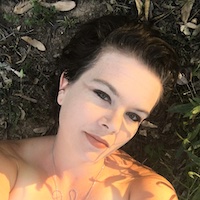 Kim Rose has been a professional ghost writer for five years, specialising in paranormal and sci fi romance. She has her own self-published romance series which is her answer to the restrictions of the current market, pushing the idea of what happily ever after really means.
Kim is also an accomplished photographer and model, creating a wide variety of digital art. 
She lives in Central NSW on a large property where she runs Crescent Moon Lodge Animal Refuge, supporting the animal rescue effort. 
You can follow Kimrg666 on these pages: 
The New Recruit (Tales from the MadHouse Book 1) eBook: Rose, Kim: Amazon.com.au: Kindle Store
<https://www.deviantart.com/kalikapsychosis>
Kim Rose (@kimrg6_6_6) • Instagram photos and videos
Crescent Moon Lodge Animal Refuge - Home | Facebook
<https://www.facebook.com/Kimrg666-Artist-112433517156278>
<https://www.patreon.com/kimrg666>