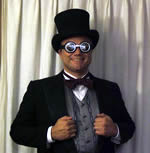 BG Hilton is a Sydney based spec fiction writer, but has not given up his day job.
His first novel, a Steampunk adventure story titled 'Champagne Charlie and the Amazing Gladys', will be published in February by Odyssey Books.
He can be found online at <bghilton.com> — where he writes about Frankenstein movies and serialises fiction — or on Twitter as <@BGHilton>.