By Russell Kightley

"Never stare into mirrors," I shout at my wife, who's sitting in the lounge room, leafing through a magazine.
"I don't," she yells back. "You're the narcissist."
"Mirrors make demons," I mutter, but get no reaction.
The mirror in the hallway is full-length, with a heavy gilt frame. Its surface is wavy and time-speckled, and its silvered back is breaking down.
I look great in its antique glass, with my still-dark locks and jutting jaw, and my fine, long-fingered hands.
But as I gaze into the mirror, my reflection changes; becomes a throbbing and inky-edged figure—someone else.
He's come before, this other man, but he's never stayed so long. I know he won't back down, and so we face each other like gunslingers in a hushed saloon. His hand—more sinewy than mine—twitches. Then my fingers flick in response.
A grind comes from underneath the floor, a rim of black seeps round my sight, and then the hallway shifts.
"Welcome to the inside," says a disembodied voice whose timbre makes me think of ancient gods and sun-drenched stone.
But this is no temple with airy sides and slatted light. What used to be my hall is now a giant, darkened tube, a nightmare submarine whose walls are scarred and riven bronze, full of cracks, lumps, and dribbling welds.
"The inside of what?" I ask.
"Of everything," the voice replies, and then it hums, as if pleased with itself. "It's a kind of ship," it adds.
I clear my throat and peer around. The mirror, and my altered reflection, have gone. And there's no oil painting of Highland cattle, no hallstand, and no front door.
"Where are you?" I call.
"I'm here," replies the voice.
"Not you," I cry, "my wife!"
"She can't hear you."
I shrug and step up to the curving side of the hull, and run my hand over its cold and bumpy surface, looking for a way out—a remnant of the lounge room door—but there's no exit from this ship. There are cables twisting everywhere, half-buried in the wall, like swimming snakes. Here and there, they spray out fine wires that tangle and knot into humpy mounds like metal nests, and everything is burnished brown as if the entire hull is the bronze casting of some great and melted junction box.
"What are those wiry things that look like nests?" I ask.
"Minds," replies the voice. "Those knotted lumps are minds."
"Whose?" I ask, as my eyes are drawn to a pair of wiry mounds that seem in sharper focus than the rest.
"Everyone's," replies the voice, "all the minds that ever were or ever will be."
"There's not enough room," I say.
"This ship," replies the voice, taking a deep breath, "is very big." Then it lapses into silence as if contemplating the inner vastness.
"They're not doing much, these so-called minds of yours. There's no movement, no flashing lights, no sign of life. Are they dead?"
"Yes," says the voice. "Those tangled skeins, those nests as you call them, are frozen thoughts." It harrumphed. "In the same way that a gramophone record is frozen music."
"All of them?" I ask.
"Yes," replies the voice.
"Even me?"
"Of course…"
I grunt and change tack. "Are there any windows in this ship?"
"No."
"What about doors?"
"There can't be doors or windows," says the voice, "because there's no outside—the hull is all there is."
"But there must be an outside, like there's always a sea beyond the hull of a submarine."
"There's not."
"But I came from the outside. I was in my hallway, and my wife was in the next room."
"Outside is an illusion," says the voice, "you're just a matted lump like all the rest. You're dead and welded to the hull of history—although I played you for a while."
"Like a record or a fool?" I ask, and grin.
"For the record, a fool," replies the voice.
"Clever."
"Wordplay's all I've got."
"Especially," I quip, "if you talk to yourself."
"There's no one else," replies the voice.
"Fair enough," I say, and trace along the coiling cable ridge that joins the highly focused lumps that caught my attention earlier. Now, they call with siren songs that tug my heart. "Which lump is me?" I ask, and pant.
Silence.
"This one?" I goad, fondling the better-looking tangle down below. Its song is sweeter, and its strands are finer, and they curl in bands, flashing, like hair teased in the sun. "This gorgeous thing is me, I know it is!"
"There is no you," replies the voice.
"Of course there is!" I say, patting my belly to show how solid I am.
"I see," replies the voice drily, "there is the talking you—slapping its gut and quibbling—and then there is the silent you, the tangled lump stuck in the wall."
I stroke my chin. "You must have lied about the lumps," I say, "they are not minds at all, but portals—gateways to the world—and this one beckons me."
"There are no doors," insists the voice, "only impressions in the wall."
"Have it your way," I snap.
I kneel, and bury my face in the wiry mound, hoping to unlock my portal, or at least, see through.
"There's no outside," continues the voice, although it's fading fast, "and no one else but me…"
And deep inside that lovely metal nest, just as the voice cuts off, I smell my airy home. And…
…turn the page, dismayed by yet another glossy ad of what I might become, and then I toss the magazine aside.
"Never stare into mirrors," shouts my husband, from the hall.
"I don't," I yell back, thinking of the printed model's perfect face and comparing it to mine. "You're the narcissist."
I hear him mutter and shuffle and sniff. Then all goes quiet. He's such a fool. I'll never understand what happens in his head—or in the mind of any man.

About the Author
Russell Kightley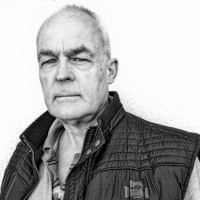 Russell Kightley has been a scientific illustrator for nearly forty years and a writer for the last five. His stories generally involve time travel and the nature of consciousness. After leaving school, he spent two years studying dentistry before moving into art. English, but now officially antipodean, he lives in Canberra with his Italian wife, who's an astrophysicist, and his two daughters.
You can see his graphics and animations here: <https://www.scientific.pictures/>
And his books here: <http://author.to/RussellKightley>