By Chris Karageorge

Let me ask you something, have you ever seen a baby crow? Of course you haven't, no one has. By no one, I mean no living person, but Satan though...he is not a living person, he is the un-living among us. Crows are born and grown in Hell, they come up from the ground, but not just anywhere. If a child loses a tooth, take the tooth and keep it in your shoe for a day. Crush the tooth with a hammer and poke a hole in the dirt with your thumb. Crows love ground up teeth and can smell it all the way from their growing sacks down below.
You may think you have seen dead crows, but let me tell you, crows do not die. The ones you see on the ground in the park after a storm, they are not dead. Their corpses lay for weeks, sometimes months before they are reborn out of their own dirty carcasses, feasting on their old bodies for sustenance before their great flight.
***
Sometimes I hear whispers in my head. It's only when things are quiet all around me that I start to hear them. You see...I can't understand the voices, but my ears prick up, the hairs on my nape unfurl and a cool finger chills my spine. It is as if I am listening to something, but I'm not. When I strain to listen, the voices speak very fast and in hushed tones, almost like they are urgently trying to tell me something.
***
Now what do you do when a refrigerator is broken? I'll tell you what you will do. You will wait until Tuesday because that is when the man on the horse comes from the next town. Ask him for one sack of lime the next time he passes through Gremasi. Gremasi was built at the feet of the great Hizbanthen mountain ranges, quarries and large rocks all around — their views will take your breath away, they really will. Once he returns with the lime you will take it and put it into a big steel barrel with the same amount of water as lime. Bring it to a boil and let it cool, then you can put in anything you want to preserve or keep cool — anything can last up to one year in a lime bath. Anything.
***
Sarah Foster, a local of the town, was infamous for her dependence on stimulants and required large doses of mental support from her doting sister Tracy. Tracy would often collapse in fits of tears, pleading with Sarah to abandon her dangerous vices. During the day Sarah would be dizzied by the light and remain shut in her room until dark. The night sky would signal her awakening and Sarah would be guided by dim lights and lanterns — her sister's tears soaked into her clothing. Sarah would tap her turquoise fingernails on windows and be startled by the light of someone's kitchen light flickering on to investigate the noise she made.
The other night I found her at my front door, rubbing her face and arms, she was rubbing them so hard her skin had dried and dust puffed off her each time she moved. The skin on my cheeks itched and that cool finger chilled my spine. That was the night I found myself with an unexpected guest in my cottage.
***
Certain vacuum cleaners don't do a good enough job on carpet, they push the dirt, skin and hairs deeper into the fibres, down into the pile, the base, the root of all that you feel when you walk. The trick is to use the small plastic attachment on the vacuum cleaner and massage the carpet back and forth with it, allowing the deep dirt to be removed. The deep dirt must be removed.
I'll tell you this, several days later a gentleman came to repair a section of carpet that had been soiled with an irretrievable stain. He came in, and I swear, he said, 'Excuse me, but the carpet in here...has it recently been laid?' and I looked at him funny and I said, 'Excuse me, but what do you think? Do I look like I have that kind of money? It's just that the carpet is so well-looked after and clean that it looks like it was laid yesterday'. It's how I clean it,' I told him.
***
I'm reminded of a dry skin remedy my employer taught me. Take a cool egg from the lime barrel and leave it on a saucer that catches the moonlight. Wait until you hear the first creak the house makes as it settles in the cool night air. Now, dip your arm, foot or elbow, whatever is dry into the lime barrel — keep it in there until the light of the sun catches the egg.
***
Let me ask you something, have you ever seen a giant moth? I have — several times. Did you know moths use the moon as their compass? Any type of light will grab their attention. Some moths in the Amazon drink the tears of sleeping birds, while other moths eat fear. You cannot destroy a giant moth any old way. First, take a sickle from the back paddock shed and dip it in vinegar. Just a minute...I'm sorry but you'll have to excuse me, I must turn the kiln off.
***
Sometimes when I want to remember a person, do you know what I do? I get a big slice of white bread; it's much nicer if it's crusty on the outside and fluffy on the inside. Now there is a bakery, goodness...it might not be there anymore, but there was a bakery up on Hill Street, Fred, the baker, whenever I go in there he says to me, 'Mavis, I just got the white loaves out, would you like some?' Now I'll tell you what I do, I get a big slice of white bread, dip it in a bit of water and sprinkle sugar on it. I stand at the kitchen sink, stare out the window and eat the bread.
Now you see those roses, you wouldn't know it but they are actually growing out of barrels of lime. You must be wondering, Mavis, how did you grow roses in lime? If a moth loses its antennae, pick it up and bake it in the kiln for three days. Grind it up and sprinkle it in the lime to feed the roses. Roses love ground up antennae, particularly ones with turquoise nails.

About the Author
Chris Karageorge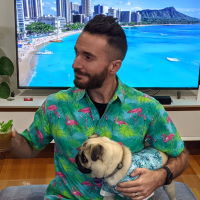 Chris Karageorge is a lover, brother, son, neighbour and a keen observer of all things in sight. 
He reads, writes and cooks in his spare time and dreams of coffee darker than a moonless night. 
He is from Melbourne, Victoria and can be found walking his pug Monty during the weekends.