By Kim Rose

'It rains a lot here,' Spadira remarked.
'It does,' Athane agreed, 'but it's not quite like water.' She touched a recent drop delicately. It stuck to her leg.
'And there's that funny froth in it.' Spadira looked up to the edge of her house where a white fleck clung to an upper corner.
'Perhaps it's the apocalypse.'
Athane sighed. 'We all know the macrocosm is completely out of whack. As above, so below.'
'But we are not mad!' Spadira spat angrily, 'Why should we bear the brunt of it?'
Athane held back another sigh. It would only upset her sister further. 'Why don't we eat?' she encouraged.
Spadira obliged.
It wasn't common for members of their family to be close. But Athane and Spadira had always been close, physically and emotionally. They lived next door to each other. They shared meals and even boyfriends. Well, that one time. He hadn't lasted long either.
Where they had lived near their mother's house had been warm and dry. Lots of sunlight. Of course, everyone wanted Mother's house after she died. Too many siblings fought for it, so Athane and Spadira had set out to find their own place.
With no intention of staying together they wandered far across strange lands. Sun and water came unexpectedly from all directions sometimes. They had become separated in a terrible place, living areas stuck too close together. Everyone hostile and vicious. They had been lucky to get out alive.
It had been a lovely surprise for both to set up their new abodes and find they were neighbours. Both had travelled far, figured they had come far enough, and settled. The area had sun, not too warm, and water. Even if it was occasionally sticky and foamy.
'The food is good here,' Spadira said quietly. Athane had to agree. Food was plentiful and didn't require much effort. They enjoyed their meals without competition, something their siblings or others of their kind were very unlikely to do.
Athane was beginning to enjoy the silence, thinking her sister had calmed down and perhaps they would have a nice, relaxing day. Her hopes were shattered as loud rumblings split the air. The ground shuddered.
'Not again!' Spadira screamed, shaking as they scuttled left and right. 'Don't those gods up there just leave us alone, once in our lives?'
'There's nothing we can do!' Athane pleaded. 'Don't get angry! Just take cover!'
'No!' Spadira screamed, 'I won't!' She ran towards her house, desperate to save it.
Hot rain poured down. Athane dodged it as best she could, but a spitting edge hit her and threw her off balance. It burned, oh how it burned. She was crippled by the mass of scorching water.
'Athane!' Spadira hurried to her but could do nothing. The rain and white foamy flecks continued hailing upon them.
As it always did, the noise, shaking and falling terror settled. A warm breeze blew. Insects buzzed. All back to normal.
Athane dragged herself free of the hot water, gasping and limp.
'I can't make it, Spadira,' she cried. 'I'm done for.'
'Don't say that!' Stricken, Spadira ran in frantic circles. 'My house! My house is ruined!'
Indeed, it was. It had been torn to pieces. All the loving work she had put into making it beautiful and efficient was gone.
'Mines still okay,' Athane gasped. 'You take it. Live in it. I won't be needing it.'
'Please, Athane,' Spadira begged. 'I don't know how to do it without you.'
Athane was looking up in horror at a massive shadow blanking out the sky.
'I don't think you'll have to,' she whispered hoarsely.
The shadow blackened the plain where they had lived all their lives since leaving mother. The scorching water and sticky foam came down in a torrent. Both houses were torn from their moorings and washed away. The two sisters were caught in the flood, scrabbling, screaming. It did no good. They were washed away as well.
All of it meant very little to me, as I washed away the spider webs and rinsed two tiny spiders down the sink.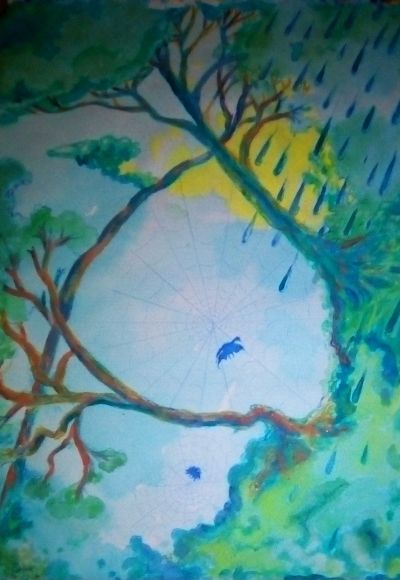 About the Author
Kim Rose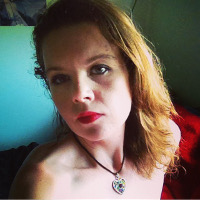 Kim Rose is a professional writer of romance and erotic fiction.
Long time lover of fantasy and sci fi.
Keen spokesperson for sex positive culture and breaking social stigmas.
For more information please check out these pages
<https://www.deviantart.com/kalikapsychosis>.
<https://www.instagram.com/kimrg6_6_6/>.
<https://www.facebook.com/Kimrg2/>.
<https://www.patreon.com/kimrg666>.