By João Ventura

That biologist loved bacteria. Naraka felt an irresistible attraction for those little beings and for their incessant movement, which he observed with pleasure for hours and hours under the microscope, as well as the exponential rate with which they reproduced.
Even the fact that some of them were lethal to more complex organisms did not attenuate the intense love he felt for them. On the contrary. Especially those who were in the solution whose maturation period had just ended.
Naraka poured the contents of the reactor into a test tube. It had been months of work, starting with moderately aggressive bacteria, carefully manipulating their DNA, eliminating without remorse all the useless variants for the end in view, until reaching that strain, the most efficient bacteriological weapon developed so far.
He loved them deeply, and he was deeply sorry that they could not correspond to that love.
He looked at the tube. Who would have thought that in those few cubic centimetres of liquid resided the capacity to annihilate an army. And they were his daughters, they had been produced by his work, Naraka would not let them be taken away! He took the tube to his mouth and swallowed the liquid it contained to the last drop.
***
Naraka spent 3 days in total isolation in Intensive Care, and during that time the bacteria meticulously destroyed his entire nerve network, until they reached the brain.
"The highest degree of unrequited love is the ultimate sacrifice," was his last thought, as the pulsating green line on the monitor at his bedside suddenly went horizontal, and the alarm started ringing in the duty nurse's office.
***
"Let's be clear, doctor, you have to be a bit abnormal to work on the development of bacteriological weapons," said the general director of the laboratory, a four-star general, to the head of the hospital's Pathology Department.
"But our biologist Dr. Naraka crossed the line. Imagine that he fell in love with bacteria! Fortunately, it was easy to recover all the work from his computer. He didn't even have a password! They say that love is blind..."
And the general laughed — a military, satisfied laugh.

About the Author
João Ventura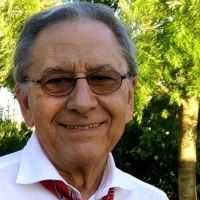 João Ventura writes short fiction, which has appeared in several websites (AntipodeanSF and Bewildering Stories among them), and also in printed form: Somnium, in Brazil; Dragão Quântico, Hyperdrivezine, Phantastes (Portuguese fanzines); Universe Pathways (in both the English and the Greek versions).
He had short stories in several Portuguese and Brazilian antologies: A Sombra sobre Lisboa (2006), VaporPunk (2010), Antologia de Ficção Científica Fantasporto (2012), Lisboa no ano 2000 (2013), Lisboa Oculta - Guia Turístico (2018), O resto é paisagem (2018), Almanaque SteamPunk (2019), Winepunk (2019), Regiana Magna (2020).
In 2018, a collection of his short stories (in Portuguese) came to light, with the title Tudo Isto Existe.
He likes reading, writing (surprise!), has a blog and is a university professor (now retired).
He is married, with two children and he lives in Lisbon.
Those who read Portuguese can have a glance at some of his stuff in Das palavras o espaço.