By Umiyuri Katsuyama - Translated by Toshiya Kamei

The old woman in her indigo cotton jacket dragged her bent body into the garden shrouded in early morning mist. She spotted a gray piece of paper among the tiger lilies. With her boney, age-stained fingers, she picked up the dew-wet paper. It was a miniature parachute with a piece of wood tied to the end of its string. School Starts, the piece of wood read. On Monday in the Square, continued on the back. Her village had no school when she was a young girl. How she wished she could have gone to school!
"Oh, it's today!" She leaped up, slipped into her rubber-soled cloth shoes, and ran. A smile flashed across her face as her knees and back no longer ached, spots dotting her skin like plum-blossoms.
In her youth, she savored the freedom of walking on unbound feet. She could go anywhere without fear. During one of her outings, she bumped into the man who would become her husband.
As she grew up deep in the mountains, her husband was the first human she had met. He was kind to the strange girl who had wandered into the village. She fell in love, shed the fur she had worn all her life, and married him—it seemed the most natural and sensible thing to do. After all, none of the village girls wore fur.
The newlyweds settled in a small house on the outskirts of the village. There she gave birth to their son and raised him. Despite their lack of material possessions, she didn't want anything else. Her husband had a beautiful, soothing voice. In the evening, he entertained her by reading aloud old folktales and poems. He taught her some letters.
"Xiaoyu—small jade . . . This is your name."
After her husband's death, her heart had never skipped a beat. Until this morning.
Her son lived in town, but he came to check on the old woman once in a while. "Mother, don't forget your medicine," her son said, but no reply came.
"She must be in the garden," he mumbled. When he glanced outside the window, the tiger lilies swayed beyond the stone-walled vegetable garden. A snow leopard took large strides and vanished from his view.

About the Author
Umiyuri Katsuyama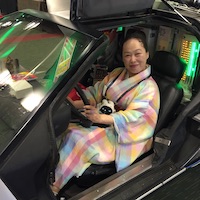 Umiyuri Katsuyama is a multiple-award-winning writer of fantasy and horror, often based on Asian folklore motifs.
A native of Iwate in the far north of Japan, she later moved to Tokyo and studied at Seisen University.
In 2011, she won the Japan Fantasy Novel Award with her novel Sazanami no kuni.
Her most recent novel, Chuushi, ayashii nabe to tabi wo suru, was published in 2018.
Her short fiction has appeared in numerous horror anthologies in Japan.
About the Translator
Toshiya Kamei
Toshiya Kamei holds an MFA in Literary Translation from the University of Arkansas.
His translations have appeared in venues such as Clarkesworld, The Magazine of Fantasy & Science Fiction, and World Literature Today.