By Darren Lipnicki

Hrrumph! They weren't able to survive. The first time. Second chancers. Bloody born-agains! Out there, in Eden. Gaia's menopause relieved by some equally artificial geo-HRT. The verdure, the verdure! Now from hidey-holes we spy them far below, our rocky eyries to their voluptuous plains. See them herd auroch and hunt mammoth.
Or fence the brutes from patches of seed-banked heirloom fruits and greens. Though with somewhat less spit and spite than they block us. Oh, what we wouldn't give for a mere morsel, a leaf of that organic, Paleo fare. And not these rats and grubs. And the lice. Always the lice… But if we had that to give we would not want. Hrraah! Grruk! Those fences, borders permeated so easily by only the very small. The microscopic. A few piercings of some oocytes, a bit of in and out, some doubtless well-paid surrogates, and countless lives lost. A culture usurped and a noble species as good as gone. Damn those responsible, so irresponsible. For what? For because we can? For assuaging the guilt of a hypothetical genocide? For theme park tickets? No, for the few of us now huddled here, dirty in the dark if not poisoned by secret flame. Hrrack! Hraaugh! We were there I implore hopefully Eve to remember. And if she won't endure, I have made my mark — this ochre handprint on a sooty cave wall.

About The Author
Darren Lipnicki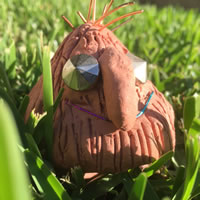 Feeling as though evicted from non-duality, Darren is hoping an Aussie icon will be the catalyst for gnosis and return.