By Andrew Dunn

Klarriza was upset 'cause too much static electricity was caught up in her weave, like that was a problem or something. She didn't have the problems I had. Orcs were moving on the kingdom from the east — a couple thousand riding dirt-bikes and beater trucks. Nagathresha up north wasn't helping. The old dragon reneged on his contract and was holding out for a bigger cut.
DJ Rayz said to me, "I think old red and the orcs are in on it, boo. Think about it." I did. It made sense. Orcs were on the move and out of the blue Nagathresha wanted fifty-one percent of the gold coming from mountains out west in exchange for handling my orc problem. Timing, as they say, is everything.
And nothing. Sometimes stuff just is what it is, right? Like Klarriza's complaints, ricocheting off marble and then ending up on my bad side in a major way. Or the faint sound of DJ Rayz cutting vinyl on turntables over beats somewhere in the palace. They were acting like everything was cool, nothing to worry about — no horde of leather-skinned maniacs with sawed-offs and switchblades bearing down hard on my back forty.
Maybe they were already in my back forty, burning villages to the ground and enslaving anyone they didn't kill. I needed to know, but my cell phone wasn't finding a signal. There was no way I could get a text telling me what was going on out there. Ector could though.
Ector moved deliberately across the throne room and then through a side door into one of my chambers. The seer slid his hood down off his head, pulled gold-mirrored shades off his face, and said, "Boss, we've got a problem."
#KnewThatAlready
When your number one seer comes to you and says 'we've got a problem', that's a pretty good time to stop pacing and take a seat. So I slumped into a chair behind my desk and motioned for Ector to take one across from me.
"What is it?" I asked. Were orcs a day away from sacking the palace? Nagathresha demanding more gold?
Ector replied, "Boss, somebody's been talking."
"What do you mean, talking?" I interrupted, even though I knew it was bad form to interrupt your best seer.
Ector continued, "A town crier in Langdon told the square you've got a secret and that he knows what it is. Now, he didn't say what it is, but he kinda put a teaser out there."
"Do you think he really knows?" Pure fear raced through my mind.
Ector leaned forward, "I'm sure of it. I did some checking. The crier in Langdon knows you're a recovering werewolf. If this gets out and catches on, your poll numbers are going to…"
"Tank." I finished Ector's sentence. Between the Nagathresha thing and the orc invasion, my numbers weren't looking good. Throw in a scandal and it would be torches and pitchforks time unless I acted, you know, queenly.
Ector eased back into his chair and suggested, "A platoon or two could reach Langdon before dawn and get rid of your town crier problem."
"But that doesn't change the fact that somebody in this palace is leaking to the criers." I thought out loud. "Taking out a town crier would blow up just as bad as the werewolf thing. I need to do something big, bold."
Ector interrupted, "Something regal, but that taps into that discontent against…"
"Against me, Ector. I know they don't like having a queen and the whole monarchy thing rubs them wrong." I said it because I had to. Even after so many years, Ector still couldn't bring himself to utter words a less benevolent crown would consider treasonous.
Ector looked down at his Chuck Taylors and back up at me as a wide smile broke on his face, "I think I've got an idea! The peasants, they want an outsider solution, a stab against all that is royal. Right?"
"Go on Ector." I said.
***
Ector estimated at least 3,000 people showed up in Langdon to watch. Having a full dozen platoons deployed to protect my ass didn't give me a warm and fuzzy — there was still the whole orc invasion going on and all that. Stepping out of the Cadillac to a chorus of invectives made me wish I'd brought a dozen more platoons to Langdon.
DJ Rayz warmed the crowd up with jams they could dance to. Ector said that would make the whole thing authentic, or at least it would take the edge off when we brought Klarriza onto the stage in chains. Klarriza shot maximum stink-eye my way as she took her spot on stage in front of the crowd.
"Good people of Langdon." I said something like that to kick off the main event. "We are gathered here today to punish an abuse in the royal household." The crowd loved that part, just like Ector said they would.
Ector had said, "Once DJ Rayz warms them up, they'll see Klarriza straight from the royal household in chains. Then they'll see you taking a shot against the monarchy. They'll forget you are the monarch. You'll have them eating out of your hand. Plus, you'll get rid of the leaker."
"Off with her weave!" I shouted as golden shears sliced through treasonous strands of a bad weave. The masses erupted as DJ Rayz dropped some of the dopest he'd conjured up, ever. Klarriza shot me another round of stink-eye as the weave fell in clumps from her head.
A few shots of something fancy later on would slow Klarriza's roll — I mean, it could've been her head under a guillotine. But it wasn't her head that whispered sweet somethings into town crier's ears, it was that bad weave.
I didn't feel good about things, but I felt okay…until my cellphone vibrated back to life in the back-pocket of my Apple Bottoms.

About the Author
Andrew Dunn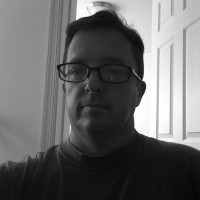 Andrew settled in the state of Maryland on the eastern coast of the United States after living in southern California for many years.
Andrew's goal with each story he writes is to produce something readers will enjoy without relying on the typical, the predictable, or the cliché. That said, Andrew likes to put people, places, and things into his stories that often aren't found in fiction.
When Andrew isn't writing chances are he's at work, out for a jog, playing blues guitar or reggae bass, exploring abandoned things, or quite possibly spending quality time with the pets. Andrew hopes you enjoy his work, and he will continue to work to give you stories that entertain.