By Kevin J. Phyland

How I wangled an invite to a party thrown by Howard Kippax I'll never know, but there it was — gilt-edged and as solidly real as the frisson of excitement that ran through me in anticipation.
Kippax was the poster boy for self-made tycoons, larger than life in both physical presence and exploits. Hardly a boy any more, the latest feat of the forty-five year old had been funding an obscure biotech start-up that had come up with some startling gene copying and modification techniques which were set to revolutionise treatment of genetic disease and hinted at seriously marketable longevity treatments.
As a tyro journalist for a computer magazine I was not expecting a call-up to, for want of a better term, the hi-tech big league.
I chose a two piece suit and tie, the best things I owned and took the unusual step of going clean-shaven and pony-tailed. I might be a low-tier hack for TechNews but I didn't have to look like one.
When I arrived at the Kippax mansion, a two-storey labyrinth of crystal and Doric columns, I was separated from my rather forlorn car and ushered up a long drive by uniformed valets into a huge reception area, all of high ceilings and bright chandeliers, amid about sixty or seventy other people. They were a mix of the well-heeled in high society, friends and well-wishers and assorted carrion-eating hangers-on that the famous attract like remoras to sharks. I spied a number of other journos who distinguished themselves by being singularly undistinguished.
After an hour of milling about from one small group to another, sampling canapes and what I took to be some quite good champagne, I inevitably ended up with the tech journos, who were as mystified as myself as to how they'd merited such a sought-after invite.
The master of ceremonies appeared at about nine o'clock, as the sunset was dying and his own magnificence presumably would take over. He was a powerfully-built man, about 10 centimetres shy of two metres tall and carrying 120 kilos of mostly appropriate weight. His eyes were dark and displayed none of the humour that the rest of his features radiated aplenty, and there were ugly rumours about his personal life and his, shall we say, penchant, for controlling his wife in an overly physical manner.
The lady herself appeared about ten minutes after Kippax — Ciara, who was once a well-known fashion model but had been subsumed into the universal set that Kippax maintained. An elegantly coiffed woman about 20 centimetres shorter than Kippax, she was still slim in a startlingly bright emerald-coloured dress and carried an aura of mystique, despite her forty years. She wore a fascinator over her left eye and it was difficult to see her features through the dark-spotted gauze due to the shadowing about her eyes. Perhaps those ugly rumours had a basis in truth.
With a stereotypical tinkling of a fork on a crystal goblet he called for silence and strode across to the wall where a large piece of machinery stood — something like an ancient photocopier.
"Thank you all for coming this evening," he said. "I gather you've all heard about the gene therapy breakthrough at CytoTech and to celebrate this promising — and very likely profitable — " there was a pause for polite chuckling " — new venture, I have asked you here to demonstrate a spin-off one of the genengineers came up with."
He stepped across to the large piece of white goods, and flicked a switch. An almost inaudible humming noise could faintly be heard.
"This machine is a smart copier — like your smart fridges or smart TVs — and is basically a standard biological 3D printer — with one slight improvement." He gestured for Ciara to bring over a cardboard box and place it at Kippax's feet.
"Hmnnn," he mused theatrically, "I wonder what I can make with this..." and he drew some dead plucked chicken carcasses from the box and with great ceremony placed them in a hopper at the left of the large printer. A second switch was thrown and a rather unsettling grinding and slurping sound emanated from it.
He moved from the bioprinter to a laptop set on a lectern and threw a switch which started a projected image of the screen on the wall behind.
"This is the database of all the archived genome and DNA data for organisms on this planet," he said. "And this..." another dramatic pause, "is a...Raphus cucullatus... a dodo!"
On the screen an old zoological sketch of the extinct flightless bird appeared, looking just as silly and awkward as it may have been in life.
"And about two hours after I download the DNA information into the bioprinter our unfortunate feathered friend there will emerge from the output hopper."
Presumably the chicken ingredients were broken down into raw materials to construct the new organism, but the means escaped me.
There was a buzz of muted conversation and some rather desultory applause. It was not beyond the realms of possibility that he was pranking us all for his own amusement — it had happened before — but this seemed rather too elaborate and open.
"Will it be...alive?" asked a female voice from the crowd, the tone echoing my own incredulity.
Fixing the woman with that steely gaze his mouth turned up in a practiced smirk. "Such I am assured will be the case, and for the sake of the party, my fervent hope." He paused to fill his glass goblet with cognac from a nearby decanter.
"Ladies and gentlemen, raise your glasses to the future of wildlife preservation — not to mention exotic pet ownership and increased profits!"
There was a generally enthusiastic clink of glasses and sips of alcohol while the stunned audience, myself included, mulled over the ethics, or lack thereof, of this incredible stunt.
And so we waited.
I imagined the chicken carcasses being disassembled atom by atom and reassembled in a new DNA configuration based on the extinct sample blueprint but really had no idea just what might appear in the opaque region on the right hand side of the printer.
Drinking and conversation had resumed at a much increased level after Kippax's speech and when a faint chime sounded it took a moment or two for the audience to gather its significance.
There was a hushed air of expectancy throughout the audience as Kippax opened up the output bin's door. With a theatrical flourish he led out a most astonishing creature. It looked very much like the zoological drawing of a dodo, and it proceeded to honk with obvious fear and staggered drunkenly around in small circles.
The triumph of what had to be admitted was an amazing technological feat was fast becoming a queasy feeling of wrongness about the whole thing. Kippax cursed a little and herded the poor creature into an alcove off the dining room. His wife hurried to assist, and they were both lost to sight for a few minutes.
The conversation around me was mostly about what the poor creature might eat or find for company, and despite the aura of uniqueness it was generally felt to be cruel and somehow unnatural.
When Kippax reappeared he was alone and his features were ruddy, flushed with excitement of some sort, and the party broke up slowly in dribs and drabs.
I left with the bulk of the tech writers and we agreed that we certainly had a good story for our respective rags.
It was about three weeks later that the scandal broke.
Kippax's wife had filed police charges of assault against him for a litany of beatings going back to shortly after their marriage six years ago. Kippax had disappeared and a substantial sum of money had been turned into cryptocurrency and also moved to unknown destinations. It was assumed that Kippax had fled the country to avoid the charges and might be starting a new life in a country without extradition rights.
His wife made a brief appearance on media from the gates of the Kippax mansion to make a statement accusing him further and plead, rather half-heartedly and with the hint of a smirk, for him to turn himself in or he would forfeit his holdings which would revert to her in a year or so.
She would not answer any further questions and turned reporters back from the gates of the mansion, accompanied by five rather sizeable dalmatian dogs. All looked identical, and must have come from a cloning lab, their patterning featured a conspicuous black spot over each right eye.
As the interview ended I mused on a certain irony there. I recalled the bioprinter demonstration and felt a smug smile spread across my face as well. Those dogs taken together must have weighed about as much as a fairly large man.
Somehow I didn't think the authorities would be finding Howard Kippax any time soon.

About the Author
Kevin J. Phyland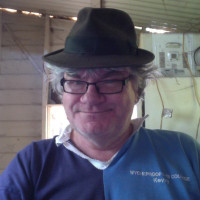 Old enough to just remember the first manned Moon landing, Kevin was so impressed he made science his life.
Retired now from teaching he amuses himself by reading, writing, following his love of weather and correcting people on the internet.
He's been writing since his teens and hopes he will one day get it right.
He can be found on twitter @KevinPhyland where he goes by the handle of CaptainZero and his work is around the place if you search using google or use the antisf.com.au archive.