By Robin Hillard

I walked into the gallery under a banner that read PAINTING YOUR MEMORY in red letters tipped with gold. A bit pretentious, I thought. I was here because my brother knew one of the artists and wanted me to meet her. I shaped my face into a pleasant smile in case Alec had seen me arrive.
Were I an artist, I wouldn't be painting from life. I'd fill my canvas with the colour of fantasy, dragons and elves, fairies and unicorns — to carry my viewers into a dream world.
But then, I'm no fan of memory. Especially not my own. Maybe that's because my memory works both ways, forwards as well as back.
"You mean you can see the future," Alec corrected me once. He was the only person I told about my weird experience. But even he could not understand.
"It's not like seeing," I tried to explain. "It's like remembering something that happened last week, only it hasn't happened yet."
The only difference between future and past was in myself, or rather my right knee. When future memories came, my right knee ached like an old lady's joint, and it felt as if I were remembering an elderly person's life. And the only thing worse than dwelling on the past is remembering a future that can't change. It's something like the way when my brother was bullied at school he knew the night before what would happen next day.
The years have given Alec confidence. No one can bully him now, and nobody else will be bullied when he is around.
So here I was, at the gallery, and Alec was at my side, pulling me across the floor to a pale young woman in a grey dress. She shrank away from his enthusiastic, "Janey!! Meet my sister! Deborah, this is Jane!"

We stared at each other, searching for something to say. I made some remark about the future of art and Jane answered in kind while Alec jiggled restlessly.
"Art isn't the future," he said belligerently. "Come on, Janey, let Deb see your work."
The first picture was a dark streetscape with broken bodies lying in the dirt.
"That's a bit grim," I said, trying to move away, but Alec grabbed my arm while Janey explained. "It haunted me — that's why I had to put it down. I paint from memory."
I shook myself free, and Alec moved us to the next painting. Red words slashed on a computer screen: I betrayed my people — and they are dead.

He turned to his friend. "That doesn't have to be true, Janey," he said.

"It does. You know what I see. It's in my stars."
My brother pushed in front of us, blocking the work. "Nothing is in your stars, d'you hear me? Nothing."
I looked at another painting. Self Portrait: Janey had drawn herself — grey with splashes of red — and a knife sticking out of her breast.
It was horrible. I wanted to leave the gallery, but Alec dragged me back to the first scene.
"What do you think it is?" he asked.
"Some kind of accident?"
"A bomb!"
A bomb in the street! And it did not make the news!
"You didn't remember the bomb," I told Janey.
"I changed the memory by painting that," she said, pointing to the self portrait.
"And I'm changing your work," Alec said. He pulled out a thick felt pen and scribbled over the knife. A line and a circle. It was a bunch of flowers.
Janey screamed.
She tried to take the pen, but he pushed her away and started drawing on the first picture: changing faces and blocking the puddles of blood with smudges of black ink.
He grabbed the artist and swung her around to me. "Janey — meet my sister, Deborah. Deborah — meet my friend Janey, who thinks she can paint the future. Deborah remembers the future too," he said. "I've changed the picture." He pointed to the portrait of a girl smiling at her bunch of flowers. "Now, Deborah, can you remember the bomb?"
I shook my head.
"If Deborah doesn't remember a bomb — it won't be made. So Janey, you don't have to kill yourself." And my brother wrapped her in his arms.
I could not bring myself to say that, sometimes, I have forgotten bad things in the past — and the future.

About The Author
Robin Hillard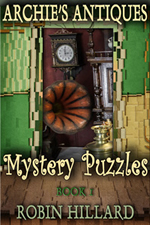 Robin has taught in Australia, England and Canada and now lives in Toowoomba, also known as the 'Garden City' of Queensland, Australia. It is well served with antique shops and these provide the inspiration for the problems that bedevil the customers and staff of Archies Antiques, a series of short mysteries which originally appeared in the ezine Bonzer and were later collected into two ebooks by Cyberworld Publishing. Toowoomba also provided a setting for her cosy mystery novel Ridgeway Murder. Robin enjoys exploring alternative worlds, but sometimes gets so carried away with research she doesn't get around to writing the story
Find out more at Robin's author page at Cyberworld: <http://www.cyberworldpublishing.com/Robin_Hillard_author.htm>