By Joanna Galbraith

Pandora O'Grady lost her smile on the 70E bus. She couldn't even remember getting the silly thing out but as soon as she arrived home she knew it was missing. She checked her handbag thoroughly, tipping the contents to the floor.
'What were you thinking, leaving it on the bus?' snapped her mother.
Pandora frowned. (She hadn't lost that!)
'I mean it's not like your father and I can just fashion you a new one!'
***
The next morning Pandora's mother rang the bus company but they couldn't find it anywhere.
'Have you checked between the seat cracks?'
'Yes.'
'What about the automatic doors? Maybe it got caught in them as she alighted.' (Pandora's mother thought if she used proper transport terminology it might endear her somehow.)
'I am very sorry, ma'am but the bus was cleaned out entirely. Somebody probably pocketed it. Happens all the time.'
***
Pandora O'Grady went to work without a smile which actually turned out much easier than she had thought.
***
In the evening she caught the 70E home again and was pleased (although she couldn't show it) to see the same raw-boned bus driver from the previous night.
'Do you remember me from yesterday?'
The bus driver shrugged his shoulders.
'Should I?'
'I lost my smile on your bus last night.'
'Your smile? Ah then I remember you. Real sweet thing it was too. Fancy, my wife said.'
'Then you've seen it.'
'Sure,' said the driver smiling at Pandora.
'Hey, that's my smile!'
'No, it ain't, darling. This smile is mine.'

And with that he smiled at her again which was really like her smiling at herself, except of course she wasn't.
***
'Well, I found my smile,' Pandora told her mother over a garden-bed salad.
'Where?'
'The bus driver took it.'
'Then we must call the police and they can arrest him for stealing personal property.'
Pandora ate her garden thoughtfully. It was going to be quite humiliating to tell the police she had been careless with her smile. That sort of behaviour often got people into all sorts of trouble. Especially women. Especially on the 70E.
'No. I doubt they will help. Not over one lost smile.'
Her mother put down her fork.

'Well then, you'll have to steal it back yourself.' Pandora looked doubtful. The driver had seemed a little rough. 'Or steal someone else's instead.'

'What? Like a baby's?'

'Oh yes. A baby would be perfect. All they do is scream and pout. No one would even notice. And then, by the time they do, hopefully science will have progressed enough for them to build artificial smiles. Like that mouse, you know, Vacanti's mouse, with the ear grafted on its back.'
Pandora growled her disapproval but her mother was adamant. 'Why I'll even steal it myself.' Which is exactly what she tried to do the following night — dressing up like a doting grandmother with a ticklish, peacock feather in her hand. Fortunately, the maternity ward kept itself locked so she returned home empty-handed apart from the feather.

Pandora was relieved.
A few days later though, and her mother came home with a brown paper bag.

'Here,' she said. 'Try this.'
Pandora peered inside and saw a smile beaming up to her in a slightly manic way.
'Where did you get it?'
'Fell off a rollercoaster ride.'
'But that's someone else's smile. They're probably looking for it now.'
'Well, I waited there for six hours. They can't have wanted it that badly. Now put that thing on...see...ah that's better.'
***
It took a few days for Pandora to get used to her smile but the guilt seemed to ease away every time she looked at herself in the mirror. She even started reasoning that she might have given the smile a better home. But then a few weeks passed and she began noticing that her smile was beginning to peel off around the edges. It was itchy as well. She also became aware that there were other people whose smiles seem to be crusting at the seams too.
'Is that your real smile?' she whispered as they waited in the coffee line.
Some lied and said yes but others said no and began to sob a little as they spoke, explaining how their own smile had been stolen and they had been forced to take another but now it had got infected and given them itchy rashes.
Soon after came a Police Bulletin announcing that there had been such a spate of smile-theft incidents anyone with an infectious grin was liable to be arrested.

'Res Ipsa Loquitur,' said the Bulletin. 'We will know who you are.'
The following day however, not a single person was arrested. Mainly because people stayed home instead of going to work. Everyone was terrified that their rashy faces would give them away.

The Mayor began to panic. His town was falling apart.
'Clearly arresting townsfolk is not going to be the answer,' he said to the Police Sergeant over a late night phone call.
The Sergeant had wanted to meet in person but the Mayor had said he had a headache. 'But what can we do instead?'
'Let's have an amnesty. Everyone must bring their stolen smile in a jar to the town hall. No questions asked. Then once they have all been delivered, we'll invite everyone back to claim their own real smile.'
The Sergeant mulled over the proposal. While it lacked any sort of handcuff usage (his favourite form of community service) he could see it had some merit.
***
The amnesty was announced over the radio. Pandora's mother took her daughter to celebrate at a fancy bar.
'Now you keep that smile safe,' she said with a wink.

Suddenly there was a loud PLOP!
Her wink had fallen right into the middle of her champagne glass.
It took two days to dry out.
Like the wings of a drenched butterfly.

About The Author
Joanna Galbraith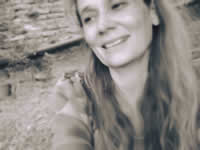 Joanna writes about herself:
I was born and raised in Australia and have been writing short stories for a number of years now. I have had a number published in both books and magazines, including;
"The Weaverman of Askhan Bazaar" in Outposts of the Beyond 2015
"Ulla's Gift," in Independent Ink Magazine 2012.
"Palmerino's Dream" in Stupefying Stories 2012:
"The Fish of Al-Kawthar's Fountain" and " The Moon-Keeper's Friend" - short-stories forming part of the book anthology series entitled Clockwork Phoenix : Tales of Beauty and Strangeness.