By Matthew Legge

"We've been walking for miles!" complained Doctor Zubowski, as he dragged his steps across the rugged surface of Planet MXCIV. Unfortunately, this newly discovered planet's gravitational field was stronger than Earth's. His plight wasn't helped by the cumbersome spacesuit and all of the equipment he and Stichnekov had to carry.
Stichnekov chuckled, stopped walking, and gazed back to where they had begun their trek. They hadn't come far at all. "We've walked a total of 98.4 metres from our space shuttle, to be exact," he said, checking his navigation beacon for an accurate reading.
Zubowski and Stichnekov were assigned to collect three vital specimens. The first was a standard rock sample — easy. The second was a reading of toxin levels in the atmosphere — also easy. The third was to collect a living, breathing extraterrestrial being that was to return to Earth with them completely unharmed — virtually impossible. If they were to have an encounter of the fifth kind, an alien being would surely not be willingly smuggled into their space shuttle and would likely sustain injuries in the process. Nevertheless, the two doctors were ordered not to return until they had achieved the three objectives. It was clear to both of them that their administrator, Doctor Dare, was a real nightmare of a boss. It was also clear that Zubowski and Stichnekov were real idiots for not quitting and applying for positions at NASA.
"This rock is perfect," said Stichnekov. He brought it close to his face to examine it, and sneezed as the strong odour penetrated his thick helmet. The rock was bumpy, dusty and solid but light enough to carry in the specimen jar.
"We can check that off our checklist," replied Zubowski, a proud note in his voice.
"Did you bring the checklist?" asked Stichnekov.
"Ummm..."
"ZUBOWSKI! You're lucky it's a short checklist. We should be able to remember three important things," said Stichnekov, "Now what's next? Ah, we need a reading of toxic air pollutants."
"Here's a good spot", said Zubowski, "I will activate my air quality monitor now. If there is a low reading, we can safely proceed in this direction. If the reading is too high, we'll need to head back to the space shuttle."
After a moment, Zubowski frowned and tapped the top of the monitoring unit. The lights weren't flashing and the beeps weren't beeping. He whispered to himself, "Oh no. If I've got the toy monitor, that means my son has the real one back on Earth."
Clearly embarrassed, Zubowski stood, waited a few moments, coughed, coughed again, and eventually said, "Stichnekov, we have a problem..."
"ZUBOWSKI! I BROUGHT THE NAVIGATION BEACON AND THE SPECIMEN JARS! IT WAS YOUR JOB TO BRING THE AIR POLLUTANT MONITOR! YOU KNOW WE CAN'T RETURN HOME WITHOUT THAT READING! IF YOU WEREN'T WEARING SUCH A THICK SPACE SUIT I WOULD STRA —" Stichnekov was interrupted by a loud, deep-toned growl in the distance.
"What in the universe was that?" they both asked simultaneously.
"Stichnekov," whispered Zubowski, "I don't know about you, but I'm about to strip out of this heavy spacesuit and make a run for my life!" Zubowski started unzipping his suit.
"Don't be ridiculous, you might die!" Stichnekov replied.
Whatever it was in the distance roared again. It was closer now.
Stichnekov twisted his helmet off and also began removing his suit. "Okay. I'm with you, Zubowski," he said, "Let's go!"
Naked — armed with no protection from their impending doom — the two doctors sprinted in the direction of their shuttle. With every step, the growl grew closer and more intense, as if it were almost breathing down their shivering necks.
Exhausted and nearly out of breath, Zubowski asked, "Are we doing that thing where one of us trips over and the other has to make a choice of whether to save themselves or stop and save their friend?"
"Shut up, Zubowski. This is no time for jokes. You KNOW I'm not going to save you if you fall over now!" Stichnekov replied, fighting for breath.
Within minutes, they'd made it to the space shuttle's airlock.
"The damned noise is nearly on us!" said Stichnekov. He pulled the outer door tight, locked it, and opened the inner door.
An eerie sense of calm suffused the air.
"Is it over? Are we safe?" asked Zubowski. His wide eyes tracked the horizon through the control room's windows.
"I think we can relax now," sighed Stichnekov, still trying to catch his breath.
The ship's wall clanged explosively, and the tempered metal pushed its way inwards.
Stichnekov looked directly into Zubowski's wild eyes, "We need to take off immediately. Are you ready?"
Zubowski nodded, sat at the control console, tapped the ignition a few times, then stopped. "Wait," he said with an almost imperceptible grin on his face, "What would you say if I forgot to load the fuel for the trip home?"
"ZUBOWSKIIIIIIIIIIII!"

About the Author
Matthew Legge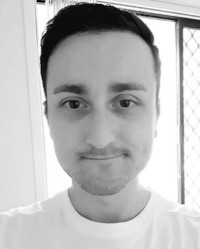 I am a fan of horror movies, architecture, poetry and art. My hobbies include collage, drawing and sometimes building miniature model houses.
I enjoy writing short stories in my spare time with 'Planet MXCIV' being my first of this genre.
It has been a fun process writing in this style and I look forward to seeing what I can create in the future.