By Chris Kelso

Fa gazes from the bow. He sees a group of artisan fishermen standing on steel-coil stilts by the shore, poised to spear the ocean. He smiles, salutes the native men, and turns to Jed who is repairing a minor leak on the trawler's aft with palm-fulls of swamp paste. It is dangerous to smile in this land, so Old Jed is one to toil in quiet contentment.
"We should head northward soon. The Blood is ready to come through the glaze…" Fa says, fixing his expression, remembering Jed's superstitious fear of smiling while adrift on the Bjørnstadfeltek Blood-Sea.
"Already?"
"I can see the natives out looking for Glut on the shore. Plus, it'll be noon before we know it."
"You're being overcautious." Jed returns to mortaring paste into the deck, his face cut in a grim rictus.
"Says the old man who prohibits laughter! Still, better overcautious than a damn, dumb and dead Cosh."
"You subject me to your poetry Fa, and yet somehow I'm considered one with the unreasoning?"
Fa snickers with abandon and kneels to Jed's level. "How is the repair?"
"Almost filled. I just need to check there's no damage below." Jed looks up at Fa and clucks his tongue. "Must you smile so recklessly?"
"You think the Blood-Water only comes for happy men? It is a man-hating woman, I suppose?"
"Please…"
"You old fool. But very well." Fa unbends his grin for the sake of his delusory comrade.
The Colonna is a fragile trawler, built with foundations of coniferous tree logs and lined with reeds. A Scragg-hide for a sail. When the Colonna leaves port there is brittle poetry in the air, always.
***
"I got one!" Old Jed holds the flustering creature aloft, a cataract of light caught in its dying-eye. A fine young Glut if ever there was one.
"Toss it. Glut's got the fever," Fa instructs, "The gills give it away. Full of plasma."
"My hunger is a devouring flame, son. It's only a light hue. Barely pink…"
"Toss it. We can't take blood-infected Glut back to the town. If only you were as cautious with your superstition as you were with the real Blood-Water threats!"
"But my hunger!"
"Back to Trøndelak, at once. We've dallied long enough. Let's accept defeat, old boy."
Jed reluctantly tosses the Glut and rubs his frozen hands together. As northward approaches the wind cuts deep.
Fa returns to his ocean reverie. He starts reciting poetry: "Out in the burnt Bjørnstadfeltek night that opens eyes like wounds, blood-perfumed hydra breath casts brutal winds that sweep up the nostrils…"
"Please, no more. Hunger depletes your faculties," Jed pleads.
Fa leaps to the Colonna pulpit, buoyed by his old comrade's distaste, and starts gesticulating like one of those annoying oral storytellers back in Trøndelak. "…and set the flesh in unreasonable fits of a chilblain-itch, avast yee!" Fa starts laughing, relishing the tortured expression on Jed's face.
Jed eventually ceases the deck-repair to take a deep sigh, gives in to absurdity. Both men are laughing now, and the cold doesn't cut so deep.
"You've starved me of your brotherly bravado for too long, old man," says Fa.
Their lives away from the sea are not nourishing though, not by a long way, but there are things to miss after a month at sea. Laughing, for one. Homey things, like the smell of boiling pots of seal fat and buttered rum. Rainy images on the estuary. Vague memories of warehouse perpendiculars in silent hometowns and the natural smell of a man's blood undiluted by salt-water. But the voluptuous Blood-Water, she calls you out into her dark bed, lays you down and pumps the spirit for every ounce of joy before casting you aside — a scraped barnacle of a man. You hate it, the sea, but you want more — if you are an individual so inclined. Its briny breath stays in you like winter wind cooped up in the casket of the skull. Fa sees acid surf turn the beach-cusps the colour of corroded steel, and smiles. The masochist's lover is he, Jed too — as the Bjørnstadfeltek ocean takes them both to the precipice, to near-psychosis, where the spirit of Lysa herself goes to sharpen her madness. The Blood-Water eats happy men.
Fa misses his ugly wife, misses her hair like an uncombed golden lattice of hay, and the Scragg heart she would serve him on his plate each Wednesday. There are things to miss. It is home-time now, surely. And the men have no Glut. Just their fragile trawler, the Colonna, intact, and only doggerel-poetry to show for their trip.
"You think we'll ever learn?" Jed watches from the cove as a bubbling crimson suffuses with, and diffracts around, the waves beneath.
"Better here than athirst in the Namib."
"Is it?"
"Cosh, yes."
"You are sleeping."
Fa screws his eyes at the skyline. "Hey, where are we?"
"Nowhere. Away from the Bjørnstadfeltek tide. Northwards. Nowhere," Jed answers.

"Nowhere, so we have stepped into a nothing-realm? The air carries a threat."
"Well, 'Nowhere' doesn't necessarily mean 'nothing', young Bic! A region in general lies therein. This 'threat' you worry about, it cannot come closer from a definite direction within nearness, it is already 'there', has always been 'there', perhaps not 'here' now — and also, remember, it is nowhere."
"Why don't you philosophise with my fists, Cosh…"
"Your poetry is not enough."
Both men burst into a fit of laughter.
"Time for another poem…" Fa announces to the horizon.
Then, the Colonna starts to rock on the clotting Blood-Water. Jed joins Fa at the pulpit. Anxiety seizes the men.
"We should not have been so merry!" Jed curses.
Suddenly giant red women emerge from the crimson water and the men hear screams from the trawlers who had not seen sense enough to head northwards. The women, maritime-widows whose husbands never arrived back from the sea, return to the physical realms with chiselled-sharp teeth, ready to feast on starving men full of bad poetry.

About The Author
Chris Kelso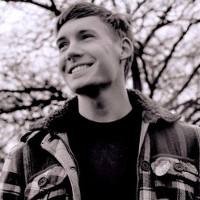 Chris Kelso is an award-winning genre writer, editor, and illustrator from Scotland. His short stories and articles have appeared in magazines and journals across the UK, US, and Canada, including: SF Signal, Lovecraft ezine, Daily Science Fiction, Dark Discoveries, Pantheon, Evergreen Review, Sensitive Skin, Shoreline of Infinity, The Airgonaut, New Coin, Verbicide and many more.
His work has been translated into French and he is the two-time winner of the Ginger Nuts of Horror Novel of the Year (in 2016 for 'Unger House Radicals' and in 2017 for its sequel 'Shrapnel Apartments'). 'The Black Dog Eats the City' made Weird Fiction Review's Best of 2014 list. 'Shrapnel Apartments' was endorsed by Dennis Cooper on his blog — "4 Books I read and Loved".