By Lee Battersby

Somewhere in the lower levels, the kid stopped. There were no cameras here, no CCEyes, no CorpSpies or Fuzzers. Nobody worth money ventured into the lower levels. Only the driftwood and the worthless. No corporations, no politicians, no cops, no crims. Only rats and dogboys. For the first time in a dozen hours, she stopped.
Sat on a nearby plinth of broken concrete. Relaxed.
'What got there?' Her hand was barely inside the lining of her tattered jacket when the voice slithered out from the shadows. She turned the movement into a scratch, pulled her fingers out and sniffed them. Buying time, buying thinking space.
'Itch.'
'Don't think so.' A thin shape disengaged from the surrounding shadow. A boy. Maybe her age, maybe a year or two either side. Hard to tell. Dirt and malnutrition kept a body ageless down here, until it was too old for most rich peoples' tastes. 'Think you got something worth something.'
The kid held out her hand. In the thin light, the blade of a knife glinted between her fingers.
'All I got is protection,' she said.
'Gonna protect you from me?'
She tilted her wrist, showed the six inches of blade running down her palm, disappearing into her ragged sleeve. Smiled. 'Protect me from you and your friends.'
The boy stopped moving. Silently, he melted back into the shadows.
The kid stood, walked away. Half a dozen steps on, she took a moment to carve a cross deep into the bent metal of a broken light pole.
'Just in case you think of following,' she said to nobody in particular. There was no answer, no rustle of clothing or footsteps on the broken concrete path. She nodded, got out of there, kept walking.
Home wasn't any place in particular. Home she carried in a backpack rescued from a rubbish pile half a year ago: a pillow; a thin sheet; a balaclava; a doll with one arm missing and no clothes. Home was wherever she found a crevice amongst the rubble to catch a few wary hours of sleep. Home this night was the space between the wall of an abandoned basement and the fallen door that once guarded its entrance. The kid hunkered down, and in the fading light, dared to draw out the treasure against her chest.
A single sheet of laminate, folded and folded again so that the creases made deep, dark lines across the information printed upon it. She laboriously traced the words with a grimy finger, mouthing them silently as she went. The picture in the upper corner stared out at her, impassive, judging nothing. She stared back as long as the light lasted, then folded the laminate and placed it back in her pocket, ready for one last night in the dark.
***
They found her in the morning. Stood at either end of her tiny shelter. No way out, entrance and exit blocked by boots and legs. All she could sit and do was wait while they taunted and kicked her, until she had no option but to scrabble out and leave her only possessions behind. In moments they were snatched up by the six dogboys that had unearthed her. She stood alone while they hooted and leaped around the cramped basement, kicking apart anything they could find: a few sad, broken boxes; the door; her backpack. In the midst of it all, a single boy, his face familiar. Standing apart, watching her with a sly smile.
'Don't be thinking it,' he said, nodding towards her wrist. 'Maybe take one or two, but we'll have you before you're done.'
She eyed the dogboys circling. Unclenched her fist. Backed against the wall. Keeping them in front of her, making sure nothing got behind. The boy clicked his tongue against his teeth, and the pack came to instant attention.
'Now,' he said, and took position in front of her. 'Give it.'
The pack surged forward. Two grabbed for her arms, two more dove for her legs. She kicked and twisted, lashed out with fists, bit and butted, but five bodies were too many. Dragged her off the wall, pinned her to the ground. Spread-eagled. Helpless. Exposed. The boy stood over her, sank slowly down so that he sat, full-weight, on her stomach. Leaned forward. Stared into her eyes while he slowly slipped a hand inside her jacket.
'Mmm.'
He withdrew his hand, a single sheet of folded laminate between his fingers. The kid struggled, screamed, but she was pinned too tightly. The boy held it up, turned it round and round.
'What here?'
'It's mine!'
'It's mine.' He slapped her, once, then returned to his examination. Unfolded the sheet slowly. Read it. Looked at the picture. Stared at her while anger and shock and fear warred across his face. Scrambled to his feet. Dropped the laminate. Backed away. His pack looked to him for direction. He waved them off, his eyes never leaving hers. Slowly, they let go. Slowly, she stood. Retrieved the sheet. Wiped it clean. Folded it. Replaced it in her jacket.
'What is?' one of the dogboys asked. 'What is?'
'Papers,' she replied. 'I got papers.'
The boy looked at her in terror. She stepped forward. He retreated before her.
'Papers,' he whispered.
'Yeah,' she replied. 'Papers. A picture. A way out. A name.'
'I... I...'
She stepped past him, examined the destroyed remnants of her former life, turned on the staring dogboys.
'I got me a day. To get to the bridge. Then I out. Got a job. Got a room.' She wiped a trickle of blood from the corner of her mouth. 'Got a future.'
'We…' He looked around helplessly. 'We didn't know.'
She spat. 'Ghost. Before I remember your face.'
They ghosted. She looked around at the past, pulled the laminate out one last time. Ran her fingers across the picture, and the words underneath.
'Got a name,' she said to nobody, and stepped out into the day.

About The Author
Lee Battersby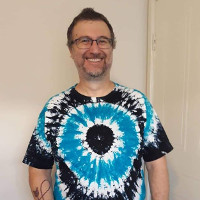 Lee Battersby is the author of 2 novels for adults and one for children.
He lives in country Western Australia and can't get out.
He occasionally turns up at: <leebattersby.com>.